Recipe Of The Day: Chocolate Buttercream (PHOTO)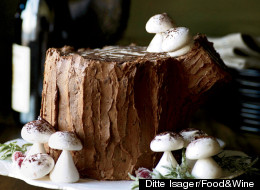 If there's one frosting that can salvage a botched cake (cupcake, cookie or brownie) it's definitely this chocolate buttercream recipe. How could it not? It combines dark chocolate with butter and sugar.
If you've burned your cookies, just top it with this chocolate buttercream frosting. If your cake didn't rise, use the charms of this chocolate buttercream frosting to cover up that sad fact. We like this chocolate buttercream recipe so much, we'd make it just to eat it from the bowl.
Get the Dark Chocolate Buttercream recipe
Want to read more from HuffPost Taste? Follow us on Twitter, Facebook, Pinterest and Tumblr.
Not convinced? Try these frosting recipes.
Get the Cream Cheese Frosting recipe Ah, cream cheese frosting! Who doesn't adore it? Cream cheese, butter and confectioners' sugar come together to form the rich, thick and creamy frosting that makes any baked good that much better. Use cream cheese frosting on carrot cake, red velvet cake, spice cake or pumpkin cake.

Get the Ganache recipe Ganache is made with just two ingredients, heavy cream and chopped chocolate. To make, heat the cream in a bowl over a water bath, remove from the heat and stir in the chocolate until melted. Ganache is perfect as a filling or frosting on chocolate cakes, nut cakes and tortes.

Get the Buttercream Frosting recipe There's nothing more classic than buttercream frosting. It's butter beaten with confectioners' sugar and some vanilla extract for flavor. A few spoonfuls of milk can also be added to help the frosting incorporate. The frosting can be flavored with any extracts. And, if you like, tint the frosting with a few drops of food coloring. Use buttercream on any type of cake. It's especially classic for vanilla cakes or cupcakes and wedding cakes.

Get the Whipped Cream Frosting recipe Whipped cream is the easiest frosting to make. It's just cream beaten with confectioners' sugar until stiff. Be sure to use the whipped cream as soon as possible. It's also best consumed on the same day as it's made. Whipped cream can be flavored with extracts or, as in this recipe, with cocoa powder. Use whipped cream to frost strawberry shortcake, vanilla cakes or cupcakes.

Get the Seven-Minute Frosting recipe A cake or cupcake covered in marshmallowy frosting is an irresistible sight. Seven-minute frosting comes together in about seven minutes. It's made by beating egg whites into sugar syrup over a water bath until the mixture becomes glossy and billowy. Be sure to spread the frosting right away because it will harden if not used immediately. Use seven-minute frosting to top vanilla or chocolate cakes or cupcakes.

Get the Meringue-Buttercream Frosting recipe Meringue buttercream frosting combines the best of two classic frostings, buttercream and seven-minute. To make it, beat egg whites with sugar syrup over a water bath until thick and glossy. Then incorporate butter. The frosting can be flavored with vanilla or coconut extract, depending on the cake. Use meringue buttercream on coconut cake, vanilla cake, or chocolate cake.

Get the Caramel Frosting recipe If you love caramel candies or caramel ice cream, you'll love caramel frosting. This recipe starts off with making a sugar syrup, then toasting sugar to make caramel. The two mixtures are combined with butter and cream and then beaten until silky. Use caramel frosting on vanilla or chocolate cakes or cupcakes.

Get the Meringue Frosting recipe Meringue is simply egg whites beaten with sugar. It's popularly used on pies, like lemon meringue, but can also go on cakes. It can be browned briefly under the broiler or better yet browned with a torch. Use meringue on citrus or vanilla cakes or cupcakes as well as pies, such as lemon meringue, coconut cream or key lime.