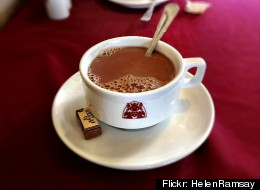 By Kerri Glassman for U.S News Health
The holiday season is in full swing, and we want to indulge! Many of us look for healthy ways to satisfy our cravings for traditional pumpkin pie and gravy-laden mashed potatoes. But the holidays aren't just about what's on our plate. They are also about what's in our cup! (And no, I'm not just talking about alcohol).
More from U.S. News Health:
Easiest Diets to Follow: In Pictures
Best Diets Overall
Your Big, Fat, Gluten-Free Holiday
The dry winter weather makes us more susceptible to dehydration, so it's important that we remember to drink enough fluids. Why not hydrate in the holiday spirit by indulging in these traditional favorites: hot chocolate, mulled cider, and chai tea. These drinks are typically high in calories and sugar, but I've provided you with recipes that quench your desires (without being too devilish). Enjoy these treats whether you are solo, hosting a soiree, or having an intimate shindig!
Stay warm this winter and be confident and conscious about your indulgences!
Chai Latte For One
Vanilla chai tea bag
1/2 cup boiling water
1/2 cup steamed, low-fat milk
1/2 teaspoon agave
1/2 teaspoon ground nutmeg
Steep tea bag in boiling water for two to three minutes.
Stir in milk and agave.
Sprinkle nutmeg.
Hot Chocolate for Four
4 cups low-fat milk
1 teaspoon ground ginger
1 teaspoon ground cinnamon
7 ounces semisweet chocolate, chopped (about 7 squares)
Combine milk, ginger, and cinnamon in a saucepan over medium-low heat until almost boiling.
Add chocolate, stirring until fully melted.
Whisk until frothy, and serve immediately.
Mulled Cider For Many
1 pear, not too soft
1 orange
1 to 2 tablespoons whole cloves
1 lemon
3 to 5 whole allspice berries
3 to 5 inches peeled, fresh ginger root, cut into 1-inch pieces
1 medium stick of cinnamon
2 to 3 gallons apple cide
r
Pour cider into a heavy pot, and bring it to a simmer.
Stud pear and orange with cloves.
Peel large pieces of rind from the lemon, and twist each piece to release the lemon oil.
Place fruits and spices in your slow cooker, pour a gallon of cider over them, and heat on high heat for a few hours
For more on the nutrition of your favorite fall drinks, click through the slideshow below:
Seasonal Fall Drinks, Decoded
Calories: 360 Fat: 8 g Saturated Fat: 4.5 g Cholesterol: 30 mg Sugars: 68 g Sodium: 0 mg The deal: This coffee-free drink is marketed to kids and while 4.5 grams of saturated fat is an already high 22 percent of the daily allowance for an adult who eats 2,000 calories per day, it's significantly more for a child. That fat comes from the whipped cream, but even if that were to come off, there would still be 65 grams of sugar in the drink -- that's the equivalent of more than a can of coke (39 grams), a package of Twinkies (37 grams) and two Snickers bars (60 grams).

Calories: 380 Fat: 13 g Saturated Fat: 8 g Cholesterol: 50 mg Sugars: 49 g Sodium: 0 mg Protein: 14 g The deal: We all know that 49 grams of sugar -- again, more than a can of coke (39 grams) or a package of Twinkies (37 grams) -- is not healthful. And research shows that consuming sugar in beverages can be even more harmful to health than sugar in solid form. What's more, the 8 grams of saturated fat comprises almost half the recommended daily value.

Calories: 260 Fat: .5 g Saturated Fat: 0 g Sugars: 51 g Sodium: 0 mg Protein: 12 g The deal: If this drink is ordered in its healthiest iteration -- skim milk, no sugar or sweetener -- it can be a decent choice in terms of calories, fat and saturated fat. But with 51 grams of sugar, it's still a diet buster. What's more, since there's an option to add sugar on top of what's provided behind the counter, it can seem like you're making a healthy choice by abstaining from the extra, even though you aren't.

Calories: 340 Fat: 10 g Saturated Fat: 6 g Sugars: 46 g Sodium: 115 mg Protein: 7 g The deal: This drink has the same problems with sugar and fat as its counterparts at other chains, but it also has a surprising amount of salt -- in fact, at 115 milligrams, it accounts for 10 percent of a daily allowance.

Calories: 210 Fat: 4 g Saturated Fat: 4 g Sugars: 57 g Sodium: 15 mg Protein: 0 g The deal: While reasonable in calories and fat and saturated fat content, the 57 grams of sugar make this a bad choice.

Calories: 680 Fat: 29 g Saturated Fat: 18 g Sugars: 89 g Sodium: 210 mg Protein: 12 g The deal: Caribou Coffee's pumpkin-chocolate coffee confection may be the worst offender of all with a high caloric count, high fat and saturated fat, more sugar than any other drink and the most salt.

Calories: 390 Fat: 0 g Saturated Fat: 0 g Sugars: 75 g Sodium: 320 mg Protein: 10 g The deal: The lack of fat and saturated fat, coupled with a decent amount of protein, makes this smoothie attractive at first. But with 75 grams of sugar, it still packs a calorie-laden punch. An option to "make it light" reduces the calories to 260 and the sugar to 50 grams per 16-ounce cup.