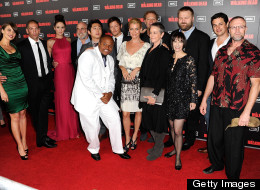 "The Walking Dead" is getting a new look. THR reports that the AMC drama will air in black and white, beginning in February.
The 90-minute premiere, airing Feb. 14, will be the first black-and-white episode. The midseason premiere will pick up where the show left off in December.
The zombie drama, which is known for excessively bloody scenes, has been a strong show for AMC, receiving positive critical reception and increasing ratings.
AMC will air "The Walking Dead" in black and white starting Feb. 14 at 6:30 p.m. EST.
For more, head over to THR.
[
via THR
]