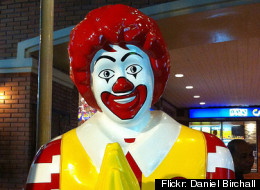 McDonald's is pushing its franchise owners to open their stores on Christmas, and the fast-food chain won't be paying workers holiday overtime at company-owned stores, AdvertisingAge reports.
The trade publication obtained an internal memo from McDonald's Chief Operations Officer Jim Johannesen urging franchisees to "ensure your restaurants are open throughout the holidays. Our largest holiday opportunity as a system is Christmas Day."
Workers at the company-owned restaurants volunteer for burger-flipping duty that day and do not receive holiday pay, a spokeswoman confirmed to AdAge. Franchisees can make their own decisions about overtime pay.
The Huffington Post asked McDonald's for comment on the memo and AdAge's story Monday. Spokeswoman Danya Proud wrote in an email, "The story is based on leaked information obtained through unauthorized means. As such we are not in a position to confirm or deny the speculation."
In October, McDonald's suffered its first monthly sales decline in nine years, prompting the Wall Street Journal to ask, "Is the golden era over for the Golden Arches?"
But Reuters reported the fast-food chain bounced back in November, in part by emphasizing its lower-priced options. AdAge said that gain was also due to McDonald's exhorting more stores to stay open on Thanksgiving.
One former franchisee told the outlet that the strategy represented a shift in corporate culture -- four or five years ago, he said, opening on Christmas simply wasn't expected.
10 Things The Fast Food Industry Doesn't Want You To Know
McDonald's had higher sales growth in 2008 than in 2006 or 2007, opening nearly 600 stores that year, according to Slate. The chain was able to take advantage of Americans' recession tastes: Cheap, convenient food.

One Reddit user claiming to be an ex-McDonald's worker said he once left a bag of chicken nuggets out on the counter for too long and "they melted. Into a pool of liquid." That didn't stop him from loving the nuggets, "still delicious," he wrote.

More than 60 percent of low-wage workers are employed by big corporations, according to a July analysis by the National Employment Law Project. And more than 90 percent of those companies were profitable last year.

Fast food workers in New York City make an average of $9 per hour, according to the Village Voice. That comes to about $18,500 per year for full-time workers.

For 40 percent of private sector workers, taking a sick day and still getting paid isn't an option, according to the Baltimore Sun. Fast food workers are especially likely to be part of that 40 percent.

Many fast food workers saw their health benefits put at risk this year, if they even had them at all. Papa John's CEO John Schnatter said he would likely reduce some of his workers hours so that he wouldn't have to cover them in response to Obamacare. Jimmy John's founder, Jimmy John Liautaud told Fox News in October that he would "have to" cut workers' hours so that he wasn't forced to cover them under Obamacare.

The average hourly pay at McDonald's, Wendy's, Burger King and Taco Bell is less than $8 an hour, according to salary data cited by CNBC.

As more workers fight for limited jobs, many older employees are gravitating towards the fast food industry. The median age of a fast food worker is 28, according to Bureau of Labor Statistics data cited by the Atlantic. For women, who make up two-thirds of the industry's employees, that age is 32.

Fast food worker's went on strike in late November in New York City, showcasing a rare effort to organize the industry's workers. Labor leaders often don't make an effort to organize these workers because the high turnover makes the challenge daunting.

For all their work, fast food workers get very little dough. The lowest paid job category in New York City is "Combined Food Service and Preparation Workers, Including Fast Food," according to Bureau of Labor Department Statistics cited by Salon.