Everyone dreams of finding that one priceless item hiding in the corners of a dust-ridden attic. One UK teacher recently experienced the joy of rescuing such a forgotten antique, all thanks to an old owl painting that turned out to be worth nearly a million dollars.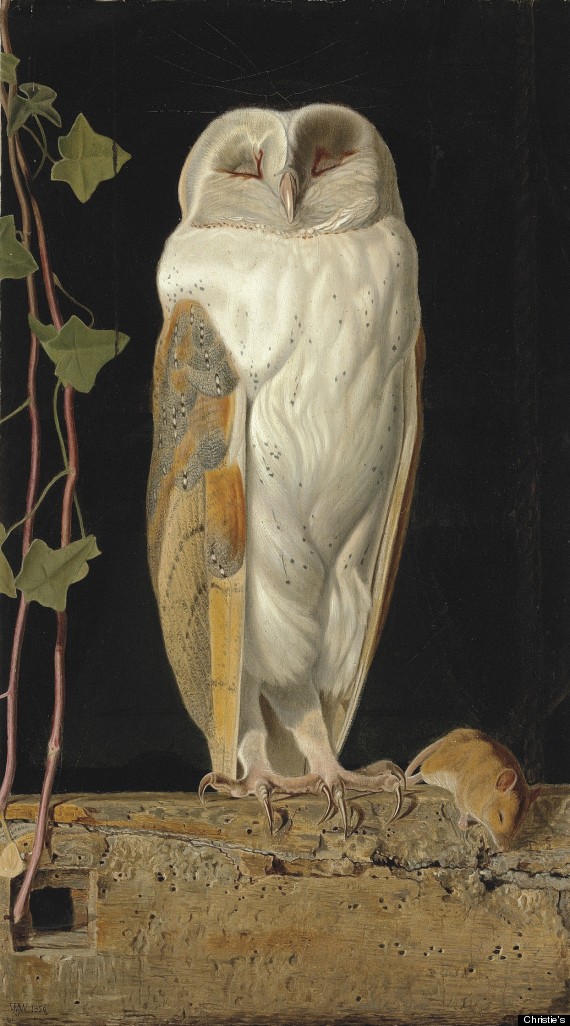 William James Webbe (fl.1853-1878), The White Owl, 'Alone and warming his five wits, The white owl in the belfry sits,' signed with monogram and dated '1856' (lower left), oil on board, 17¾ x 10 3/8 in. (45 x 26.3 cm.) © Christie's Images Limited 2012

Jane Cordery, an art teacher in Hampshire, discovered the detailed bird portrait in her attic after attempting to clean the space for a plumber. She'd never seen the ornate owl, but the painting's intricate brushwork caught her eye and she decided to e-mail a photograph of the find to Christie's auction house. According to the Daily Mail, One look at the owl and art expert Brandon Lindberg knew that that the work was worth much more than anyone suspected.
The auction house determined that the painting, titled "The White Owl," was created by pre-Raphaelite artist William James Webbe, and experts valued the work at £70,000 ($113,449). Beyond the British masterpiece's hefty price tag, it was also revealed that the UK's Royal Society had exhibited the owl in the mid 19th century, exposing the piece to leading art critic, John Ruskin, who described it as "a careful study" with excellent brown wings.
The attic artwork hit Christie's auction block last week, far outselling its estimated price -- the winning bid was £589,250 ($951,050). Cordery maintains that she had never even seen the painting before her impromptu winter cleaning, while her partner, James Ravenscroft, remembers receiving the work as a present from his mother. "It's a complete shock," Cordery told the Daily Pioneer after the sale. "We were not imagining that in our wildest dreams."
We don't know about you, but this unexpected art find is prompting us to take another look at what we have in storage. Check out the slideshow below for more discoveries and let us know about your own wild finds in the comments section.

Loading Slideshow
Calder 'Red Nose' Lithograph Bought At Goodwill Worth $9,000

"Red Nose" just meant a reindeer named Rudolph to Karen Mallet until she bought a <a href="http://www.huffingtonpost.com/2012/12/02/calder-red-nose-lithograph-goodwill_n_2228774.html?utm_hp_ref=arts&ir=Arts">print by that name for $12.34</a> at a Goodwill store in Milwaukee. It turned out to be a lithograph by American artist Alexander Calder worth $9,000. IMAGE: In this Wednesday, Nov. 28, 2012 photo, Karen Mallet stands in front of her Alexander Calder print in her Shorewood, Wis., home. Mallet bought the print for $12.34 at a Goodwill thrift store in Milwaukee. It turned out to be a lithograph by the American artist Alexander Calder worth $9,000. (AP Photo/Morry Gash)

Salvador Dali Etching Found At Goodwill Sells For $21,005 At Online Auction

<a href="http://www.huffingtonpost.com/2012/11/20/salvador-dali-etching-fou_n_2164427.html">A Salvador Dali etching</a> discovered at a Tacoma Goodwill in 2012 sold for $21,005 on the organization's online auction site. The rare thrift store find, which kicked off the auction at a bargain price of $999, attracted 154 bidders over its two-week long sale.

Renoir Found At Flea Market

Ilya Bolotowsky Painting Found At Goodwill

<a href="http://www.huffingtonpost.com/2012/09/24/beth-feeback-finds-famous_n_1910678.html">Last summer</a>, North Carolina artist Beth Feeback discovered the Goodwill find of a lifetime, nabbing an authentic abstract painting by Ilya Bolotowsky for only $9.99 at her local thrift shop stop. A few months and a Sotheby's consultation later, ABC News reports that Feeback has sold her find for an impressive $27,000 at auction.

Da Vinci Found in Farmhouse

<a href="http://www.huffingtonpost.com/2012/08/07/lost-da-vinci-painting-wo_n_1751869.html">A lost painting by Leonardo da Vinci</a> may have been found in a Scottish farmhouse, reported The Daily Mail. The work, thought to be a 500-year-old portait of Madonna and child, is potentially worth over $150 million (£100 million) if experts are able to prove its authenticity.

Religious Relic Found in Closet

Lost Dada Art Found In Israel

Da Vinci Fresco Found

Ancient Cave Art Found

Stamp Found At German Flea Market Worth Millions?

Reinhold Hoffmann, a retiree who told the German newspaper Bild that he <a href="http://www.huffingtonpost.com/2012/10/26/reinhold-hoffmann-german-_n_2023161.html">found a U.S. stamp worth $3 million</a>, may now have a reason to go postal: The Philatelic Foundation said the stamp is worth less than $100.
Related on HuffPost: