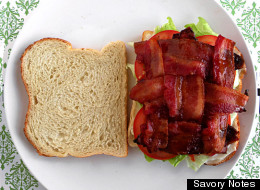 As you might imagine, we've seen a lot of really great food stuff this year. 2012 brought us some of our favorite food videos, dishes, tricks and snacks of all time. We did our best to pull together our most favorite food moments this year, which was tough, because there were a lot of them.
This year, we fell in love with strange crackers, started to like foods we never realized we had before and saw an incredible crop of food videos -- both hilarious and delicious -- pop up everywhere. What was your favorite bite of the year? Let us know in the comments!
Want to read more from HuffPost Taste? Follow us on Twitter, Facebook, Pinterest and Tumblr.
Our Favorite Food Stuff From 2012
The existence of this video is basically the entire reason we wanted to compile this list. One of our editors even included Hot Cheetos & Takis in the list of their favorite songs of 2012.

"At Battersby, in Brooklyn, I ate a Nantucket Bay Scallop crudo that has been stuck in my head ever since. I'm not really into scallops. Or, I should say, I haven't really been into scallops. Until now. Those guys are weirdo food sorcerers." -- Rebecca Orchant, Associate Editor, HuffPost Taste

"Chocolate sprinkles served on a piece of buttered bread for breakfast. This is why I love the Dutch." -- Julie Thomson, Associate Editor, HuffPost Taste Image via Adventure Food

All the Scotches you wanted to know how to pronounce, but were too afraid to ask -- as read by one of the baddest Scotch drinkers we can think of.

"Sugared cranberries!" -- Kristen Aiken, Senior Editor, HuffPost Taste Get the Sugared Cranberries recipe from Tracey's Culinary Adventures

A Reddit user was about to taste cheddar for the very first time. We had some suggestions.

HuffPost Food Staff Writer, Joe Satran, is obsessed with the Fried Green Tomato Sandwich at Mile End's Noho sandwich shop. We can vouch for how many times we've seen him eat it.

Saveur's video team struck again, changing how we core iceberg lettuce forever.

"Jelly donut at Pies n Thighs has made me realize that I actually love donuts. They're the best. And so is Pies and Thighs." -- Julie Thomson, Associate Editor, HuffPost Taste

"Like 12 calories each, with five grams of fiber. They're my go-to cracker for hummus and peanut butter. Partially because they make Finn Crisps et al look like Oreos by comparison, health-wise. And also because when I eat them they make me feel like I'm a medieval monk wearing a hair shirt." -- Joe Satran, Staff Writer, HuffPost Food

Logan MacWilliams loves fried chicken more than we have ever loved anything. She loves fried chicken so much that she wrote it a gospel song. An AWESOME gospel song.

The bacon weave allows you to maximize your bacon-per-bite ratio in a BLT. We think it's probably one of the most important sandwich innovations of our generation.

No seriously. Cooking with Christopher Walken.

HuffPost Food's Staff Writer, Joe Satran, listed the Linguine and Clams at Son of a Gun in LA as one of his favorite dishes of the year.

Oh My Dayum is an ode to Five Guys burgers that got auto-tuned by the guys who made the Bed Intruder song famous. We have sung this song to every Five Guys burger we have unwrapped since.

We made these Cadbury Egg Doughnuts for Easter. They were crazy.