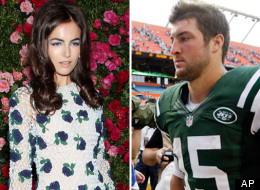 Tim Tebow has had better weeks.
One day after Jets coach Rex Ryan announced that he was bypassing Tebow and replacing Mark Sanchez with Greg McElroy, US Weekly reported that he had broken up with actress Camilla Belle after two months of dating. A source told US Weekly that the relationship "just didn't work out."
Reports of Tebow and Belle's relationship began back in October when the two were said to have been "overly affectionate" at an event in Jacksonville, Fla.
When the displaced Sanchez and Eva Longoria broke up in the middle of the season, TMZ reported that the two called it quits because Sanchez was always in a bad mood due to the Jets' struggles.
Perhaps that may have been the case with Tebow and Belle.
The Jets were eliminated from the playoff chase on Monday night after another loss riddled with embarrassing moments. The next day, coach Rex Ryan revealed that Sanchez won't be starting in Week 16. But he didn't choose Tebow to start, despite being the back-up quarterback for most of the season. Instead, Ryan named McElroy as the starter against the San Diego Chargers.