According to WNCN, the Tea Party group posted the raffle, which it calls "The Great Gun Giveaway" to its website Monday, mere days after the tragic event, which has sparked fervent national debate about gun control.
A DPMS Panther Oracle AR-15 assault weapon and a Keltec PMR-30 .22 Magnum pistol are included in the raffle. Police say Newtown gunman Adam Lanza opened fire on grade-school students, staff and teachers with a Bushmaster .223 AR-15 military-style assault weapon, a civilian version of the U.S. military's M-16, that was legally owned and registered to his mother.
A spokesman for the Asheville Tea Party told NBC News that the raffle was planned before the shootings occurred.
"It goes without saying that any innocent souls killed or injured by whatever means have our sincere sympathy," Fremont V. Brown III, vice-chairman of the Asheville Tea Party, said.
At that event, which benefitted candidates endorsed by the Asheville Tea PAC and iCaucus, a national Tea Party group, attendees paid money to shoot off submachine guns, AK-47's and M-16 assault weapons. The raffle differs in that the winners will actually take the guns home.
Some AR-15 models were outlawed under the assault weapons ban of 1994. That ban expired in 2004.
Congress is expected to vote on gun control legislation when it reconvenes in January.
LOOK: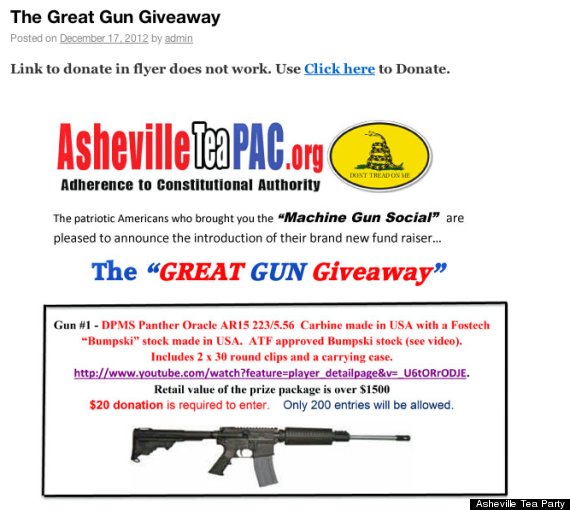 Executives Making The Most Money Off The Gun Industry
FOLLOW HUFFPOST