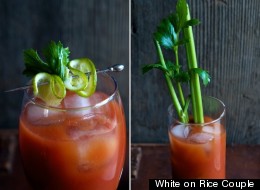 Some of us can admit to ourselves that New Year's morning is not our most shining moment. We like Champagne and revelry a little too much. Message to the rest of you: please invite us over for brunch. We'll need it.
When we think about holiday brunches, they tend to get divided into two camps in our brain: Christmas brunch is homey, simple, warming and easy to do ahead. New Year's brunch feels like it needs to really be special, elegant and show-stopping, just to get the year off on the right foot. These New Year's brunch recipes fall squarely into that second camp. We can tell you for an absolute fact that walking into someone's home and seeing a Champagne jelly on the table will start your year off just right.
Want to read more from HuffPost Taste? Follow us on Twitter, Facebook, Pinterest and Tumblr.
New Year's Day Brunch Recipes
Get the Champagne Jelly recipe from A Little Zaftig

Get the Aebleskiver recipe

Get the Buttermilk Scones recipe

Get the Parmesan and Gruyère Popovers recipe

Get the Sweet Potato Doughnuts recipe

Get the Cheese Blintzes with Cherry Sauce recipe

Get the Simple Salmon Tartare recipe from Crepes of Wrath

Get the Asparagus Soufflé recipe from Simply Recipes

Get the Crispy Tortilla with Ham, Chili, Spinach and Fried Eggs recipe

Get the Hoppin' John recipe from Sugar & Spice by Celeste

Get the Eggs Nested in Sautéed Chard and Mushrooms recipe from Simply Recipes

Get the Poached Eggs & Satsuma Hollandaise over Crab Cakes recipe

Get the Savory Roasted Tomato & Manchego Clafoutis recipe from The Parsley Thief

Get the Croque Monsieur Ham and Cheese Sandwich recipe from Simply Recipes

Get Grandma May's Biscuits recipe This recipe begins, "Once you have eaten these biscuits, there is no turning back. You will be hooked and spoiled for life, as I was, when my very dear friend Brett Bannon served them during a stay at our farm." Sold!

Get the Quinoa Cakes with Mushrooms, Bacon & Sunnyside Fried Eggs recipe

Get the Shirred Eggs with Ham and Tomato recipe

Get the Spicy Shrimp and Grits recipe

Get the Peach Dutch Baby with Wild Blueberry Sauce recipe from Seasons & Suppers

Get the Sweet Potato Waffles with Whipped Orange Butter recipe

Get The Breslin's Ricotta Pancakes with Orange Syrup recipe

Get the Sriracha Bloody Mary recipe from White on Rice Couple

We're just going to say it right now: mimosas are lame. Orange juice and champagne are both beautiful things. They don't really need to always be together. Give a French 75 a try instead. You won't be disappointed.