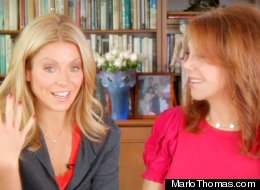 Kelly Ripa joked that her tradition is to NOT cook during the holidays when she met with me on Mondays With Marlo. She told me that her family always goes to church on Christmas Eve, and will usually eat at an Italian restaurant afterwards for a big linguine and clams dinner. In the past, Kelly has made roasts on Christmas day, but their meal depends on where they are and what they're in the mood for.
And for a look back at Kelly's eventful year:
Kelly and Michael were joined by Michelle Obama on "LIVE!" in October, and discussed the first lady's guilty pleasures including French fries and "Real Housewives."

Kelly was excited to welcome former football player Michael Strahan as "LIVE!'s" new permanent co-host in September.

TV host Jimmy Fallon competed with Kelly in a "Rock, Paper, Scissors" challenge when he appeared on "LIVE!" in September. Every time a round was lost, the loser was forced to have a "mystery bucket" dumped on their heads. Kelly only lost one round, so by the end, Jimmy was covered in slime, shaving cream, chocolate pudding and feathers.

Kelly and Anderson Cooper supported the documentary "Bully" by attending The Weinstein Company and Bing screening at the Crosby Street Hotel in NYC.

Kelly rode the ferris wheel with her daughter, Lola, during the Ovarian Cancer Research Fund's (OCRF) 15th annual Super Saturday event. Kelly co-hosted the event alongside COVERGIRL Paula Patton, Donna Karan and InStyle.

Kelly was honored at the 7th Annual Made in New York Awards at Gracie Mansion, which recognizes those who have made a large impact on New York City's entertainment and digital media industries. Here, she poses with fellow honoree Robert De Niro and Mayor Michael Bloomberg.

In February, "LIVE! with Kelly" was broadcast in Hollywood for a post-Oscar special. Here, Kelly and Neil Patrick Harris are perched above the stage, waving at fans.

Kelly cheered on her husband as he played in the Tribeca/NYFEST celebrity soccer match this April, and it worked -- his team won!

Kelly got down with the Fly Girls from "In Living Color" when she hosted the 10th Annual TV Land Awards in April.

Kelly attended the 2012 Gentlemen's Ball hosted by GQ Magazine with husband Mark Consuelos at InterActiveCorp's headquarters in NYC.

Kelly modeled the New York Knicks' new uniform when basketball player Amar'e Stoudemire visited "LIVE!" in September.

In November, Kelly attended the 8th Annual UNICEF Snowflake Ball at Cipriani 42nd Street with husband Mark Consuelos.

Kelly and Michael goofed around at Lincoln Square soon after Michael had been named as the permanent co-host of "LIVE!"

Kelly and her husband attended the "Men in Black 3" New York City Premiere at the Ziegfeld Theatre in May.
Add Marlo On Facebook:
Follow Marlo on Twitter:

Weekly Newsletter

Sign up to receive my email newsletter each week - It will keep you up-to-date on upcoming articles, Mondays with Marlo guests, videos, and more!

Sign up here