Recipe Of The Day: Italian Sausage Stew (PHOTO)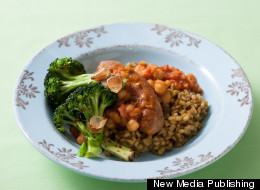 If it's cold where you are right now, you're in need of this Italian sausage recipe. This hearty, rib-sticking Italian sausage stew is made with chickpeas and sweet sausage, served on top of whole-grain barley making it a healthy dinner option. And we could all us something healthy in the middle of this holiday eating freenzy.
If barley is not your thing, or if you're not terribly worried about eating healthy, you can also serve this Italian sausage stew on top of creamy polenta.
Get the Italian Sausage and Chickpea Stew over Barley recipe
Did all this talk of Italian make you crave pasta? Check out these recipes
Get the Butternut Squash Ravioli with Sage Browned Butter recipe from Jenny Steffens

Get the Bacon And Egg Pasta recipe

Get the Spicy Sausage and Rapini Pasta recipe from Crumb

Get the Pasta alla Norma recipe from Daily Unadventures In Cooking

Get the Creamy Pumpkin Pasta with Parmesan and Sage recipe from Bake Your Day

Get the Penne With Cauliflower recipe

Get the Lasagna with Mushrooms and Lamb Sausage recipe

Get the Bucatini all'Amatriciana recipe

Get the Spicy Pappardelle with Sausage and Shiitake Mushrooms recipe from Savory Simple

Get the Cauliflower Puree and Spinach Lasagna recipe

Get the Kale and Ricotta Stuffed Shells recipe from A Food Centric Life

Get the Farfalle with Spicy Sausage and Butternut Squash recipe

Get the Lentils and Shells with Cilantro-Scented Onions and Swiss Chard recipe form Eats Well With Others

Get the Roasted Cauliflower Farfalle recipe

Get the Butternut Squash Lasagna with Shiitake Mushrooms recipe Foodie Crush

Get the Ham, Apple and Cabbage Linguine recipe from Pass the Sushi

Get the Penne Rigate with Brussels Sprouts and Gorgonzola recipe

Get the Chiocciole with Sardines and Breadcrumbs recipe

Get the Sweet Potato and Ricotta Gnocchi with Buttermilk Mornay, Fresh Figs and Pancetta recipe form Local Milk

Get the Three-Cheese Mac and Cheese recipe

Get the Fresh Sage and Brown Butter Fettuccine with Pine Nuts recipe

Get the Spaghetti with Braised Kale recipe from The Parsley Thief

Get the Pasta with Broccoli-Walnut Sauce recipe from That's So Vegan

Get the Sweet Potato and Caramelized Onion Shells recipe

Get the Turkey Bolognese with Fettucine and Mushrooms recipe