VALLADOLID, MEXICO -- On the eve of what will be known as the apocalypse that wasn't, every hotel room in the town of Valladolid -- known as Zaci during the Maya empire -- is filled and no one seems to be panicking. Only 25 miles from Chichen Itza, the visitors here are resolute in the face of doom, passing the time by inspecting colorful Christmas decorations and watching a traditional Maya dance performance set to synth music.
When I ask the several groups of tourists loitering around the town's central square whether they've come for the apocalypse, most tell me that they've visited Chichen Itza already in order to avoid the festival due to take place on Friday.
The festival, Synthesis 2012, promises to welcome in a new era with the help of a harmonic cycle neatly timed to the end of the 13th b'ak'tun, a Maya era that comes to a close on December 21.
"The world isn't going to end," an attendee at the bus terminal informs me. "This is more of a change in consciousness."
Haughtiness and harem pants don't mix well.
The young and aggressively tanned festival goers headed toward Chichen Itza to celebrate the dawning of a new era in cheap tents recognize each other by their extravagant tattoos and, much to the amusement of local cab drivers, spend most of their 10-minute stopover in Valladolid hugging. Then their bus leaves for the ruins.
Two couples standing in front of a horse-drawn carriage say the timing of their visit was mere coincidence. They ask if I would mind taking a few photos and hand me three smart phones.
Margiela, who works the front desk at the local tourism office, tells me about a fire dance scheduled to take place -- and the grand opening of a tiny museum devoted to Maya culture.
"It is wonderful that people are so interested in the Maya," she says as she hands me the book in which she asks visitors to record why they came. The word "apocalypse" is nowhere to be found, though Louis Tucci of New Orleans has written that he came to "see an authentic ciudad."
The most striking entry in the book is from the eccentrically named Chinku Gunmeretz of Sweden, who came to Valladolid because he "heard it was here." It certainly is, but it isn't making a very big deal about it.
In the park, men walk their dogs and woman sit together on white benches talking. Nuns pass periodically, greeted with nods of respect from the elderly woman in traditional attire. The night is warm and children chase each other down the back streets with sticks. There is nothing about the consciousness of this place that needs changing.
Curious about how many people have come and what is being done to accommodate them, I head to the local police station. The officer on duty calls an Officer Loeza to the door. I'm informed that more officers have been called out to deal with all the tourists.
"We have got a few more police working as crossing guards because we don't want you getting hit by those buses," Officer Loeza informs me. "Some security forces went down to Chichen Itza, but not many. It is fairly typical December."
He asks if some people in America believe this is really it and I tell him that yes, some do, but some people will believe anything.
"They should leave me their stuff," he says with a laugh.
He bikes away past a tentative Korean tour group and up a road packed with aging Volkswagon Bugs. One driver waves him over and they talk for a few minutes, holding up traffic. No one honks. It isn't the end of the world.
PHOTO GALLERIES
Valladolid, Mexico
12/21/2012 6:57 PM EST
That's All Folks!
Since the world hasn't ended, we're going to conclude the live blog at this time. Thank you all for reading!
12/21/2012 6:35 PM EST
We Survived
@ jonesry28 :

Well... We survived the "misinterpretation of the Mayan calendar." Congratulations to all of you.
12/21/2012 5:50 PM EST
Half-Price Calendars
@ KeithCowing :

I guess mayan calendars will be half price at bookstores starting tomorrow
12/21/2012 5:42 PM EST
CARTOON: Mayan Calendar Doomsday Vision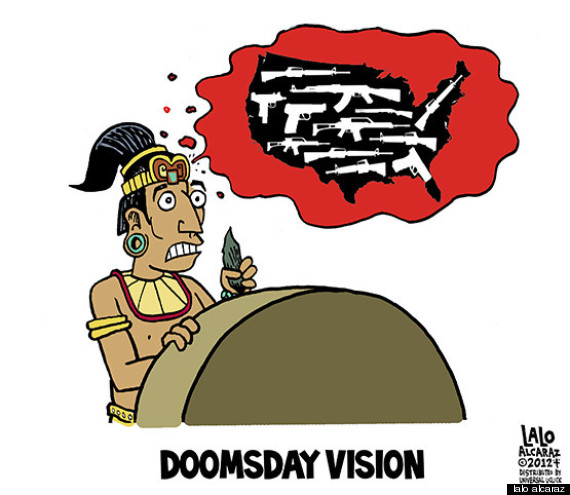 For his latest cartoon, Chicano artist Lalo Alcaraz depicted what the Maya's real doomsday vision might have been.
Read more about Alcaraz on HuffPost Latino Voices.
12/21/2012 5:32 PM EST
Standing Guard At Chichen Itza: Mexico's Boy Scouts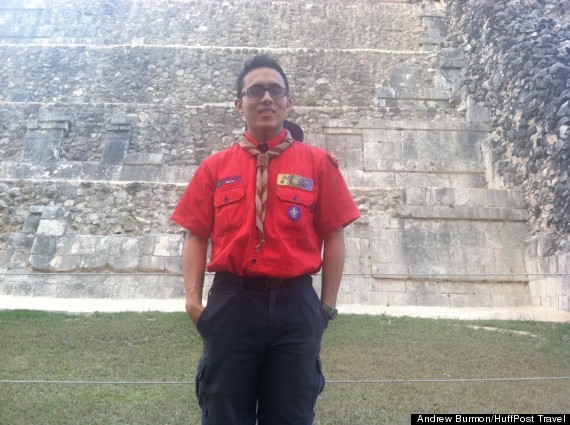 The temptation to ignore the signs, jump the ropes and climb the pyramid dominating the main plaza here gets the better of some visitors. That's why the archeological park has called in Yucatan's scouts, who stand at something approaching attention around the major ruins.
"We do this for special events," explains Gabriel Ancona, an 18-year old Rover Scout -- Mexico's equivalent to an Eagle Scout -- from nearby Merida. "I enjoy serving and, even though I'm not Maya, this is part of my culture because I grew up here."
Ancona says several of his friends had to help stop a crowd of 80 spiritualists, mostly American, who tried to climb El Castillo this morning.
"The scouts were definitely helpful with that," says Ancona, who is amused but unfazed by visitors' fervor.
He admits he finds some of the dancing funny but is complacent about the whole thing.
"They can believe whatever they want," he says. "They just have to stay off the ruins."
-- Andrew Burmon, HuffPost Travel
12/21/2012 5:23 PM EST
End Of The World Movies Worth Seeing
From zombies to a viral pandemic, Hollywood has imagined countless ways the world could end. While some plots are more far-fetched than others, most apocalyptic films have one thing in common: that glimmer of hope that the world won't end after all.
Overlooking blockbuster disaster films like "The Day After Tomorrow," CNN Entertainment compiled a list of the end of the world movies you should actually watch.
12/21/2012 5:01 PM EST
End Of The World Conspiracy Theory?
12/21/2012 4:44 PM EST
Ceremonies Mark A New Era
At dawn, crowds gathered at Tikal - one of the largest pre-Columbian Maya sites in Central America - for rituals sending out the old - and bringing in the new. Reuters reports.
12/21/2012 4:26 PM EST
In Mexico, What One Local Thinks Of The 'Apocalypse'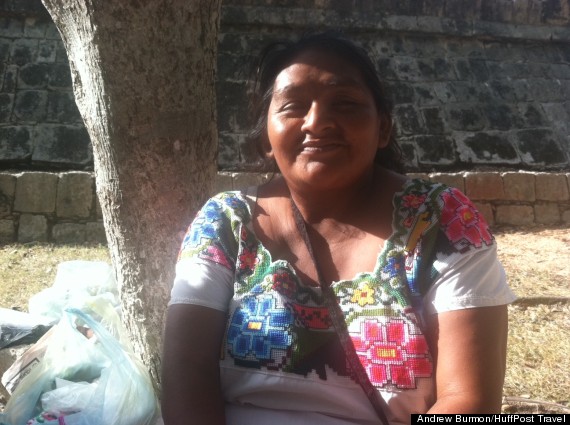 Silvia Guadalupe commutes every day from the Maya town of Xcalacop to the temple complex of Chichen Itza, where she sells handkerchiefs embroidered with bright flowers. Today, as the world fails to end, she is hoping to make enough sales to buy new clothing for her children.
"Only once we make enough money will we go home and celebrate," she says. "We are poor so we have to be here today."
She's not ashamed of her poverty and actually laughs about it. Hers is hardly a unique position within the Maya community. Still, it is a unique day.
"I think things may be a little better for the next few years," Guadalupe says, smiling at a customer who examines her goods and walks away. "It is nice that people care about our calendar, which is like a religion to many people here."
She expects to head home late tonight.
-- Andrew Burmon, HuffPost Travel
12/21/2012 4:12 PM EST
10 Epic Artworks For The End Of Days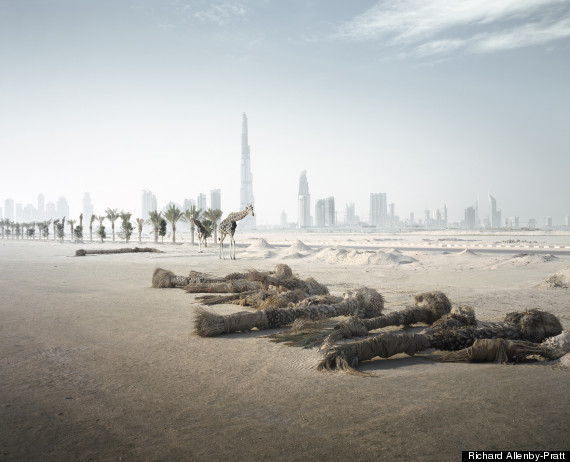 In honor of the anti-climactic affair, HuffPost Arts compiled their 10 favorite artworks that just scream "the world is ending!"
See the rest of the apocalyptic artwork on HuffPost Arts.