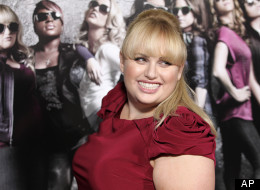 Rebel Wilson will host the MTV Movie Awards on Sunday, April 14, 2013. The network announced Wilson's participation during the series finale of "Jersey Shore" on Thursday night.
Wilson enjoyed great success in 2012. She appeared in four films, including "Pitch Perfect" and "Bachelorette." Wilson also lent her voice to "Ice Age: Continental Drift." Next year, Wilson will co-star opposite Mark Wahlberg and Dwayne "The Rock" Johnson in "Pain & Gain," a new drama from director Michael Bay. In a fortuitous bit of marketing timing, "Pain & Gain" is out in theaters on April 26, 2013, just two weeks after Wilson's MTV Movie Awards hosting gig.
To announce Wilson as host, MTV aired a video sketch of her being tortured for information by her friend and frequent colleague Matt Lucas. The duo played brother and sister in "Bridesmaids."
Watch the video above. The MTV Movie Awards will be handed out on April 14, 2013.
2012 Breakout Performances
Looking for the next Bill Murray? Try Jake Johnson, who steals scenes on "New Girl" with regularity and turned the same trick in "Safety Not Guaranteed." Fingers crossed he winds up in the next Wes Anderson movie.

The beauty of Mary Elizabeth Winstead's performance in "Smashed" is that she portrays both the highs and the lows of being an addict without being solely defined by her onscreen addiction. "Even if you take the addiction part away, just having a character who is so fully imagined -- who is a lead female protagonist -- who is messed up, but likable and real," she told HuffPost Entertainment. "Just that alone was totally different than the typical thing I read."

Ezra Miller explodes off the screen in "The Perks of Being a Wallflower." As Patrick, the homosexual stepbrother of Emma Watson's Sam, Miller is almost an oxymoron: He's flamboyant, but emotionally shut-off; he's confident, but perilously insecure. Miller plays these warring emotions with great subtlety, helping turn "Perks of Being a Wallflower" into a film worthy of its John Hughes comparisons.

Previously known as the snarky best friend in "Mean Girls" and the snarky love interest on "Party Down," Caplan took the next step in the 2012 films "Bachelorette" and "Save the Date," all while retaining her patented snark. More of this, please.

Suraj Sharma's screen debut was no easy task. Not only does the youngster lead Ang Lee's "Life of Pi," but he was also forced to act opposite nothing; Sharma's Pi is trapped on a lifeboat with a computer-generated Bengal tiger for a majority of the film's running time. Not that you'd know: Between Sharma's committed performance and Lee's technical prowess, "Life of Pi" will make you believe a boy and a tiger could coexist somewhat peacefully.

Barks doesn't appear in "Les Miserables" until the film's second half, but as Eponine she makes her mark in a big way: Outside of "I Dreamed A Dream," no musical number in Tom Hooper's film is as important as Barks' "On My Own." "Les Miserables" is Barks' screen debut, but the young stage star could have a lengthy film career -- especially if she nabs an Oscar nomination for Supporting Actress.

"Moonrise Kingdom," Wes Anderson's tale of summer love, stars a cavalcade of big names (Bruce Willis, Edward Norton, Bill Murray, Harvey Keitel, Tilda Swinton, Frances McDormand and Jason Schwartzman). However, the film's success rest upon the shoulders of Hayward, an amalgam of Gwyneth Paltrow in "Royal Tenenbaums" and Lana Del Rey, and Gilman, Max Fisher by way of Dustin Hoffman. The youngsters are more than up to the task, together creating the backbone of romance and nostalgia that make "Moonrise Kingdom" one of the year's best.

To paraphrase the great Frank Sinatra: You can't have one without the other. Messina and Duplass were everywhere in 2012, combining for 11 films appearances including "Argo" (Messina), "Zero Dark Thirty" (Duplass), "Ruby Sparks" (Messina), "Your Sister's Sister" (Duplass), "Celeste & Jesse Forever (Messina) and "Safety Not Guaranteed (Duplass). Each displayed versatility and dexterity in their various film roles, meaning you can expect to see both Messina and Duplass dominating the multiplex for the next year.

2012 was the Year of Channing Tatum for good reason. Previously a punchline, Tatum displayed a full array of talent this year in no less than four movies. He was a warm-hearted assassin in "Haywire" and a romantic lead in "The Vow," but it was his other 2012 films that put him on the A-list. In "21 Jump Street" Tatum was both funny and sympathetic as Jonah Hill's faux-brother, while "Magic Mike" proved Tatum has the soul of a character actor in the body of a leading man.

Consider this: Leslie Mann gives one of the best performances of 2012 in "This Is 40." There's a scene in Judd Apatow's latest film where Mann receives some life-changing news and reacts by offering an entire spectrum of emotion: fear, joy, anger, surprise, excitement. It's the type of work you might expect from the Streeps of the world, and it elevates Apatow's comedy to another level.

Just because his speech is peppered with deli-talk like "bro" and "dude" doesn't mean the CIA interrogator played by Jason Clarke in "Zero Dark Thirty" is your friend. As "Dan," Clarke pops off the screen in the early going of Kathryn Bigelow's procedural epic, participating in the much-discussed waterboarding of a prisoner. What makes Clarke's Dan different than you might expect is that the Australian actor injects the character with loads of humanity and self-doubt. It's a twist on the traditional CIA agent, which gets twisted again in the film's third act, when Dan becomes entrenched in the CIA machine as a suit-wearing desk jockey.

Rebel Wilson went from being that peculiar actress in "Bridesmaids" to everywhere in 2012. She stole the only tolerable scenes in "What To Expect When You're Expecting" and played an expert straight woman in "Bachelorette." It was "Pitch Perfect," however, that marked Wilson's breakout. As the self-proclaimed "Fat Amy," she tore through the a capella comedy with a reckless abandon that recalled Melissa McCarthy and Zach Galifianakis. It's no wonder she's probably going to star in every other comedy released in the next three years.

"Everybody loses the thing that made them. The brave men stay and watch it happen. They don't run." Quvenzhane Wallis was a mere 5 years old when she auditioned to star in "Beasts of the Southern Wild," but that didn't stop her from turning in one of the most memorable performances of the year. Wallis is not so much acting in "Beasts of the Southern Wild," but existing. It's the type of effortless work that could only come from a child. No wonder she didn't run.