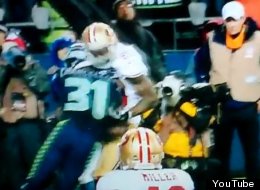 49ers tight end Vernon Davis was knocked out of Sunday night's game after getting laid out by Seahawks safety Kam Chancellor toward the end of the first quarter.
Facing a 3rd and 6 at Seattle's 20-yard line, Davis worked his way open on a wheel route up the right sideline and Colin Kaeprnick hit him with a softly thrown pass inside the 5-yard line. Davis looked as if he had reeled it in until Chancellor flew over and leveled him, dislodging the ball for an incomplete pass.
Three officials immediately threw their yellow flags and a personal foul on Chancellor was called for hitting a defenseless receiver. Davis left the game with a concussion.
But after watching the replay, several including NBC announcer Chris Collinsworth believed it was a clean hit.
"Lowered his head. Hit him with the shoulder pad. Get the head out of there. If that's not legal I don't know what is," Collinsworth said. "I think that is outstanding defensive football."
@StuartScott

Stuart Scott
Defenseless receiver?? Vernon Davis was facing Chancellor. No one is required to play football. How else could the DB defend the play?!?!
@brian_mcintyre

Brian McIntyre
Chancellor hit Davis in the chest. Bad call, but refs will always err on the side of the offense
@daringantt

Darin Gantt
I'm not sure what Kam Chancellor was supposed to do there.
@Aaron_Nagler

Aaron Nagler
Chancellor doesn't lead with his helmet and didn't leave his feet. What a terrible call.
Take a look at the replay and vote on whether you think it was a legal hit.
Without Davis, the 49ers' offense was stifled by the Seahawks' defense and the deafening crowd noise in Seattle. The Seahawks rolled to a 42-13 win.