On Christmas Eves of yore, kids could only dream of where Santa Claus and his reindeer were flying at any moment, hoping that their house would be next on the big guy's list.
Today, they no longer have to wonder. Children worldwide can track Santa's sleigh as it soars from country to country using only their computers.
The North American Aerospace Defense Command, better known as NORAD, is keeping up with its annual holiday tradition of following the process of Santa Claus as he travels around the world delivering gifts. The military agency charged with monitoring the skies above the U.S. and Canada for the other 364 days of the year has turned its attention to Saint Nick on Dec. 24, tracking his progress with an online map updated in realtime.
At www.noradsanta.org, kids (and kids at heart) can also see how many billions of gifts have been delivered thus far and which city Santa is headed for next. In addition, NORAD has set up Facebook, Twitter, YouTube and Google+ accounts to give the up-to-the-minute whereabouts of Kris Kringle.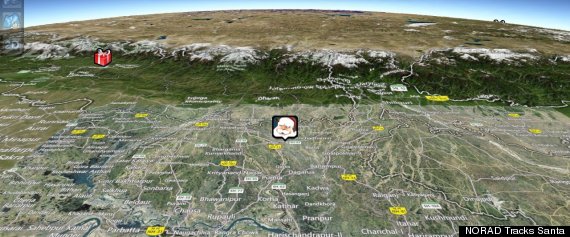 NORAD tracking Santa's sleigh.
How did a serious and staright-laced military organization get mixed up with magical reindeer and flying sleighs? As NORAD's website explains, it all started with a typo back when the group was known as CONAD:
The tradition began in 1955 after a Colorado Springs-based Sears Roebuck & Co. advertisement misprinted the telephone number for children to call Santa. Instead of reaching Santa, the phone number put kids through to the CONAD Commander-in-Chief's operations "hotline." The Director of Operations at the time, Colonel Harry Shoup, had his staff check the radar for indications of Santa making his way south from the North Pole. Children who called were given updates on his location, and a tradition was born.
From 2007 to 2011, NORAD had teamed up with Google to help map Santa's journey. But for 2012, the agency chose to partner with rival Microsoft instead.
"NORAD is grateful for the partnership and the resulting success," the agency said of Google according to the blog Search Engine Land. "This year, NTS [NORAD Tracks Santa] and Google mutually agreed to go in new directions." The agency is using Bing Maps to power the 2D version of NORAD's Santa tracker.
But Google isn't entirely on Santa's naughty list. The company has its own Santa tracker online that might outdo NORAD's. It too shows Santa's current location and where he's delivered gifts thus far, but also features a colorful Santa's Village with games and animation. Google also sports an Android app and Chrome browser extension to follow Santa.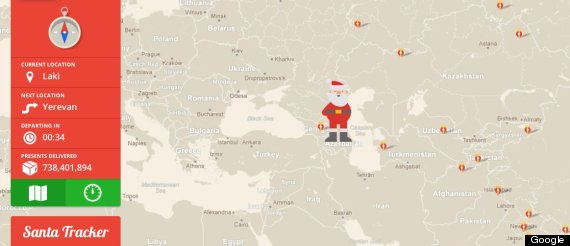 Google's rival Santa tracker.
Those away from their computers can also download NORAD's Santa tracking apps for iPhone, Android and Windows Phone. Little girls and boys can also call 1-877-HI-NORAD or email noradtrackssanta@outlook.com to find out where Father Christmas is on his globe trot.
Take a look at some highlights on YouTube from Santa's first stops this Christmas Eve:
PHOTO GALLERY
BEFORE YOU GO
Follow Santa On YouTube
PHOTO GALLERY
Follow Santa On YouTube