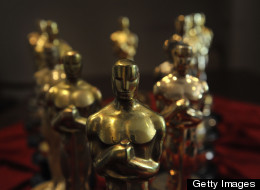 For the first time in its history, the Academy of Motion Picture Arts & Sciences is allowing its members to vote online for the Academy Awards. Unfortunately, things aren't going so smoothly.
As Deadline.com first reported, the AMPAS opened electronic voting on Dec. 17, and the system was immediately buggy, with voters unable to login with their passwords. The issue was so widespread that AMPAS sent out an apology note. Via Deadline.com:
Thank you for contacting us regarding electronic voting. I am sorry to hear that you encountered problems when logging in to vote. While there were a few minor issues that caused problems for a small group of members, those are now cleared up so you are free to log in and vote.

I apologize that it occurred to you but rest assured that it wasn't system wide and everything has been cleared up. We hope that you are still looking forward to voting electronically this year and encourage you to do so at your convenience.
About that convenience: According to Scott Feinberg of The Hollywood Reporter, Academy members are still having difficulty with the voting system, perhaps owing to the fact that the older members of the body aren't used to operating websites. (As Feinberg notes, the median age of Oscar voters is 62.) Per the AMPAS, a large number of the issues stem from users "forgetting or misusing passwords."
Whether the system or the participants are flawed, the issue still remains -- and it's serious enough that some unnamed Academy members told Feinberg that Oscar voting could be diminished as a result.
One member says, "There will probably be a large percentage of people who will just say, 'Screw it,' and not even vote this year." Says another: "I have heard from several that it's been a disaster and they wanted to give up. Confused and frustrated people will just not vote."
If there is a low voter turnout, that could negatively affect the Oscar nominations, which are announced on Jan. 10, 2013. The Academy Awards are voted on with a preferential ballot for Best Picture, meaning each nominee has to receive roughly five percent of the AMPAS vote earn one of the coveted nomination slots. If, as alluded to in Feinberg's piece, older voters decide not to participate -- meaning they also don't bother with paper ballots, an option still available to every Academy member -- it could potentially mean that older-skewing films won't get the necessary nomination percentage. Or it could mean nothing at all, and the Oscars will be unaffected by the online glitches.
For more on the Academy Awards e-voting controversy, head over to THR.com.
[via THR]
RELATED:
Daniel Day-Lewis, "Lincoln"

Denzel Washington, "Flight"

John Hawkes, "Lincoln"

Joaquin Phoenix, "The Master"

Richard Gere, "Arbitrage"

Jessica Chastain, "Zero Dark Thirty"

Marion Cotillard, "Rust and Bone"

Helen Mirren, "Hitchcock"

Naomi Watts, "The Impossible"

Rachel Weisz, "The Deep Blue Sea"

Hugh Jackman, "Les Misérables"

Bradley Cooper, "Silver Lining Playbook"

Bill Murray, "Hyde Park on Hudson"

Jack Black, "Bernie"

Ewan McGregor, "Salmon Fishing in the Yemen"

Jennifer Lawrence, "Silver Lining Playbook"

Meryl Streep, "Hope Springs"

Judi Dench, "The Best Exotic Marigold Hotel"

Dame Maggie Smith, "Marigold Hotel"

Emily Blunt, "Salmon Fishing in the Yemen"

Tommy Lee Jones, "Lincoln"

Alan Arkin, "Argo"

Leonardo DiCaprio, "Django Unchained"

Christoph Waltz, "Django Unchained"

Philip Seymour Hoffman, "The Master"

Anne Hathaway, "Les Misérables"

Sally Field, "Lincoln"

Amy Adams, "The Master"

Helen Hunt, "The Sessions"

Nicole Kidman, "The Paperboy"

LOS ANGELES, CA - NOVEMBER 13: Actor Ben Affleck arrives at the GQ Men of the Year Party at Chateau Marmont on November 13, 2012 in Los Angeles, California. (Photo by Alberto E. Rodriguez/Getty Images)

FILE - This June 7, 2012 file photo shows director Steven Spielberg at the AFI Life Achievement Award Honoring Shirley MacLaine at Sony Studios in Culver City, Calif. Spielberg will make the keynote remarks at the 149th commemoration of "The Gettysburg Address," while his new movie about President Abraham Lincoln is in theaters. Spielberg's speech on Monday, Nov. 19, at Soldier's National Cemetery in Gettysburg will be accompanied by a recitation of the famous speech by a Lincoln re-enactor. (Photo by Chris Pizzello/Invision/AP, file)

Director Kathryn Bigelow arrives for the premiere of Columbia Pictures' 'Zero Dark Thirty' at the Dolby Theater in Hollywood, California, December 10, 2012 AFP PHOTO / ROBYN BECK (Photo credit should read ROBYN BECK/AFP/Getty Images)

LONDON, ENGLAND - DECEMBER 03: Director Ang Lee attends the UK Premiere of 'Life of Pi at Empire Leicester Square on December 3, 2012 in London, England. (Photo by Tim Whitby/Getty Images)

Film director Quentin Tarantino attends the Museum of Modern Art Film Benefit Tribute to Quentin Tarantino, at the Museum of Modern Art on Monday, Dec. 3, 2012 in New York. (Photo by Andy Kropa/Invision/AP)

"Argo"

"Lincoln"

"Zero Dark Thirty"

"Life Of Pi"

"Django Unchained"

"Les Misérables"

"Silver Linings Playbook"

"Best Exotic Marigold Hotel"

"Salmon Fishing in the Yemen"

"Moonrise Kingdom"

"Downton Abbey," PBS

"Breaking Bad," AMC

"Boardwalk Empire," HBO

""The Newsroom," HBO

"Homeland," Showtime

Jon Hamm, "Mad Men"

Jeff Daniels, "The Newsroom"

Steve Buscemi, "Boardwalk Empire"

Bryan Cranston, "Breaking Bad"

Damian Lewis, "Homeland"

Glenn Close, "Damages"

Connie Britton, "Nashville"

Claire Danes, "Homeland"

Michelle Dockery, "Downton Abbey"

Julianna Margulies, "The Good Wife"

"Girls," HBO

"The Big Bang Theory," CBS

"Smash," NBC

"Modern Family," ABC

Alec Baldwin, "30 Rock"

Jim Parsons, "The Big Bang Theory"

Don Cheadle, "House of Lies"

Matt LeBlanc, "Episodes"

Louis C.K., "Louie"

Julia Louis-Dreyfus, "Veep"

Zooey Deschanel, "New Girl"

Lena Dunham, "Girls"

Tina Fey, "30 Rock"

Amy Poehler, "Parks and Recreation"

"Game Change," HBO

"Hatfields & McCoys," History

"The Hour," BBC

"The Girl," HBO

"Political Animals," USA

Eric Stonestreet, "Modern Family"

Mandy Patinkin, "Homeland"

Max Greenfield, "New Girl"

Danny Huston. "Magic City"

Ed Harris, "Game Change"

Sarah Paulson, "American Horror Story: Asylum"

Hayden Panettiere, "Nashville"

Archie Panjabi, "The Good Wife"

Maggie Smith, "Downton Abbey"

Sofia Vergara, "Modern Family"