Religion 2012 In Review: Most Memorable Pictures Of The Year (PHOTOS)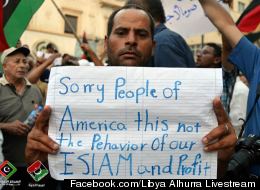 The most powerful religious moments in 2012 were captured in what have become iconic photos. This collection, selected by the HuffPost Religion editors contains images that break and warm our hearts.
We hope you looking through them evokes powerful, inspiring memories. Please share your thoughts in the comments below.
Memorable Religion Photos 2012
Members of the Russian radical feminist group Pussy Riot try to perform at the Christ the Saviour Cathedral in Moscow. More on Pussy Riot here. (AP Photo/Sergey Ponomarev)

Nine-year-old Josef Miles Stages counter-protest against Westboro Baptist Church protesters with a sign that says, "God hates no one." More on the story here.

Mormons march in the annual Gay Pride Parade through downtown Salt Lake City, Sunday, June 3, 2012. (AP Photo/The Salt Lake Tribune, Scott Sommerdorf)

Sister Simone Campbell, executive director of Network, speaks during a stop on the first day of a 9-state Nuns on the Bus tour, Monday, June 18, 2012, in Ames, Iowa. The group of Roman Catholic nuns say they're not opposing any particular candidate but that their fight is with a Republican proposed federal budget they say hurts the poor and needy. (AP Photo/Charlie Neibergall)

Myanmar's ethnic Rohingya Muslims display placards near the British embassy in Kuala Lumpur on July 19, 2012. For the latest on the situation in Myanmar for Rohingya Muslims, click here. (Photo credit should read MOHD RASFAN/AFP/GettyImages)

A family walks past a cross adorned with photographs of victims of the mass shooting at the Century 16 movie theatre on July 30, 2012 in Aurora Colorado. (Joe Raedle/Getty Images)

"It's heartbreakingly sad to see people using the Bible and Christian rhetoric to make people feel like they don't belong in God's House," Pastor Sarah Halverson said in response to Chick-Fil-A president Dan Cathy controversial statement on same-sex marriage.

Following the devastating attack on the Oak Creek Gurdwara on 5 Aug. 2012 that took the lives of seven including the shooter, there was a coordinated nation-wide vigil on 8th Aug. at 8 p.m. This is a photo from the vigil in Union Square. More photos from the vigil here.

After Gabby Douglas became the first African-American gymnast to claim gymnastics biggest prize, she gave all the glory to God. "It is everything I thought it would be; being the Olympic champion, it definitely is an amazing feeling. I give all the glory to God. It's kind of a win-win situation. The glory goes up to Him and the blessings fall down on me," she said in an interview. (AP Photo / Gregory Bull)

This photo is from a demonstration in Benghazi following the Sept. 11, 2012 terrorist attack on the US embassy. While the attack was later diagnosed as a premeditated attack by terrorists, it was initially linked to a crude anti-Muslim film "Innocence of Muslims" that sparked huge protests in many Muslim-majority countries. More on the story here.

Pastor Youcef Nadarkhani greets his family after 1,062 days in Iranian jail. He was jailed for refusing to recant his Christian faith. More here.

This heart-warming note written by the founder of The Dialogue Project appeared next to Pamela Geller's bigoted anti-Islam message.

This is another great response to Pamela Geller's hateful ad sponsored by the United Methodist Women.

This stealthily taken photo of Ohio State University sophomore Balpreet Kaur was uploaded to Reddit's funny sub-reddit in September to mock the young woman for keeping uncut hair in accordance with the tenets of the Sikh religion. Miraculously, this effort backfired as Balpreet wrote a gracious response explaining why she does not cut her hair, and the person who originally uploaded the photo apologized. Read more about the story here.

A Pakistani veiled activist of an Islamic Sunni Tehreek party carries a placard during a protest against the assassination attempt by Taliban on child activist Malala Yousafzai, in Islamabad on Oct. 14, 2012. (Photo credit: Aamir Qureshi/AFP/Getty Images)

Anat Hoffman was arrested on Oct. 16, 2012 for leading a prayer service at the Western Wall in Jerusalem, praying while wearing a tallit (prayer shawl), singing out loud and attempting to read the Torah scroll. Check out her blog post here.

In Brighton Beach, NY, a synagogue affiliated with F.R.E.E. (Friends of Refugees of Eastern Europe) dries out its Torah scrolls that were badly damaged by Hurricane Sandy. More here.

A statue of the Virgin Mary is all that remains after Hurricane Sandy destroyed a home in Queens, NY. More about the Virgin Mary statue here.

A view of the inside of a church in Kaduna which was targeted by a suicide attacker who detonated a car filled with explosives, in Kaduna, Nigeria, on Oct. 28, 2012. (Photo credit should read Victor Ulasi/AFP/Getty Images)

On Nov. 6, 2012, Tulsi Gabbard, 31, became the first Hindu representative to be elected to the Congress. (AP Photo/Marco Garcia)

Women clergy hug each other after the Church of England voted not to allow women bishops. More on the story here. Photo by Peter Macdiarmid / Getty Images

A Muslim from Palestine and a Jewish person from Israel hold a peace sign together during the heightened Israeli-Palestinian conflict in November 2012. More here.

Cadet Chapel, the landmark Gothic church that is a center for spiritual life at the U.S. Military Academy at West Point, hosted its first same-sex wedding on Dec. 1, 2012. Penelope Gnesin and Brenda Sue Fulton, a West Point graduate, exchanged vows in the regal church in an afternoon ceremony, attended by about 250 guests and conducted by a senior Army chaplain. Read more here.

Crosses bearing the names of the Newtown shooting victims are displayed in the Sandy Hook village of Newtown, Conn., Saturday, Dec. 22, 2012. The funerals for the victims of the school shooting are wrapping up after a wrenching week of farewells. Twenty children and six adults were killed at Sandy Hook Elementary School on Dec. 14. Adam Lanza, the lone gunman, killed his mother before going on the rampage and then committed suicide. (AP Photo/Seth Wenig)

U.S. President Barack Obama wipes tears as he makes a statement in response to the elementary school shooting in Connecticut December 14, 2012 at the White House in Washington, DC. The President ended his remarks by quoting Psalm 147:3, "he heals the brokenhearted and binds up their wounds." On the 16th of Dec., he spoke at an interfaith vigil in Newtown where he offered a profound theological reflection. (Photo by Alex Wong/Getty Images)

A woman holds up a Koran and a cross in her hand as Egyptian protestors opposing President Mohammed Morsi chant slogans during a demonstration at the Presidential Palace on Dec. 18, 2012 in Cairo, Egypt. More on Egyptian protest against sectarianism here. (Photo by Daniel Berehulak/Getty Images)

In this photo released by the Vatican newspaper L'Osservatore Romano, former pope's butler Paolo Gabriele, right, is received in a private audience by Pope Benedict XVI, at the Vatican, Saturday, Dec. 22, 2012. The Pope has granted Christmas pardon to his former butler, who stole the pontiff's personal papers and leaked them in a bid to expose the "evil and corruption" in the Catholic Church. (AP Photo/L'Osservatore Romano)