If you're looking for people to take pity on you and your dire financial straits, flaunting your flashy Birkin bag might not be the best idea.
Lindsay Lohan, however, plays by her own rules. With the tabloids trumpeting her money woes, Lohan headed to London for an extravagant vacation this weekend. She shopped at Harrods, dined at Cipriani and rested her head at the Dorchester, all the while swinging a pink ostrich Hermes Birkin bag from her arm.
Lilo actually appeared relatively put-together in her fur coat and boots... but behind the scenes, things are less than peachy. The Internal Revenue Service recently froze Lindsay's accounts, seeing as she reportedly owes $234,000 in unpaid taxes. The 26-year-old is having trouble paying rent on her Beverly Hills mansion, her storage locker is set to be auctioned off because she never paid the bill and one tabloid rumor had her sister selling off her designer wardrobe for quick cash. Oh, and then there was that loan from Charlie Sheen.
Luckily the pink Birkin bag appears to be the same one Lindsay tweeted about in September, before she received $100,000 from Sheen.
She hasn't sold it off yet... but she might want to consider it.
PHOTOS: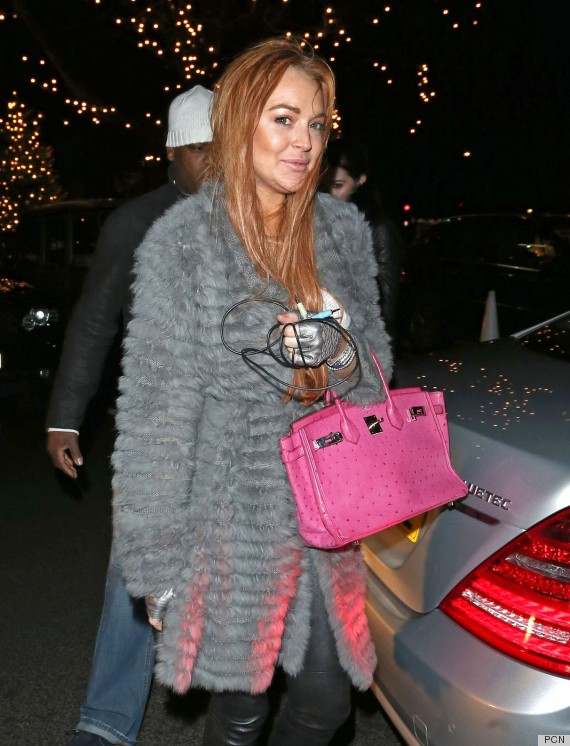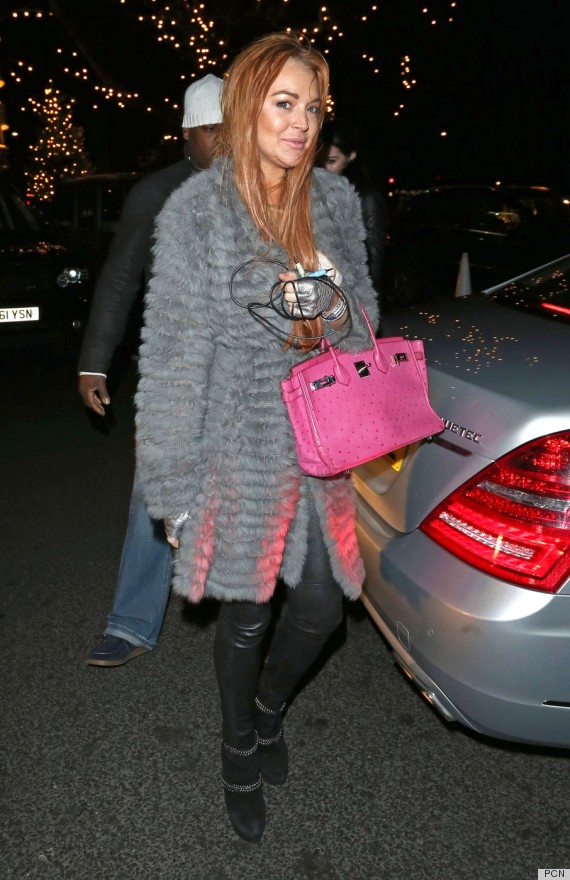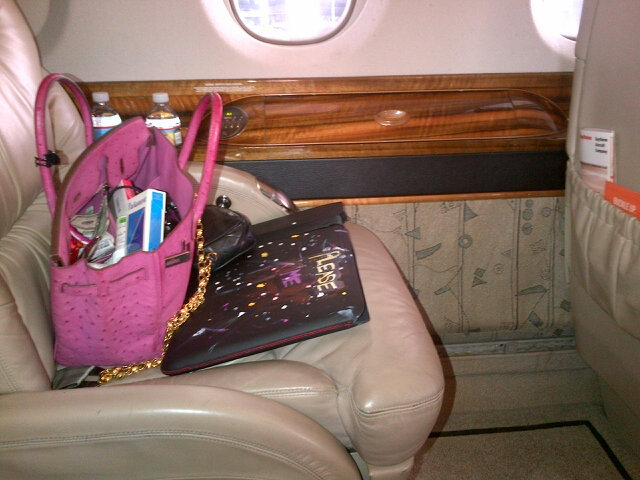 See more celebs with financial woes:
Singer Toni Braxton has had some serious money problems for years. In a recent interview she admitted to ABC's "20/20," her first bankruptcy filing in 1998 was largely due to her home decor shopping obsession: "I love dishes and house things, so I kind of lost it a little on housewares," she said. The singer filed for bankruptcy again in 2010 and it was reported she had to sell some of her assets to pay off debts listed in court records as ranging between $10 million and $50 million. Most recently she's been accused of bankruptcy fraud, after she transferred more than $53,000 to Keri Lewis, her estranged husband, "in order to avoid paying back creditors in her bankruptcy case," according to TMZ.

In January 2012, Lindsay Lohan reportedly received notice from the IRS that she owed over $93,000 in unpaid taxes from 2009. According to TMZ, the actress was simply unaware of the issue. Nearly a year later, the actress still hasn't paid up. In early December it was reported that the IRS had seized all of her bank accounts in order to repay her massive outstanding debt. According to TMZ, Charlie Sheen generously paid Lohan $100,000 to help alleviate her 2009 tax problem, but it hasn't helped since the actress also owes money for 2011.

On Dec. 6 Stephen Baldwin was charged with failing to pay New York state taxes for three years, amassing a $350,000 debt.

In April 2012, former NFL star Warren Sapp filed for bankruptcy, revealing that he owed $942,000 in back taxes from 2006 and 2010.

According to the IRS, Ozzy Osbourne and his wife Sharon owed $1.7 million in taxes from 2008 and 2009.

In 2009, rapper Method Man was arrested for failing to pay $33,000 in back taxes.

In 2012, it was revealed that comedian Chris Tucker reportedly owed the government $12 million in unpaid taxes.

"Baywatch" actress Pamela Anderson owed nearly half a million dollars to the IRS in 2010.

Courtney Love is currently involved in multiple lawsuits with lawyers and assistants who claim she owes them money. The rocker's former assistant Jessica Labrie claims she has a recording of Love, in which she tearfully admitted she was in dire financial strife and could not pay what she owed. Love has been having financial issues for years. In May 2012, she reportedly agreed to step down as acting manager of End of Music LLC -- the corporation responsible for generating money from Kurt Cobain's publicity rights -- when she received a $2.75 million loan from her daughter Frances' trust fund in 2010. Until Love pays the loan back, she won't receive any profits made from her late husband's publicity rights. In 2005, Love sold 25 percent of the rights to the Nirvana catalog for $50 million, and five years later, she was offered $162 million for the rest of her majority stake, an offer she said she was considering because the songs and their royalties were "cursed."

Actor Nicolas Cage reportedly owed $6.7 million to the IRS at the end of 2009.

In 1996, Burt Reynolds reportedly owed the state of California $225,000 in back taxes. According to his rep, his debt has been fully paid.

"Hunger Games" star Wes Bentley and his estranged wife, Jennifer Quanz, owed over $200,000 in delinquent and federal taxes in 2010.

In November 2012, "CSI" star Gary Dourdan filed for bankruptcy. The 45-year-old actor has $1.8 million in assets, but owes $1.73 million. A large chunk, specifically $1,689,704, is owed to various banks, one of which holds his mortgage.

Supermodel Naomi Campbell owed more than $63,000 in back taxes from 2009.

According to E! News, Lionel Richie owes $1.1 million in unpaid taxes from 2010.

"Pan Am" actress Christina Ricci was hit with a federal income tax lien of nearly $180,000 on her 2008 earnings.

Despite making about $400 million over the course of his career, in 2003 Mike Tyson was reported to be $23 million in debt and filed for bankruptcy.

Former "Happy Days" star Erin Moran is broke and has been having a rough year. The actress has reportedly been staying in various hotels after being bounced from the trailer park she was forced to move into after she was evicted from her California home in June. Moran was living in a trailer with her husband, Steve Fleischmann, and his 72-year-old mother -- with whom she allegedly got into a drunken brawl in early October.

MC Hammer infamously filed for Chapter 11 bankruptcy in 1996. The rapper seriously knew how to overspend. After reportedly earning $33 million in 1991 alone, he was saddled with $14 million in debt when he filed for bankruptcy five years later. That $30 million, 12-acre mansion wasn't such a good investment, and neither was $500,000 a month he reportedly spent on his entourage.

Wesley Snipes was sentenced to three years in prison for neglecting to pay over $17 million in taxes. He serving his time in December 2010.

Anna Nicole Smith's 90-year-old husband, J. Howard Marshall, died in 1995, and she was left with nothing though he promised her a trust fund would be set up for her. The former Playboy model sued her late husband's estate to the money she claims she was owed, but she was forced to file for bankruptcy in 1996 after she was hit with a sexual harassment claim from a housekeeper. Smith died in 2007 and never heard the court's decision to reject the claim she made to Marshall's fortune.

Actor Gary Busey claimed that he has less than $50,000 to his name, and was more than $500,000 in debt in February 2012. In December 2012, the actor officially closed his bankruptcy case, but despite wiping over $50,000 in debt from his name, he still has about $450,000 in debts.

In 1999, BBC News reported that Elton John asked his bank to borrow $40 million so he could pay off his debt. Wrote the BBC, "[John wanted to] arrange a deal which would allow him to use future earnings from his music as security for the loan." CORRECTION: Previously, this slide said Elton John filed for bankruptcy in 2002. It has been changed to indicate John wasn't actually bankrupt, per his rep.
Want more? Be sure to check out HuffPost Style on Twitter, Facebook, Tumblr, Pinterest and Instagram at @HuffPostStyle.
--
Do you have a style story idea or tip? Email us at stylesubmissions@huffingtonpost.com. (PR pitches sent to this address will be ignored.)