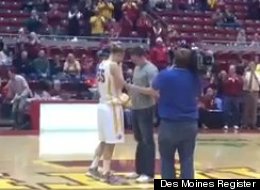 Anna Prins will always remember this win.
Shortly after Prins and the Iowa State women's basketball team defeated Alabama State on Sunday, the center received the surprise of her life.
Just minutes after the game, Prins was proposed to by her boyfriend Ryan De Hamer right in the middle of the court.
The senior from Broomfield, Colo. said "yes" as the crowd cheered and her teammates greeted them on the court.
According to her profile on Cyclones.com, Prinns is the tallest women's basketball player in Iowa State history and made the Academic All-Big 12 First Team in both 2011 and 2012.
Thanks to Tommy Birch of DesMoinesRegister.com, you can watch video of the proposal above.
(H/T to USA Today)