New Year Baby Names: Unique Ideas For January Babies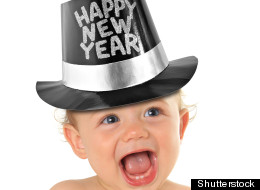 Written by Linda Rosenkrantz for Nameberry.com
Ring out the old, ring in the new -- an auspicious beginning for babies born at this time of year, with its sense of freshness and hope and a new dawn dawning. We've split our name suggestions for New Year babes into three parts: names that mean happy, names that mean new, and even a couple that mean year. So put them all together, and you have HAPPY NEW YEAR.
Beatrice: The name Beatrice is defined as "she who brings happiness," a wonderful aura to project onto a little baby Bea. A literary inspiration for Dante and Shakespeare, the classic Beatrice is definitely moving back into popularity. Sister-name Beatrix, as in the name of the creator of Peter Rabbit, is a livelier possibility.
Asher: The New Testament Asher means both happy and fortunate in Hebrew—a winning combination. The solid but sensitive biblical Asher, with its appealingly romantic nickname Ash, has been rising rapidly since the Millennium, and has now reached Number 113.
Farah: Farah is an exotic Arabic name meaning happiness and joy that became popularized here in the alternate Farrah Fawcett spelling during the Charlie's Angels 1970's. Farah Pahlavi was the last Empress of Iran; Princess Farah is a character in the Prince of Persia game trilogy.
Felix: A literal translation of the Latin word for 'happy,' Felix is a Nameberry fave that has moved far enough beyond its old Felix the Cat association to reach Number 311 on the national list. The feminine forms Felicity and Felicia share in the felicitous meaning.
Gwyneth: Just short of being a single-owner name via Oscar-winner Paltrow, Gwyneth, a Welsh name meaning 'happiness' or 'shining, holy girl,' deserves wider circulation. Some other Welsh girls' names worthy of consideration: Bethan, Branwen, Carys, Olwen, Rhonwen and Tegan.
Leticia: Leticia and Letitia are modernizations of Laetitia, who was a Roman goddess of gaiety, though the original spelling is still commonly used in France. Leticia is one of those prim and proper mauve-tinted vintage names that's easily enlivened by a sweet gold locket nickname -- Letty or Lettie.
Naomi: The somewhat serious biblical image of Naomi (despite its meaning of delight and pleasantness) has been softened and updated by such notable modern bearers as model Campbell, actress Watts, singer Judd and controversial writer Wolf. We also like the mellifluous Italian/ Spanish/Slavic/German version, Noemi.
Zelig: Zelig is a Yiddish variation of the rarely heard Hebrew-German Selig, meaning 'happy, blessed,' and which is sometimes used as a translation of Asher. To most of us, though, Zelig is strictly the transmogrifying Woody Allen character in the eponymous film -- even though his first name was actually Leonard.
Neo: Moving on to names that mean new, Neo, the Greek prefix signifying new or young, is the nom d'adventure of the charismatic protagonist (birth name Thomas A. Anderson) of The Matrix franchise, portrayed by Keanu Reeve. Neo could make a cutting-edge middle-name cousin for Leo and Theo.
Dagny: Dagny, a Scandinavian name meaning 'new day,' was brought to the attention of the international book-reading and movie-going public via the powerful character Dagny Taggert, in Ayn Rand's novel Atlas Shrugged. With the newfound interest in Scandinavian names going on, Dagny is accessible and appealing enough to catch on.
Nova: A nova is a star that suddenly becomes thousands of times brighter and then gradually fades away. As a name, Nova reentered the popularity list this year for the first time since 1938, part of a trendlet of celestial names that also includes Luna, Aurora and Orion.
Année: Since there are very few -- if any -- names that mean year, why don't we just get creative and choose some other-language words that could conceivably be used as names. The French Année is similar enough to Annie and Aimée to be considered, and the Italian Anno could be a novel addition to the o-ending boys' name group.

Plus, here are Nameberry's predictions for baby names in 2013.
Russell Crowe's "Gladiator" and HBO's "Rome" may have kindled the trend for Ancient Roman names, but then the megahit "The Hunger Games" drove it into the big-time. With another film of the series set for November 2013, we predict that names of old world gods and goddesses, mythological heroes and leaders will dominate birth announcements. Choices we'll be hearing more of include Augustus and Atticus, Persephone and Athena, Juno and Julius, Thor and Maeve. The appeal transcends the pop culture influence: These names are as powerful as they are deep, arming a child to triumph over earthly challenges. Pictured: LOS ANGELES, CA - AUGUST 24: A general view of the after party for HBO's new drama series 'Rome' at the Wadsworth Theater on August 24, 2005 in Los Angeles, California. (Photo by Mark Mainz/Getty Images)

The devastating superstorm is not likely to inspire a wave of baby Sandys or even Sandras, but the endless repetition of the name is statistically likely to increase the use of S names -- as was the case of K names after Katrina. Along with a wave of babies born nine months after the storm, we predict the rise of names with a Sandy-like sound, such as Alessandra or Cassandra or Sander. From there you can stretch to the word names Sand, Dune, Beach, or even Storm.

Leo has been climbing the charts since the emergence of Leonardo DeCaprio, but other leonine names popular in Europe are set to invade our shores. Leon has been a top name in Germany and high in Austria, Switzerland, Scandinavia and even Ireland for a decade—and that could happen here. Other leonine names stylish overseas with potential in the U.S. include Leonie, Lionel and Lev, along with Leopold and Leonora which don't mean lion but feel as if they should. One celebrity cut right to the chase, when Alex O'Loughlin recently named his son Lion.

Using a word, any word with personal significance, as a middle name takes the trend toward using an adventurous and meaningful name in the middle to new heights of quirkiness and creativity. Celebrities have led the way, using everything from Ballerina to Bear, Sweetheart to Seven to Song to Star to Saint in middle place following more conventional firsts.

When Reese Witherspoon named her baby son Tennessee, it wasn't in honor of playwright Williams. Rather, it has deep personal resonance, Reese having been raised in Tennessee, her mother's native state. Other celebs have chosen names of places that also have emotional significance, while another contingent have gone for the more exotic -- Chris Hemsworth's daughter India -- or the down-to-earth, as with Nick Lachey's Camden.

The last wave of grandma and grandpa nickname names -- Annie and Molly, Ben and Max -- are now borne by new parents, who we predict will turn to vintage nicknames from the "Mad Men" era for their own children, with the most fashionable choices for boys. While Don and Dick have not yet reemerged, we see a new generation of kids with names like Hank and Hal, Ray and Fay, Millie and Monty, and Lous of both genders.

Sure, Latin names are sexier and French names have more chic, but baby namers are beginning to appreciate the distinctive charms of the Scandinavian, inspired by a combination of Siri and Stieg Larsson. Some names have been introduced by celebrities, like Stellan and Viggo and Liv, others by starbabies such as Kai, Magnus (there was one born to Elizabeth Banks just this week), and Axel, but there are other appealing choices as well, including Freya, Linnea, Signy, Astrid, Soren, Leif, and Lars. In the Christmas 2013 "Hobbit" movie, one of the major characters is named Thorin.

At first they seemed irresistibly lilting -- all those lovely girls' names that doubled up on the L sounds: Lily, Lila, Lola, Leila, Layla, Lillian. But we suspect that tongues are getting tired of reaching up for all those L's and that the trend has passed its tipping point.

Baby namers have started to turn from cultivated gardens and look to the fields where flowers grow wild. Hottest of these at the moment are Clover and Poppy, along with uncultivated tree names Juniper and Maple. For the adventurous, there are choices like Thistle, Dandelion, and Buttercup. The herbal names from "The Hunger Games" are also influential, but more Rue and Primrose and less Katniss.

Seasonal names have taken on a wintery chill. Winter (used by Gretchen Mol) itself is sounding fresher than Summer or Autumn, and March and January are moving in on May and June. We've also been seeing Snow and Frost and North itself, especially as middle names, and we predict there'll be more crisp and nippy names ahead.

William, of course, has been a stalwart in the baby name world for centuries, but other names sharing that initial have lagged behind. Now suddenly there is a flurry of long-neglected W-names resurfacing. For boys, there are West, Weston, Wesley, Warren, Walker, Walter, Winston, Wilson, Wilder, Wylie and Wyatt, and for girls, Willa, Willow, Winter, Winnie, Waverly, and even clunky Wilhelmina is back on board after being chosen recently by Natalie and Taylor Hanson.

Surprising and yet logical. We have seen the progression of top girls'names shift from Emily to Emma to Ella, so Etta makes sense as a successor. She was a Top 100 name at the end of the nineteeth century, falling off the list in 1966, but the recent death of the great blues singer Etta James brought her name back into the spotlight, inspiring at least one celeb -- Carson Daly -- to use it for his daughter.

There are still many celebs who can't wait to get that money shot of their five-minute-old baby onto the cover of People, but there is now a growing trend for keeping the name (and sometimes even gender) of famous offspring private for a long period of time -- if not permanently. We still don't know, for example, the names (or sex) of Anna Paquin and Stephen Moyers's twins or that of Sarah Michelle Geller and Freddie Prinze Jr's son. Uma Thurman waited three months to leak the names of her daughter Rosalind Arusha Arkadina Altalune Florence Thurman-Busson -- though maybe it took her that long to configure them.

Goodbye Jayden, Ashton, Ava and Emma: the cutting-edge parent today is much more interested in a single-syllable name or one that has three or even four syllables. On the rise: the short and sleek Cole, Zane, Eve and May; and at the other end of the spectrum: Macallister (choice of Yahoo CEO Marissa Mayer), Penelope (new non-K Kardashian name), Arabella and Theodora.

20 Unusual Baby Names That Are Going To Be Trendy 12 Celebrity Baby Names Regular People Love 24 Classic Names That Are Making A Comeback The Hottest Names Of 2012 (So Far) See All Baby Name Stories
Nameberry is the baby name website created by Pamela Redmond Satran and Linda Rosenkrantz, authors of ten bestselling books on names including "Cool Names for Babies" and "The Baby Name Bible."