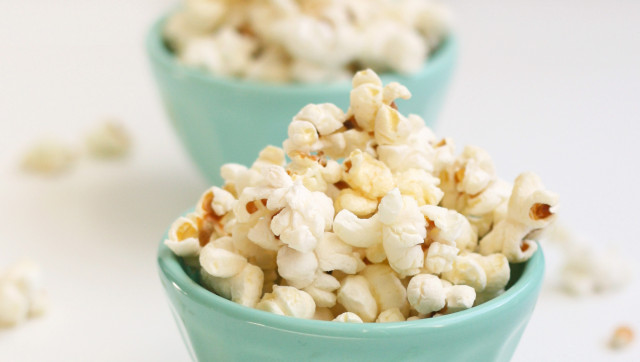 The 85th Academy Award nominees will be announced next week, which means movie-watching season is in full-swing. Many of the frontrunners that came out this fall are still in theaters, and, as always, a number of blockbusters debuted on Christmas Day. So it's time to head to the theaters (or watch one at home).
And what's a movie-watching experience without a buttery bag of popcorn? There's something almost idyllic about eating the salty snack during a flick -- when a film's hero is in a pinch, we grab handfuls compulsively.
Still, even the most tolerant eaters have a quarrel with the too-greasy movie theatre variety. For starters, the artificial butter is linked to Alzheimer's. If that isn't reason enough to avoid it, the stomachache typically experienced shortly after consumption ought to be.
Which is why we've wrangled up some new renditions of popcorn for you to try. Whether sweet, spicy or savory, they sure beat overpriced:
13 Flavored Popcorn Recipes
8 Holiday Movie-Watching Snacks
SUBSCRIBE AND FOLLOW
Get top stories and blog posts emailed to me each day. Newsletters may offer personalized content or advertisements.
Learn more