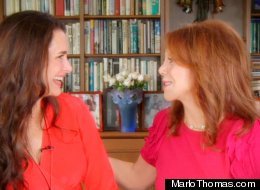 For many of us, we still remember actress Brooke Shields as the girl in the racy Calvin Klein ads. When she stopped by Mondays With Marlo, we discussed how the ads weren't as controversial as some might think -- they were artistic movies, Brooke said. The rules have changed for today's society, though, and Brooke isn't sure she'd make the same decisions today.
For more on Brooke, take a look back at her enduring career:
Brooke Shields began her career as the Ivory Soap baby, but by 1978, she was playing a very different kind of role. Brooke starred as a child prostitute in the film "Pretty Baby" at just 12 years old. The film was critically praised, but sparked a lot of controversy about her age.

Brooke was perhaps the most successful child model of all time. When she joined the Ford Agency at eight years old, the Fords established a children's division just for her. At 14, she became the youngest model to ever appear on the cover of "Vogue."

In 1980, Brooke starred alongside Christopher Atkins in "The Blue Lagoon," a film about two young cousins who grow up alone on a desert island. Nude scenes including the 14-year-old actress created a stir, and Brooke testified before Congress that older body doubles were used in some of them.

In 1980, Brooke starred in the iconic print and TV ads for Calvin Klein Jeans that turned the brand into a major force in the fashion industry. While a few TV networks considered the ads too provocative to run, they helped further Brooke's acting career, and are commonly regarded as some of the most successful and memorable commercials ever made.

By age 16, Brooke had become one of the most recognizable models in the industry. In 1983, she appeared on the cover of Paris "Vogue," Italian "Vogue" and on two issues of American "Vogue."

In 1983, Brooke moved into the dorms at Princeton University, where she pursued a Bachelor's degree in French literature. Here, she poses on graduation day with her mother, Teri, in 1987.

Brooke met Michael Jackson when she was 13 years old, and the two child stars became fast friends. Both had grown up fast, but could act goofy and young when they were together. Brooke gave a eulogy at Michael's funeral in 2009, recalling many of the good times she shared with him.

Brooke took on the role of Susan Keane, a high-maintenance magazine writer who must adjust to single life, in the NBC sitcom "Suddenly Susan" from 1996-2000.

Brooke is a five-time winner of the People's Choice Award. She won the Favorite Young Motion Picture Performer category every year from 1981-1984. Here, she is pictured with her 1997 People's Choice Award that she earned from her her role in "Suddenly Susan."

Brooke met TV writer Chris Henchy through mutual friends in 1999 and the two married in 2001. The couple has two daughters.

In 2005, Brooke took on the role of murderess Roxie Hart in the Broadway revival of "Chicago." But this wasn't her first stint on Broadway -- Brooke had previously appeared in "Wonderful Town," "Grease," and "Cabaret." Here she poses (on left) with co-stars Joel Grey and Melanie Griffith.

Brooke discussed her experience with postpartum depression in her book "Down Came the Rain," which was published in 2005. She wrote the bestselling memoir to bring awareness to the condition that struck her with crippling depression after the birth of her first daughter.

In 2007, Brooke joined Senators Bob Menendez and Rep. Bobby Rush to voice her support for the MOTHERS Act, which aimed to educate new mothers about postpartum depression and work for increased research, screening, treatment and prevention. The act was passed into law in 2010.

In 2008, Brooke starred alongside Kim Raver and Lindsay Price in NBC comedy/drama "Lipstick Jungle." The show followed three professionally successful women as they navigated life and love in New York City.

In 2011, Brooke returned to Broadway when she took over the role of Morticia in "The Addams Family." She was supposed to leave the cast in October 2011, but she enjoyed the role so much that she extended her run to the end of December, when the show closed.

Brooke attended the Brooks Brothers Seventh Annual Holiday Celebration for St Jude Children's Hospital in December of 2012. Here, we are together with two St. Jude patients.

Brooke poses with her daughters Rowan and Grier at a movie premiere in late 2011.
Add Marlo On Facebook:
Follow Marlo on Twitter:

Weekly Newsletter

Sign up to receive my email newsletter each week - It will keep you up-to-date on upcoming articles, Mondays with Marlo guests, videos, and more!

Sign up here