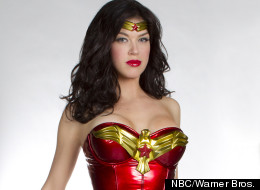 David E. Kelley is well aware of the problems with his "Wonder Woman" reboot that went to pilot at NBC. In an interview with The Hollywood Reporter, Kelley admitted his mistakes, but says he would do it again if he could.
"We made mistakes with ours," he said. "My only regret is we were never given a chance to correct them. We had a lot that was right about it and a great cast. In time, we could have fixed what we had done wrong, we just didn't get that chance."
Kelley said because of production speed, the NBC show's special effects weren't up to par. Plus, there was the whole superhero angle, a genre Kelley isn't familiar with. "I'm sad we didn't get to do it but I do believe it can work for The CW. They're smart to try it."
The CW is currently working on a project titled "Amazon," written by former "Wonder Woman" comic scribe Allan Heinberg. The series follows a warrior named Diana, a newcomer to the modern world who's fascinated by our way of life. If "Amazon" makes it to series, it will be the first show about Wonder Woman since the 1970s series that made its star, Lynda Carter, a household name.
"I am delighted to hear this news," Carter said in a statement about "Amazon". "Wonder Woman is a fantastic, inspirational character who should be introduced to a new generation. I wish them great luck and look forward to seeing it on air."
NBC's failed pilot starred "Friday Night Lights" veteran Adrianne Palicki as Wonder Woman. "I'm incredibly proud of that project," she told CraveOnline. "I was so grateful to get to play Wonder Woman. That was a childhood dream of mine and I'm proud of the outcome. I do wish it would have gone to series but everything happens for a reason. Looking at it as a positive, I got to work with some amazing actors, [an] amazing writer and I got to wear the outfit. It was not comfortable but it was totally worth it."
Kelley said he would take another shot at bringing the Amazon princess back to TV if The CW project fails to launch.
"I would. It's different for me, it's a genre that I have a lot to learn about," he told THR. "At this point in your life, everybody should do something that they're scared of; I was a little scared of it, I remain a little scared of it and be happy to wade into the fear again."
Click over to THR to read more from Kelley about his "Wonder Woman" pilot.
13 Things We're Looking Forward To In 2013
Because ... duh.

After years of rumors, it's finally happening this spring. The Bluths will be back and all will be right with the world ... of TV.

By far one of the most entertaining of the 2012-2013 pilots, we can't wait to be creeped out by James Purefoy and have the day (hopefully) saved by Kevin Bacon on a weekly basis.

How do you spice up a musical? Add an Oscar winner with a killer voice. "Smash" is already filled to the brim with talent, but adding Hudson's show-stopping voice to the mix really ups the ante.

Once you get over the initial balking at a "Sex And The City" prequel series, "The Carrie Diaries" is a pretty well done pilot. Cool music and performances that blow pretty much every other CW show out of the water make this show one we've got an eye on.

The Greendale Human Beings have been gone way too long. The series is basically the Rodney Dangerfield of NBC: it can't get no respect. Now that it's finally on the schedule (February 7 at 8 p.m. EST!), we can't wait to see what "Community" has to offer under the guidance of new showrunners. All the headlines and departure news have just added to the anticipation.

Whether they're feuding or not talking to each other, we're excited to see these two divas on screen together. Can Keith Urban keep the peace?

The exploits of Hannah, Marnie, Shoshanna and Jessa are enough to bring us back for Season 2, but when you add guest stars like Donald Glover, Rita Wilson, Patrick Wilson, Colin Quinn and Shiri Appleby, the "Girls" game has been raised.

OK, so we don't really want "Breaking Bad" to end, but man we are looking forward to seeing how Walter White's evolution ends.

You can't keep a good show down. Thanks to the execs at TBS, "Cougar Town" lived to see another day and finish off hundreds of bottles of wine.

As if we weren't looking forward to returning to Westeros and Essos already, Season 3 is based on "A Storm of Swords," one of the best George R. R. Martin books. Add some exciting new cast members -- Diana Rigg and Iwan Rheon to name a few -- and March can't come soon enough.

Our long national nightmare is over! Sort of. There are still spinoffs, and JWoww is headed to Fox's celebrity diving show. Not to mention the premiere MTV's "Jersey Shore" replacement "Buckwild." So the "Shore" legacy lives on ... for better or worse.

Cory and Topanga, together again! Technically this pilot is still in development, but given the buzz it's created, we're 99 percent sure Disney will go through with this "Boy Meets World" sequel series.