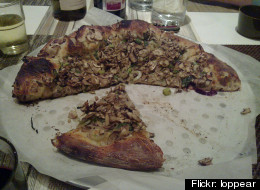 They serve up what GQ has previously declared to be the best pizza in America, but Great Lake may still be closing the doors of their wildly popular, Beyonce-approved Andersonville pizzeria.
According to Crain's Chicago Business, Great Lake will be closing its 1477 W. Balmoral Ave. restaurant by the end of January. Danny Yuen, who owns the building that houses the 14-seat hot spot, told Crain's that Great lake owners Nick Lessins and Lydia Esparza have declined to renew their lease for the space. Yuen has, in turn, put a "For Rent" sign in the window.
Great Lake owners have not yet confirmed this report, but there are already rumors that they may reopen at another location, given the restaurant's status as one of the nation's foremost "destination" pizzerias.
Photo by loppear via Flickr.