Crock Pot Recipes For Your Slow Cooker (PHOTOS)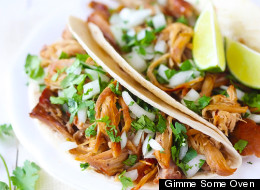 Winter's arrival means it's time to pull out the slow cooker. (It also means you should be drinking lots of hot chocolate.) Crock pot recipes are just what we crave when the weather turns cold. Slow cookers churn out comforting one-pot meals and stews without much effort -- which is just what we need when the days are so short.
To make crock pot recipes, simply prep the ingredients in the morning and set your slow cooker on low -- dinner will be ready and waiting for you when you get home.
Want to read more from HuffPost Taste? Follow us on Twitter, Facebook, Pinterest and Tumblr.
Get the Italian Turkey Meatballs recipe by Skinny Taste

Get the Bacon Wrapped Beef Tenderloin with Balsamic Glaze recipe by A Spicy Perspective

Get the Garlic Chicken recipe by Recipe Girl

Get the Mac and Cheese recipe by No. 2 Pencil

Get the Crispy Slow Cooker Carnitas recipe by Gimme Some Oven

Get the Sweet & Spicy Crock Pot Ribs recipe by Eat, Live, Run

Get the Coconut Ginger Chicken & Vegetables recipe by Simple Bites

Get the Indian-Style Lamb Shanks recipe

Get the Chicken & Sausage Stew recipe by Confections of a Foodie Bride

Get the French Onion Soup recipe by How Sweet It Is

Get the Vietnamese Spring Rolls with Slow Cooker Pork recipe by Steamy Kitchen

Get the Parmesan Chicken recipe by How Sweet It Is

Get the Slow Cooker Chicken Teriyaki recipe by Cooking Classy

Get the Vietnamese Chicken Pho Ga recipe by Steamy Kitchen

Get the Honey Sesame Chicken recipe by The Comfort Of Cooking

Get the Brisket & Brie Quesadillas recipe by Confections of a Foodie Bride

Get the Sweet and Tangy Pulled Pork recipe

Get the Black Bean Chili With Chocolate And Coconut recipe by Gimme Some Oven

Get the Slow-Cooked Turkey with Mustard Sauce recipe by Simply Recipes

Get the Slow Cooker Lasagna recipe by Recipe Girl

Get the Chicken Taco Chili recipe by The Comfort Of Cooking

Get the Chicken Tikka Masala recipe by Cooking Classy

Get the Picadillo recipe

Get the BBQ Beer Chicken recipe by How Sweet It Is

Get the Slow Cooked Boston Baked Beans recipe by Simply Recipes

Get the French Onion Slow Cooker Pot Roast recipe by Real Mom Kitchen

Get the Irish lamb Stew recipe

Get the Filipino Adobo Pulled Pork recipe by Skinny Taste

Get the Mexican Stuffed Bell Peppers recipe by No. 2 Pencil

Get the Chicken Cacciatore recipe by Skinny Taste

Get the Orange-Scented Beef Stew recipe

Get the Pulled Barbecued Chicken Sandwiches recipe by Recipe Girl

Get the Kumquat Tagine recipe

Get the Pot Roast recipe

Get the Slow-Cooker Black Bean and Mushroom Chili recipe

Get the Ginger Curry Lentil Soup recipe by The Fountain Avenue Kitchen

Get the Middle Eastern Lamb Stew recipe

Get the Chicken with Mushrooms and Noodles recipe

Get the Sunday Gravy recipe

Get the Vegetarian Beans and Squash recipe

Get the Ropa Vieja recipe

Get the Chicken with Red Wine and Prunes recipe