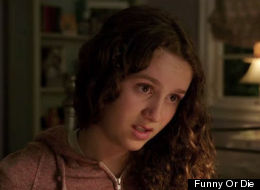 Judd Apatow's eldest daughter Maude is a rising star with a hidden talent.
In a deleted scene from "This Is 40," the 15-year-old pulls off a spot-on impression of Khloe, Kourtney and Kim Kardashian.
In the clip, Maude's character Sadie video chats with a male friend (Ryan Lee) about the Kardashians. According to her character, Khloe is the smartest out of all of them, but her nasally baby voice tends to get on her nerves (ours too). Meanwhile, Kourtney seems the most responsible, but the whole "Scott thing is hard. Because she loves him, but he's clearly out of control," she tells her friend referring to the eldest Kardashian's boyfriend and baby daddy.
Apatow gets bonus points for nailing Kourtney's sluggish valley girl drawl, but it's her impression of Kim that is awards-worthy.
"She's got that high voice, that kind of sounds like Khloe's voice and Kourtney's voice combined," she tells her friend, before launching into the best Kardashian impression we've heard.
Seriously, the cast of "SNL" might want to give Ms. Apatow a call the next time they want to mock a Kardashian or three.
Leslie Mann and Judd Apatow's daughters have appeared in the films "Knocked Up," "Funny People" and "This Is 40" as the children of Mann's characters.

Three of Brad Pitt and Angelina Jolie's kids will have small roles in Jolie's upcoming flick, "Maleficent." Vivienne will play the child version of Elle Fanning's character, Princess Aurora.

Will Smith and Jada Pinkett-Smith's kids are already stars in their own right. Willow's song "Whip My Hair" was a huge hit and Jaden will star in the upcoming movie "After Earth."

The 6-year-old daughter of the late Anna Nicole Smith and Larry Birkhead is following on the heels of of her mom's modeling days: She's now the new face of Guess Kids.

The 10-year-old son of David and Victoria Beckham is featured in ads for Burberry's spring/summer 2013 collection.

The daughter of the late Michael Jackson will make her film debut in "Lundon's Bridge and the Three Keys."

The adopted son of Tom Cruise and Nicole Kidman is a DJ and also starred in the recent films "Red Dawn" and "Seven Pounds."

Samuel L. Jackson's daughter is an assistant director and worked on "Teachers," as well as the documentary "Saved in America."

The daughter of Brian Williams stars on HBO's "Girls" as Marnie Michaels.

The son of "Mad Men" creator Matthew Weiner stars on the show as Glen Bishop.

The 24-year-old daughter of Lenny Kravitz and Lisa Bonet has been acting for five years and will star with Charlize Theron this year in "Mad Max: Fury Road."

The 22-year-old daughter of Jack Nicholson starred in "Soul Surfer" and will be seen in 2013's "Attachment."

Morgan Freeman's son has appeared in "Southland," "The Bucket List," and also starred in "The SharkTank Redemption," a parody of "The Shawshank Redemption."

Clint Eastwood's son has starred in some of his dad's films and will be seen in "Texas Chainsaw 3D" this month.

The daughter of Lisa Marie Presley and the oldest grandchild of legendary singer Elvis Presley is an actress and model. She will next be seen in "Mad Max: Fury Road."

The 23-year-old daughter of Don Johnson and Melanie Griffith was seen in "21 Jump Street" and is now a lead on Fox's TV series, "Ben and Kate."