Elvis Presley would have turned 78 today, which means, among other things, he would have been witness to the rapidly rising star of his granddaughter, Riley Keough. The 23-year-old daughter of Lisa Marie Presley and musician Danny Keough, she is the music legend's eldest grandchild. She's also an up-and-coming model and actress, having landed cushy gigs in films like "The Runaways," alongside Dakota Fanning and Kristen Stewart, and this summer's "Magic Mike."
See the resemblance to her famous granddad for yourself below, and launch the gallery to see other pictures of celebrities and their famous grandparents.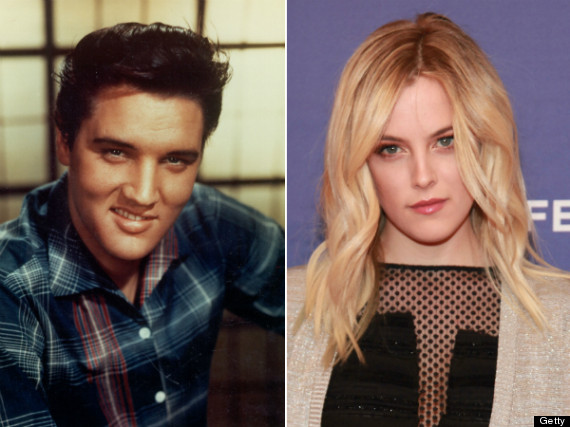 Also on HuffPost:
Loading Slideshow
John Barrymore & Drew Barrymore

Drew Barrymore is certainly on today's A-list, but her grandfather, John Barrymore, made a name for himself in Hollywood thanks to his roles in "Dr. Jekyll & Mr. Hyde" (1920), "Grand Hotel" (1932), and "Hamlet" (1933), just to name a few.

Elvis Presley & Riley Keogh

Actress Riley Keogh has appeared in several films, including "The Runaways" and "Magic Mike," but she still has a long way to go to eclipse the fame of her grandfather, Elvis Presley (1935-1977), who was, and still is, a legend in the entertainment world.

Anne Gwynne & Chris Pine

Chris Pine is one of today's hottest male actors, but it was his grandmother, Anne Gwynne (1918-2003), who was first in the spotlight as a leading lady in 1940s horror flicks, and was also one of the most popular pin-up girls during that time.

Walter Huston & Anjelica Huston

Anjelica Huston has had a long Hollywood career, most recently appearing on "Smash," but it's her grandfather, Walter Huston (1882-1950), who first made it big in Hollywood. He starred in several films (and Broadway shows), including "The Virginian" (1929) and "Abraham Lincoln" (1930), and he even won an Academy Award for Best Supporting Actor for his role in 1948's "The Treasure of the Sierra Madre."

Tex Ritter & Jason Ritter

Jason Ritter currently appears on NBC's "Parenthood," and it's no secret he comes from a Hollywood-heavy family. His dad was the late John Ritter (1948-2003), and his grandfather, Tex Ritter (1905-1974), was both a country singer and an actor, starring in an estimated 40 "singing cowboy" movies.

Henry Fonda & Bridget Fonda

Actress Bridget Fonda is no stranger to Hollywood (her dad is Peter Fonda and her aunt is Jane Fonda, after all), and her grandfather, Henry Fonda (1905-1982) would be proud. He became a leading man in Tinseltown thanks to his roles in "The Grapes of Wrath" (1940) and "12 Angry Men" (1957), just to name a few.

Steve McQueen & Steven R. McQueen

Steven R. McQueen can be seen among vampires and werewolves on The CW's "The Vampire Diaries," and it seems acting definitely runs in his family. His grandfather, actor Steve McQueen (1930-1980), was known as the "King of Cool" and starred in films including "The Sand Pebbles" (1966) and "The Thomas Crown Affair" (1968), among many, many others.

Paul Burke & Alia Shawkat

Alia Shawkat may be recognized the most for her role as Maybe on "Arrested Development," but we bet you didn't know her grandfather was Paul Burke (1926-2009), a famed TV actor best known for his Emmy Award-nominated role in "Naked City" and also for his role on "Twelve O'Clock High" in the 1960s.

Gregory Peck & Ethan Peck

Ethan Peck has appeared on TV's "10 Things I Hate About You" and on the big screen in "In Time." His grandfather, Gregory Peck (1916-2003), however, became one of the biggest stars of the '40s, '50s and '60s, thanks to his most notable role playing Atticus Finch in 1962's "To Kill a Mockingbird."

Jon Voight & The Jolie-Pitt Children

OK, so Angelina Jolie and Brad Pitt's children aren't <em>exactly</em> celebrities, but they will be. One day. Besides having Brad Pitt and Angelina Jolie as parents, their grandfather is actor John Voight.

Charlie Chaplin & Oona Castilla Chaplin

Actress Oona Castilla Chaplin was most recently seen on HBO's "Game of Thrones" -- a far cry from the projects that her grandfather, silent film star Charlie Chaplin (1889-1977) did. Bonus: Oona's maternal great-grandfather was American playwright Eugene O'Neill (1888-1953).

Jack Cassidy & Katie Cassidy

Katie Cassidy has played parts on the small screen ("Gossip Girl," "Melrose Place 2.0") and the big screen ("Monte Carlo"), so it seems she's following in the footsteps of not only her father, David Cassidy of "The Partridge Family" fame, but her grandfather, Jack Cassidy (1927-1976), who had a long career on both Broadway and in TV and film.

Elia Kazan & Zoe Kazan

Today, actress Zoe Kazan is on the rise in Hollywood, most recently taking the leading role in the film, "Ruby Sparks." Talent seems to run in the family, considering her grandfather, Elia Kazan (1909-2003) was a lauded director. He was the man behind the films "A Streetcar Named Desire" (1951), "On the Waterfront" (1954), and "East of Eden" (1955), among many others.

Robert F. Kennedy & Conor Kennedy

Conor Kennedy has recently made headlines thanks to his relationship with singer Taylor Swift, and his family is no stranger to the spotlight. His great uncle was President John F. Kennedy (1917-1963) and his grandfather was Robert F. Kennedy (1925-1968).

Queen Elizabeth & Princes William & Harry

Prince William and Prince Harry (as well as their royal cousins) have grown up in the spotlight, but so did their grandmother, Queen Elizabeth. What a family!