Kat Von D: best gift-giver ever?
The tattoo artist/reality TV star tweeted a photo on Monday of fiance Deadmau5 (real name: Joel Zimmerman) sitting in a brand-new car, with the caption, "I can't think of anyone who deserves this more than Joel! #happybirthday #imsoscared."
According to Us Weekly, the car is a Porsche 911 Carrera S worth $100,000. Deadmau5 seemed pleased with the gift -- Von D later tweeted, "Seriously never seen @deadmau5 so stoked! #ifyouaintfirstyourlast" and a photo of Deadmau5 in the driver's seat, while Deadmau5 tweeted, "I don't think I can even take this thing off 'sport mode plus' holy f***."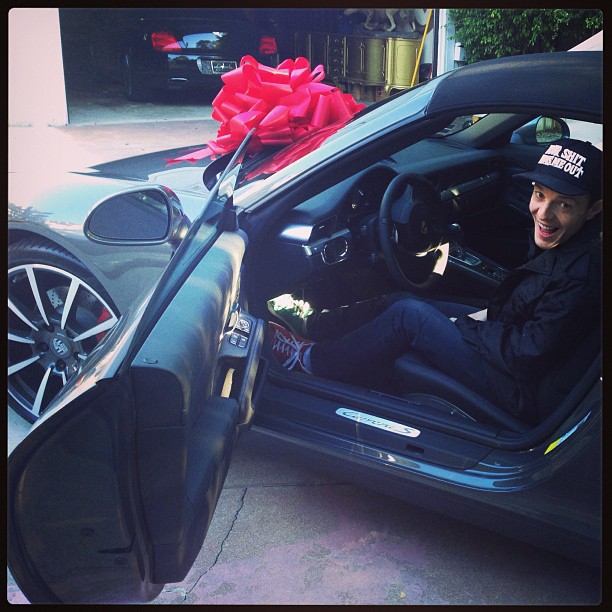 Von D began dating the electronic music artist in September 2012, and since then the two have chronicled their entire relationship on Twitter. They briefly split and subsequently reconciled in November, and got engaged in December.
Click through the slideshow below to test your knowledge of stars who got engaged over the holidays.
Celebrity Holiday Engagements Quiz
A. Holly Madison B. Kendra Wilkinson C. Heidi Montag D. Crystal Harris

After breaking off her engagement to Hugh Hefner in 2011, 26-year-old Harris became re-engaged to the 86-year-old Playboy founder in early December. The two married at the Playboy mansion on New Year's Eve. "Today is the day I become Mrs. Hugh Hefner. Feeling very happy, lucky, and blessed," Harris tweeted.

A. Danielle Fishel B. Marla Sokoloff C. Soleil Moon Frye D. Beverly Mitchell

In a Dec. 19 post on her Tumblr, "Boy Meets World" star Danielle Fishel revealed that she is engaged, and that she met her fiance while she was a student at Cal State Fullerton.

A. Carrie Underwood B. Kelly Pickler C. Kelly Clarkson D. Pia Toscano

Kelly Clarkson took to Twitter on Dec. 15 to announce her engagement to talent manager Brandon Blackstock -- Reba McEntire's stepson. McEntire has already agreed to sing at the wedding!

A. Monica B. Brandy C. Raven Symone D. Tamera Mowry

Brandy tweeted a photo of herself (sporting a diamond ring, of course) and boyfriend Ryan Press on Dec. 26, announcing the couple's engagement. "He worked really hard on the ring," Brandy told People. "I'm not a big diamond girl, but I really love this diamond he did. It just represents how he feels about me, and I'm really blessed to have someone like him in my life. He's truly a gift."

A. Kat Von D B. Patti Stanger C. Snooki D. Gretchen Rossi

On Dec. 12, musician Deadmau5 tweeted at girlfriend Kat Von D, "I can't wait for Christmas so.... Katherine Von Drachenberg, will you marry me?" and a picture of the ring. Von D accepted, responding, "Mi corazon! Thank you all for the lovely congratulations! Please excuse me while I go squeeze the hell out of my fiance!"
Keep in touch! Check out HuffPost Weddings on Facebook, Twitter and Pinterest.