The Vela pulsar is watching you.
A neutron star forms when a huge star explodes. Vela formed more than 10,000 years ago, after a huge blast.
PopSci reports that the star is relatively small -- it measures just 12 miles across -- but "a thimble-full" of the star has the same mass as approximately six billion humans.
The pulsar's distinctive appearance -- resembling a glowing mask in the heavens -- is the result of several factors. First, the super-dense pulsar spins at more than 11 times every second, or faster than a helicopter's rotors, according to PopSci. As it whirls, the star shoots out streams of particles at 70 percent the speed of light. At that speed, the particles could bridge the gap between the Earth and the moon within two seconds, according to Slate.
Vela's movements suggest that in addition to spinning, it is wobbling on its axis like a top. In a new clip posted on YouTube (above), NASA explains the pulsar's rotation:
The Chandra data shown in the movie, containing eight images obtained between June and September 2010, suggest that the pulsar may be slowly wobbling, or precessing, as it spins. The shape and the motion of the Vela jet look strikingly like a rotating helix, a shape that is naturally explained by precession.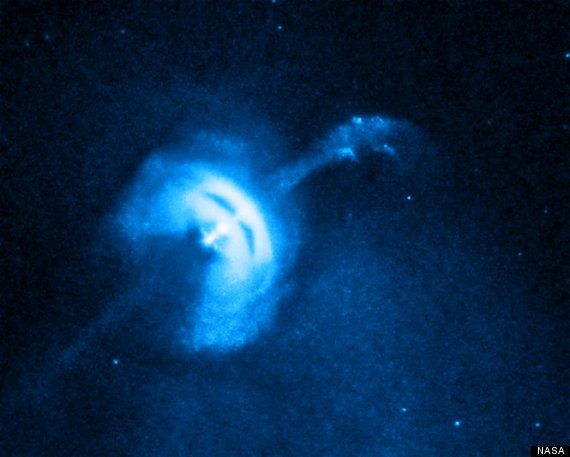 Also on HuffPost:
59 Incredible Space Photos
SUBSCRIBE AND FOLLOW
Get top stories and blog posts emailed to me each day. Newsletters may offer personalized content or advertisements.
Learn more