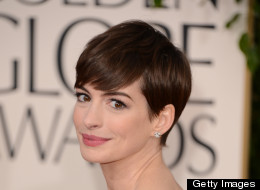 The 70th annual Golden Globe Awards have taken place Anne Hathaway won the award for Best Supporting Actress.
The nominees for the Golden Globe for Best Supporting Actress were Anne Hathaway for "Les Miserables," Helen Hunt for "The Sessions," Sally Field for "Lincoln," Amy Adams for "The Master," and Nicole Kidman for "The Paperboy."
In the decade since her breakout performance in "The Princess Diaries," Hathaway has nabbed roles in films such as "The Devil Wears Prada," "The Dark Knight Rises," and "Love and Other Drugs." She has been nominated for two Golden Globe awards in the past -- Best Actress - Drama for her role in 2008's "Rachel Getting Married," and Best Actress - Musical or Comedy for 2010's "Love and Other Drugs."
The film adaptation of "Les Miserables," which stars Hathaway, was nominated for a total of four Golden Globes this year -- Best Supporting Actress, Best Original Song, Best Motion Picture - Comedy or Musical, and Best Actor - Comedy or Musical.
The 70th annual Golden Globes Awards took place on Jan. 13, 2013. "SNL" alums Tina Fey and Amy Poehler hosted the ceremony at Beverly Hills' Beverly Hilton Hotel.
Golden Globes Winners And More
"Argo"

Daniel Day-Lewis, "Lincoln"

Jessica Chastain, "Zero Dark Thirty"

Hugh Jackman, "Les Miserables"

"Girls"

Ben Affleck , "Argo"

Jodie Foster

Lena Dunham, "Girls"

"Brave"

Don Cheadle, "House of Lies"

Claire Danes, "Homeland"

"Amour"

Quentin Tarantino, "Django Unchained"

Anne Hathaway, "Les Miserables"

Ed Harris, "Game Change"

Jennifer Lawrence, "Silver Linings Playbook"

Kevin Costner, "Hatfields & McCoys"

"Skyfall"

"Life of Pi"

"Homeland"

Damian Lewis, "Homeland"

Julianne Moore, "Game Change"

"Game Change"

Maggie Smith, "Downton Abbey"

Christoph Waltz, "Django Unchained."

Hollywood is preparing for the Golden Globe awards, and many British stars have been attending a tea party ahead of the main event.
More on Jodie Foster's big night at the Golden Globes:
After being introduced by Robert Downey Jr., Foster coyly said, "While I'm here being all confessional, I just have the sudden urge to say something I've never been able to air in public. A declaration that I'm a little nervous about. Not quite as nervous as my publicist, huh, Jennifer? But uh, you know, I'm just going to put it out there. Loud and proud. I'm going to need your support. I am -- single!"
More here, from HuffPost Gay Voices.