5x5x5: Rick Smolan Of 'The Human Face Of Big Data' Talks About Transformative Tech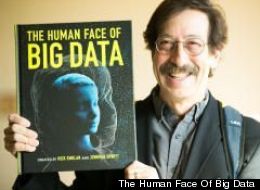 In partnership with the Social Innovation Summit, we're running a series called 5x5x5 -- 5 Leaders, 5 Sectors, 5 Questions. Five guests from a variety of sectors will answer questions on how technology and innovation can be used for social good.
Our latest installment features Rick Smolan, author of "The Human Face Of Big Data" in conversation with Brian Sirgutz, Senior Vice President -- Social Impact, at the Huffington Post. We asked Smolan about the process of collecting, visualizing and interpreting large amounts of data, a trend in technology he thinks will eventually become more important than the Internet.
Brian: Everyone seems to have a different definition of the phrase "big data." Can you explain what you think big data is and how do you think its impact will compare to that of the Internet?
To me, big data is the real-time visualization of data streaming in from satellites, and from billions of sensors, RFID tags, and GPS-enabled cameras and smartphones. Collectively, this data is enabling humanity to sense, measure, understand, and affect aspects of our existence in ways our ancestors could never have imagined.
When we began this project, I was skeptical of the many claims I heard -- like the idea that big data might one day turn out to be more transformative than the Internet. Having now spent a year working with more than 200 journalists, designers, writers and programmers in order to capture how this new tool set is touching our lives, I've become a convert.
Brian: Your book, "The Human Face Of Big Data," features many lesser known ways that big data is changing society. What are some of the best examples of this?
We feature a woman named Yasmine Delewari Johnson who learned she was pregnant. To get a glimpse into her daughter's future, she turned to a company called 23AndMe, a personal genetics company that uses DNA analysis to help people gain insights into their inherited health traits. She found out she had a 28 percent chance of developing coronary heart disease, along with other statistics.
Another fascinating example is the work being done by a 29-year-old MacArthur Fellow named Shwetak Patel, who discovered that every electronic device in a home has a unique digital signature. Using it, he found that the DVR in an average American living room uses 11 percent of the household's total power each month. So instead of drilling another oil well, he says we could reduce our power bill as a nation -- by 5 percent -- just by redesigning the DVR.
Brian: Can you tell us a little about "The Human Face Of Big Data" iPad app and the Book Viewer app that goes along with the book?
We've created two apps to broaden the audience for our "Human Face of Big Data" project.
The first is a free viewer app, for iOS and Android that was designed as a companion to the book. When viewers point the camera in their smart devices at a photo in the book, a YouTube video will play.
The second application is a standalone iPad app that adds expanded, interactive content to some of the stories in the book. In a story about the riots in Greece, you can hear the roars of the crowd while protester tweets float across the screen. In a different story, it lets you compare two seemingly identical bottles of medicine to discover which one is genuine and which is counterfeit.
The iPad app costs $2.99, and all of the profits are being donated to charity: water, a nonprofit that helps bring clean water to struggling communities around the world.
Brian: You use the metaphor of "opening up a second eye" when you speak about big data. Where did that come from?
My son Jesse is 10 years old. One day, he said, "Dad, every time you're on the phone, I hear you say big data, big data. What is big data?"
I was struggling for an analogy, so I said, "Jesse, imagine if your whole life you had been looking through one eye and all of a sudden for the first time in your life you were able to open up a second eye. You're not just getting more data. You're not getting more vision. You're getting a new dimension, an entirely new way of seeing what was right in front of you."
He said, "Is that what computers do?" I said, "Exactly." He said, "Could a computer open up a third eye and fourth and a thousand eyes?" If you're 10 years old, a thousand eyes is really cool. I said, "Yeah, that's exactly what computers are doing."
Brian: You also claim that big data is enabling the planet to evolve "a central nervous system." What do you mean by that?
Last year, I had no idea what big data meant. The first person I asked to define the phrase for me said, "It's so much information that it wouldn't fit on your hard drive." I said to myself, "OK, so what?" The next person I spoke with referred to overlapping data sets and looking for patterns inside -- it just sounded like a better way to sell things to people.
Then, I talked to my friend Marissa Mayer, who was then at Google and now runs Yahoo. She said, "Rick, it's like our planet is developing a nervous system." That caught my attention and I just said, "Tell me more."
Check out examples of the way in which big data is changing our world in the slideshow below.
The Human Face Of Big Data
Consumers have long paid their utility bills with little inkling of how much each device in their home costs to run. Shwetak Patel has found a better way. The MacArthur Fellow recognized that every device has a unique digital signature that can be detected with simple wireless sensors. Patel's smart algorithms, combined with a sensor plugged anywhere in a home, inexpensively provide visual feedback allowing consumers to see which devices are the biggest wasters and how to conserve. The family who lives in the Hayward, California, home pictured here, was surprised to learn that digital video recorders eat up 11 percentof their household power.

Australia touches more ocean than almost any place on the planet. To monitor this enormous territory, scientists have formed the Integrated Marine Observing System (IMOS) to collect and share terabytes of data from sensor floats, underwater autonomous vehicles, scientific monitoring stations, remote satellite sensing, and animal tags. This data is continuously captured and integrated into IMOS's massive database of information about animal migration, ocean salinity, temperature, currents, and carbon storage. Pictured here are an elephant seal with a sensing tag, and a diver servicing an acoustic receiver mooring at Ningaloo Reef that "reads" any passing tagged fish or animal.

Researchers John Guttag and Collin Stultz (shown here) along with Zeeshan Syed have created a computer model to analyze formerly discarded EKG data of heart attack patients. Using data mining and machine learning techniques to sift through the massive quantities of data, they found that three abnormalities in an EKG are correlated with a two to three times higher risk of dying from a second heart attack within a year. They believe their computer model will significantly improve today's risk-screening techniques, which miss identifying about 70 percent of patients likely to have a repeat heart attack.

Best-selling author A.J. Jacobs, pictured here, declares his love for self-tracking in "Quantifying Myself," a delightfully candid and humorous essay he wrote for The Human Face of Big Data. "What Billy Beane did to baseball, what day traders do to the NASDAQ, I want to do to my body," he writes. "And not just out of idle curiosity. Studies show that keeping track of your body's numbers makes you behave in healthier and more productive ways."

A dozen years ago, computer legend Gordon Bell decided to try an experiment to go paperless so he could work virtually - a novel idea at the time. First, he set out to digitize his books and papers. That gave way to digital documentation of his photographs and memorabilia. Today, it involves conversations, keystrokes - even real-time records of his heartbeat and cholesterol. A SenseCam that Bell wears around his neck snaps photos every few minutes. To date, he has logged 200 gigabytes of data. Bell believes that collecting and analyzing our behaviors over a lifetime will lead to a greater understanding of what harms or enhances us.

Retinal diseases such as macular degeneration destroy the photoreceptors in the eye that detect light and relay that data through the ganglion cells in the optic nerve to the brain. But even when the photoreceptors are damaged, the ganglion cells remain alive and functional. Sheila Nirenberg of Weill Cornell Medical College has found a way to artificially recreate the complex code that a healthy retina produces when a person sees an image, so the brain can translate those signals, and a patient with macular degeneration can see again - faces, animals, even the dimple in a baby's smile. Using high-speed, parallel processing computers, Nirenberg has embedded custom software in microprocessors and cameras that will be built into eyeglasses, such as the ones on the test model shown here.

Early radar equipment has always been plagued by noise. Radar operators at the beginning of the 20th century considered scattered radio waves troublesome interference. Only later did scientists realize what they were seeing: storm clouds on the horizon. The discovery gave birth to modern weather radar.

Data transparency, amplified by Twitter and Facebook, has led to mass movements on a scale never seen before. From the Greek protests to the Arab Spring, a global citizenry is tapping into social media to create an unstoppable cascade of change in politics and government. In this photo, supporters of Antonis Samaras, the leader of Greece's conservative New Democracy party, wave flags during a pre-election speech in Athens on May 3, 2012.

Paul Butler believes that visualizing data is like photography. Instead of starting with a blank canvas, he manipulates the lens used to present the data from a certain angle. When the data is the social graph of millions of Facebook users, there are many lenses through which you can view it. One that piqued his curiosity was the locality of friendship. He set out to create a visualization showing which cities had a lot of friendships between them. After a few minutes of rendering, the image that appeared on his screen was a surprisingly detailed map of the world—with lines that represented not coasts or rivers or political borders, but real human relationships … a friendship made while traveling, a family member abroad, an old college friend pulled away by various forces of life. The result is not just a pretty picture—it's a reaffirmation of the impact and relationships people have as they connect across oceans and borders.