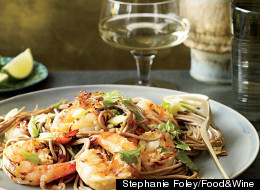 The nice thing about soba noodles is that they hit the spot when you're looking for something hearty like lasagna, but they're nutritionally good for you in so many ways.
Japanese soba noodles are made from buckwheat flour; buckwheat is a great source of nutrients like manganese, lean protein, carbohydrates and thiamine -- which are all things we could use more of. Added bonus: soba noodle recipes are delicious.
This soba noodle recipe is packed with bright flavors from garlic, lime and cilantro and is topped with shrimp for extra protein. It's a great recipe for a healthy and quick weeknight meal.
Get the Soba Noodles with Grilled Shrimp and Cilantro recipe
Want to read more from HuffPost Taste? Follow us on Twitter, Facebook, Pinterest and Tumblr.
In the mood for something sweet? Check out these Japanese dessert recipes.
Get the Dorayaki recipe from Just One Cookbook Dorayaki are soft, fluffy pancakes, usually stuffed with red bean paste, nutella or matcha cream.

Get the Anmitsu recipe from Green Cilantro Anmitsu is made of small cubes of agar agar (Japanese gelatin) in a brown sugar syrup. It's garnished with sweet red bean paste, mochi, ice cream, fruit -- basically whatever you can think of.

Get the Daifuku Mochi recipe from Globetrotter Diaries Mochi, the beloved glutinous rice cake can be stuffed with just about any dessert ingredient you can think of, but often it's sweet red bean paste.

Get the Vanilla Kiwi Kanten recipe from The Cookie Shop Kanten is a Japanese gelatin dessert made from agar agar. These delicate treats are almost always served with tea.

Get the Black Sesame Ice Cream recipe from Just One Cookbook Japanese ice cream flavors are always amazing, from red bean, to matcha to black sesame, they tend to be one of the less-sweet options.

Get the Japanese Cheesecake recipe from SprinkleBakes The Japanese have a special way with cheesecake. Part light-as-air sponge cake, part cheesecake, the finished product gets sprinkled with matcha powder and topped with fresh fruit.

Get the Ichigo Daifuku recipe from Notions & Notations of a Novice Cook Another variation on stuffed mochi, these are filled with red bean paste and a whole strawberry. Best cross-section ever, right?

Get the Taiyaki recipe from Mamololi Taiyaki are little fish-shaped waffles stuffed with chocolate, custard or red bean paste. You can pick up a taiyaki pan on Amazon.

Get the Sakura Jelly recipe from Hunger Hunger Sakura (cherry blossoms) are pickled, then set in a beautiful jelly, which rests on top of cherry and white chocolate mousse. We are absolutely obsessed with this dessert.

This is total Japanese comfort food -- a warm, sweet red bean soup, studded with mochi.