An Oklahoma woman believes that her horse suffered an acid attack, her cow was shot, and her dog was poisoned over the past few weeks, KJRH Channel 2 reported.
WARNING: The following photo is GRAPHIC and may not be appropriate for all readers.
Carol Linville, a Pawnee County resident, said she found her 14-year-old American quarter horse, Magic Dance Man, with severe chemical burns on Monday morning. "It looks like acid has been put on him," Linville said to Tulsa World. "This is a senseless, brutal crime committed on an innocent animal."
Both the Oklahoma Department of Agriculture and the Pawnee County Sheriff's Office are investigating. A Pawnee County sheriff's deputy suggested getting a second opinion for the horse's injuries after finding a piece of the horse's hide and blood spread around the pasture.
Linville plans to put Magic Dance Man down. "I'm thinking that we would be more humane to put him down because of his age and because of the duration that it would take to heal him," she told KJRH.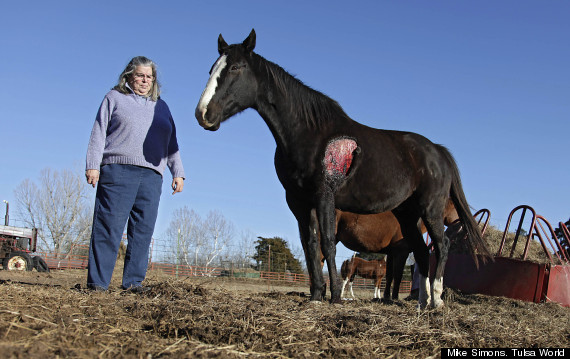 On Dec. 27, Linville told authorities that one of her two Dobermans returned home late, vomited round objects, and then dropped dead. On Jan. 6 she said she found her cow dead. Linville initially believed that the cow had been shot, but the paper noted that a necropsy did not find a bullet or entrance wound. A cause of death has not yet been determined.
She remains passionate about finding the attacker. "I think they're sick. I think they're criminally ill," she said. "I hope that they're caught."
In Oklahoma, animal cruelty is a felony, and each count is punishable by up to seven years in prison or $5,000 in fines.
Anyone with information about the case is asked to call the Oklahoma Department of Agriculture at 405-522-6102. Callers can be anonymous.