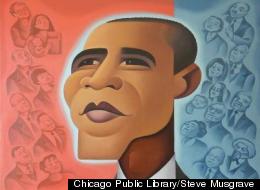 For some celebrated Chicago authors like Nelson Algren or poet Gwendolyn Brooks, their books are more widely-recognized than their portraits.
Meanwhile, the Chicago Public Library's newest installation needs no caption as its subject is arguably the most famous face in the world: President—and published Chicago author—Barack Obama.
According to the library's Facebook page, Chicago artist Steve Musgrave was on hand for the dedication of his new portrait of the "Dreams From My Father" and "The Audacity Of Hope" author to the system's West Pullman Branch at S Halsted and 119th.
Many of Musgrave's influences are apparent in the modern-style portrait, which shows a stylized Obama holding a copy of his book "Dreams From My Father" before a split red and blue background containing the faces of historical figures Frederick Douglass and contemporary ones like his wife, Michelle.
On his website, Musgrave describes his influences as rooted in "early to mid 20th century illustrators, caricaturists and muralists." The author goes on to express his love for styles like cubism, Italian futurism poster artists and muralists of the WPA era.
According to ABC Chicago, several of Musgrave's large-scale portraits of Chicago authors are on display at various library branches throughout the city.
Obama wrote the 1995 memoir "Dreams From My Father" (later re-published in 2004) and the 2006 New York Times Bestseller "The Audacity Of Hope." Both books were critical successes and each earned the president the Best Spoken Word Album Grammy award for the audiobook versions.