Parallels between Jewish and African-American communities' quest for civil rights have sparked debate and empathy for ages. But while the two groups' shared history is well-known, little has been told of one specific period of collaboration--when Jewish professors exiled from Nazi Germany found a home and an audience at historically black colleges and universities across the U.S.
It's a collaboration examined in the National Museum of American Jewish History's exhibition, "Beyond Swastika and Jim Crow: Jewish Refugee Scholars At Black Colleges." The collection of items, which went on display Tuesday in honor of Dr. Martin Luther King Jr.'s birthday, tells the story of Jewish academics from Germany and Austria who, amid a depression, xenophobia and rising antisemitism, were dismissed from their teaching positions in the 1930s and forced to take jobs at HBCUs.
According to the exhibiton's curators, those who found work at black colleges were often more comfortable in the black environment than their peers at white universities who faced prejudice at their jobs. Many went on to fight in the Civil Rights movement, both officially or unofficially, including Tougaloo University professor Ernst Borinski, who is said to have organized a series of lectures and discussions designed to engage blacks and whites in substantive conversation, many for the first time.
"In our memory, when we think about the relationship between Blacks and Jews, our minds tend to go straight to the Civil Rights movement after the war," Josh Perelman, chief curator of the museum on Independence Mall, told CBS Philly. "What this exhibition does is help push this history back. And even though the relationship is much longer than even the 20th century, it illuminates how the bonds between these communities were forged over time."
"Beyond Swastika and Jim Crow" runs through June of this year. Check out a sample of the exhibition's more than 120 artifacts below.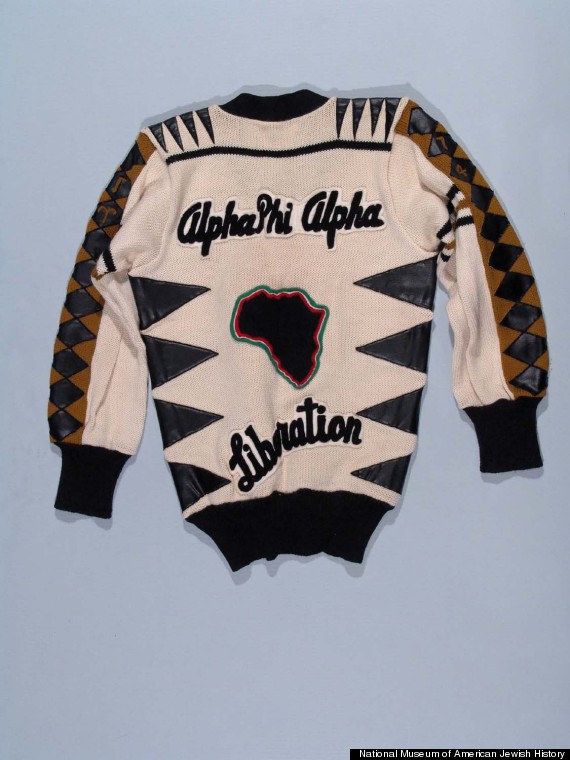 Donald Cunnigen's Alpha Phi Alpha Fraternity sweater from Tougaloo College, ca. 1970–1974
Donald Cunnigen was a member of a black fraternity during his time at Tougaloo. Social life at a black college was similar to student life at white colleges and universities. Dr. Cunnigen followed in Prof. Borinski's footsteps and became a sociologist.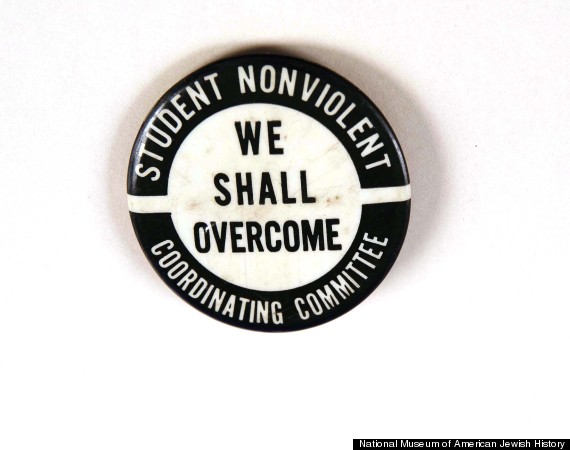 Civil Rights pin belonging to Joyce Ladner
Joyce Ladner, a student of Prof. Borinski, was active in student civil rights organizations, such as SNCC and CORE. She went on to get her Ph.D. in Sociology, and became the first woman president of Howard University.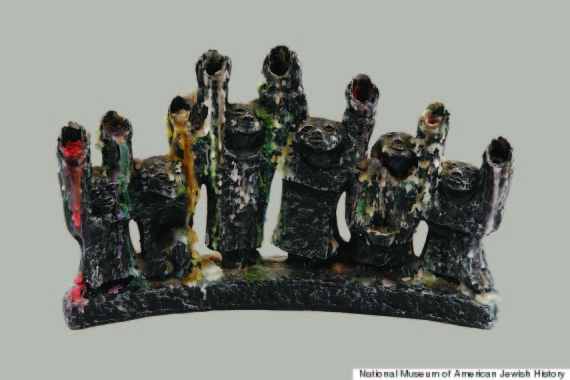 Professor Ernst Borinski's menorah
Prof. Borinski kept his personal life and identity private, "for his own mental health," but towards the end of his life "he drew closer to the Jewish community."
Related on HuffPost:
10 Celebrities You Didn't Know Were Jewish
Loading Slideshow
Drake

Aubrey "Drake" Graham was born to an African American father and a Jewish Canadian mother. Before he was breaking hearts and topping charts, the Young Money star attended a Jewish day school and had a Bar Mitzvah. (Photo by David Livingston/Getty Images)

Sammy Davis Jr.

After a 1954 car accident that almost took his life, Sammy Davis Jr. went to a hospital in California and began studying Judaism. He later converted to Judaism, <a href="http://www.time.com/time/magazine/article/0,9171,826061,00.html" target="_hplink">telling TIME magazine</a> "Talk about handicap--I'm a one-eyed Negro Jew."

Rashida Jones

Rashida Jones has an African-American father (music mogul Quincy Jones) and an Ashkenazi Jewish mother (<em>Mod Squad</em> beauty Peggy Lipton) Growing up, she <a href="http://www.ajlmagazine.com/content/012007/rashidajones.html" target="_hplink">attended a Hebrew School</a> before being accepted to Harvard University.

Amar'e Stoudemire

After his mother informed him of his own family's Jewish heritage, Amar'e Stoudemire, traveled to Israel to learn more about his culture. While the specifics of his Jewish lineage remain unknown, the Knicks power forward has embraced his roots and even has a <a href="http://www.huffingtonpost.com/2010/08/02/is-amare-stoudemire-jewis_n_667712.html" target="_hplink">Star of David tattooed on his hand</a>.

Shyne

Jamal Michael Barrow, better known by his stage name Shyne, stepped into the spotlight as a rapper with Sean "P. Diddy" Combs' Bad Boy Records. While serving a ten-year prison sentence for attempted murder, Shyne <a href="http://www.youtube.com/watch?v=LxFz5CzSjRg" target="_hplink">changed his name to Moses Michael Levi</a> to reflect his grandmother's Jewish heritage and practice Judaism.

Lauren London

Lauren London, an actress and model, was born in Los Angeles to an African American mother and Jewish father. She is most known for her roles in ATL and her parts on 90210 and Entourage.

Lenny Kravitz

Born in New York City in May 1964, Lenny Kravitz has an African American mother and a Jewish father. He has won several "Best Male Rock Vocal Performance" Grammy Awards.

Tracee Ellis Ross

Tracee Ellis Ross was born in Los Angeles to African-American singer/actress Diana Ross and Jewish music business manager Robert Ellis Silberstein. Her big break came in 2000 when Ross landed the role of Joan Carol Clayton on the sitcom series "Girlfriends." She currently plays the wife of Malcolm Jamal Warner in the BET sitcom "Reed Between The Lines."

Lisa Bonet

Lisa Bonet is an actress best known for playing Denise Huxtale on the NBC sitcom "The Cosby Show." She was born in San Francisco, to an African American father, Allen Bonet, and a Jewish mother, Arlene Litman.

Craig David

British musician Craig David's maternal grandfather <a href="http://website.thejc.com/home.aspx?AId=57854&ATypeId=1&search=true2&srchstr=loftus&srchtxt=0&srchhead=1&srchauthor=0&srchsandp=0&scsrch=0" target="_hplink">was an Orthodox Jew</a> and his maternal grandmother converted to Judaism.