In a tech landscape where we too often obsess over incrementally-improving speeds and specs of our cell phones and smart televisions, it's always refreshing to meet a company looking to solve actual, real-world problems.
Case in point: At the Consumer Electronics Show in Las Vegas earlier in January, we ran into Gecko Health Innovations, a young startup hoping to ease the difficulty of managing children's asthma with a simple, but brilliant, gadget. It's called the GeckoCap, and it's a small, Bluetooth-enabled rubber accessory that you can place atop your child's inhaler. The cap contains a tiny, colored LED light that starts flashing when it's time for your child to use the inhaler, and that will not stop until he or she does.
When pressed down, the GeckoCap transmits usage data to the GeckoCap website via Bluetooth pairing, so that a parent or doctor can see from anywhere that the inhaler has been used, and enjoy the peace of mind that the child has used the inhaler when he or she was supposed to.
Smart, right?
The GeckoCap was dreamed up by a team of MIT-associated pediatricians, engineers and designers, led by Dr. Yechiel Engelhard. The device is currently in the prototype phase, with a target launch date in September 2013. To reach that goal, the team has launched an IndieGogo fundraising campaign to mass produce the devices and to fund the registration process with the FDA and other regulators (which can be quite costly).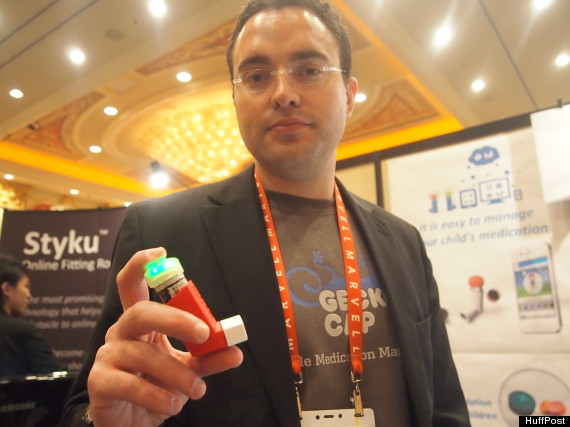 Dr. Yechiel Engelhard holds the GeckoCap. The former physician had the initial idea for the gadget after meeting parents who were concerned that their children weren't using their inhalers while at school or while they were away from them.
Once it launches, the device will cost $60, but those interested can nab one for $39 if they pledge funds to the Indiegogo campaign. In addition, it will also cost "less than $10" per month to access the accompanying web app, which helps you track your child's inhaler usage and also set the GeckoCap's schedule.
Here's a video put together by the GeckoCap crew, which should give you a better idea of how the device works, and why they think it's important for parents of kids who use inhalers:
The GeckoCap tracking system, available as a website, acts as a comprehensive catalog of inhaler usage and is the planning and analytic hub for parents of kids with asthma. The app displays the precise times the inhaler was used and the amount of medication left in the canister. On the site, parents or doctors with access to the app can input the reason for use (asthma attack, shortness of breath, allergy, etc.) and how the patient felt at the time he or she used it.
The result is a clean, comprehensive rundown of your kid's inhaler use over a day, week or month. Dr. Engelhard told me in an interview that the GeckoCap is aimed to both appeal to children (it comes in several different vibrant colors, and kids are awarded badges and trophies for consistent use) as well as parents. Dr. Engelhard noted that divorced couples have been especially enthusiastic about the GeckoCap, since it allows them to track their kids' inhaler use when he or she is with the other parent.
The biggest problem with the GeckoCap, at this point, is that it does not yet exist. Dr. Engelhard and the GeckoCap team hope to raise over $90,000 on Indiegogo in order to make their device a reality (without seeking out funding from a venture capital firm). $90,000 is a tall order, especially for a product that then asks backers to pay a monthly fee for use. Most buyers, however, will get a free app subscription of six or nine months, according to the Indegogo site. Dr. Engelhard added that he hopes the wide appeal of the GeckoCap -- over ten million children in the United States are affected by asthma each year, per GeckoCap's Indiegogo site -- will give his product a broad-enough customer base to push the innovative inhaler cap over the funding line.
If you're interested, you can pledge money and reserve your own GeckoCap at its Indiegogo page here. You can also learn more about the GeckoCap at its official website right here.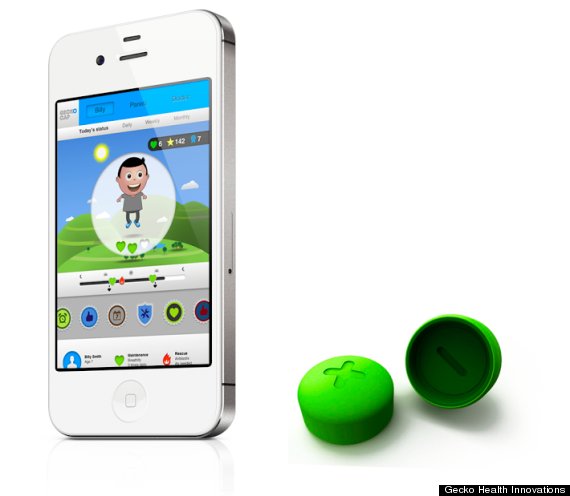 A rendering of the GeckoCap and its associated tracking application.
The 17 Most Intriguing Gadgets Of CES 2013
Move over, Galaxy Note: Huawei debuted the Ascend Mate, an Android device that now holds the title of smartphone with the world's largest display. At 6.1 inches diagonally, the Ascend Mate beats out the 5.5-inch screen of Samsung's Galaxy Note phablet, and positively dwarfs the iPhone 5's 4.0-inch display. As smartphone displays get larger and larger, we have to ask: At what point will we just be holding our iPads up to our faces to make phone calls? You can read more about the Huawei Ascend Mate here; no word on pricing or American release date just yet (it goes on sale in China in February, though, in case you're planning a vacation).

Overeating and weight gain can occur when you shovel food into your mouth too quickly. This "intelligent fork" has sensors on both ends that track of each bite you take, and the whole fork buzzes and lights up if it thinks you are eating too fast. A whole new meaning to the "Slow Food" movement. You can read more about the HAPIfork here; it is expected to ship in the coming months for $99, and you'll be able to order it here, from the HAPILABS website.

Samsung, Sony, Sharp, LG and more all unveiled new so-called "Ultra HD" TVs, which pack in way more pixels on the screen than your 1080p set at home. The result? The most gorgeous picture you've ever seen in a living room. We couldn't pick just one favorite; click here for our choices for the seven best we saw at CES.

This new portable gaming console may look like an Xbox controller with a display chunked on top, but it's so much more: On the Shield, you can play any Android game or stream any game from your PC to the screen. Watch out, Nintendo. You can read much more about the NVIDIA Shield here; NVIDIA has not yet given a price or release date, but Project Shield does have an official website here.

We're getting closer and closer to that hoverboard: On this electric skateboard, you lean forward to move forward and lean forward to slow down, no kick or push required. Coast around town on your skateboard without ruining the soles of your shoes, hepcat. You can read more about the ZBoard here; one can be yours for $650 when you order it here.

A portable iPhone charger the size of a credit card. One end plugs into your phone, and then a rubber extension doubles as a USB charger, which you can plug into your computer. Ditch the cord and carry around your charger in your wallet. You can read more about Charge Card here, and you can order one for $25.00 here.

The Dish Hopper was already pretty handy: A home DVR that allowed you to watch recorded shows on any TV in the house, not just the one on which it was recorded. Now Dish has added Slingbox functionality, which means you can watch your recordings on any PC, tablet or smartphone you own, too -- if it can win an ongoing lawsuit against CBS, that is. You can find about more about the Dish Hopper with Sling here; Dish has not yet released pricing or release info, but according to PCMag, it will be adding that information within a month.

Much as the Huawei Ascend Mate refocused the size conversation in mobile, so too has Lenovo's enormous 27-inch tabletop Windows 8 tablet sparked a fury of discussion surrounding all-in-one desktops and tables. The Horizon Tablet is as a multi-user device, mostly aimed at gamers and home entertainers. Perhaps most intriguingly (to me!), the IdeaCentre Horizon also ships with air hockey paddles, a set of dice and a spinning top, for integration with a suite of games that comes pre-loaded on the machine. You can read more about the Lenovo IdeaCentre Horizon Tablet here; it will be released this summer starting at $1699. You can pre-order here.

It sounds like a newspaper covering the world of Instagram, but Instabeat is actually far more interesting (for this former swimmer, at least): It's a small waterproof sensor that you strap on to your swim goggles, which tracks your breaths, heart rate, flip turns, number of laps and more. The Instabeat also houses a small light, which glows red, blue or green in the swimmer's periphery, depending on his or her current heartbeat. The Instabeat available for preorder now for $149 and should be released in the coming months.

Pure coolness: The Displair projects any display onto a misting wall of vapor, which you can then control with your fingers just like you would any other touchscreen. There's no great use for this technology yet, but it sure is cool to play Fruit Ninja on a screen made of mist. You can read more abou Displair here; it will cost around $10,000 when it goes on sale later this year.

Invented by an MIT pediatrician, the Gecko Cap is a rubber sensor that you put on top of your child's inhaler. When he or she needs to use the inhaler, a light on the cap starts to flash and doesn't stop until the inhaler has been used. It also syncs with a smartphone app so that a parent can see when the child has used the inhaler from afar. You can visit the Gecko Cap website here; no pricing or release date information yet, but you can expect a Kickstarter launch very soon, according to the founder.

LG and Samsung raced to unveil the world's first televisions with curved glass displays. No release date or price point for these bad boys; I'd guess "not soon" and "a lot of money."

Yes, you read that correctly: Samsung's refrigerator can connect to your home Wi-Fi. This year, Samsung added the Evernote app to the LCD display right above the ice dispenser, so that you can jot down your grocery list on the fridge and then check it on your smartphone when you're at the store. It also comes with Twitter, a recipe app, Pandora radio and weather and news information. If you see your husband standing in front of the freezer for two hours, that's (probably) why. Read more about Samsung's latest Wi-Fi fridge here; it will cost $4,000 when it is released this spring, per Engadget.

Maybe I'm just dreaming of the summer weather, but I love both the design and the concept behind Eton's Rukus Solar, a stylish, solar-powered Bluetooth speaker. Beach season is so, so close. Read the TechCrunch review of the Rukus Solar here; the speaker costs $149 and you can order it right here.

Be intrigued by this innovative concept smartphone, you will: The YotaPhone (no, not YodaPhone) features your typical LCD screen on the front, running Android; on the back, though, is an e-ink screen, like you would find on some Amazon Kindles, that can mirror the LCD display or run any smartphone app. E-ink displays, though nowhere near as crisp or responsive as LCD displays, require far less battery to be powered; so if you're out on the town and your battery is running low, but you still need a map, or your voicemail, or your text messaging, just switch over to the e-ink side and power down the front. Approve, we do. You can read more about the YotaPhone here; no price or release date information just yet. Visit the YotaPhone website here.

Ensure that you never kill your plants again with Parrot's Flower Power, a smart sensor that you place in the soil of your potted plant and that beams relevant data -- amount of fertilizer, pH levels, sunlight, humidity and temperature -- to an app on your smartphone. The Flower Power is slated for a spring 2013 release; until then, you'll have to manage not to keep your plants a live without the benefit of computerized data analytics. The price has yet to be released, but you can sign up to be notified on Parrot's website.

A small battery-powered tracker (with cell reception!) that you place in your luggage, so that if it gets lost in transit you can find its location on a smartphone app. Why didn't the airlines think of this years ago? You can read more about Trakdot here; the luggage tracker will cost $50, plus $9 activation and a $13 annual service fee.