Matt Yglesias highlights this infographic from a Wall Street Journal article that endeavors to explain how the fiscal cliff resolution will impact taxes. There are a lot of new complications that will probably be a bit headache-inducing for tax preparers, all well covered by the piece.
But the infographic that accompanies the article kind of gives away the fact that when all is said and done and all the beans are counted, what's going to happen to fantastically affluent people as a result of the various tax increases is that they will remain fantastically affluent, possessing sizable disposable fortunes, well in excess of the median income.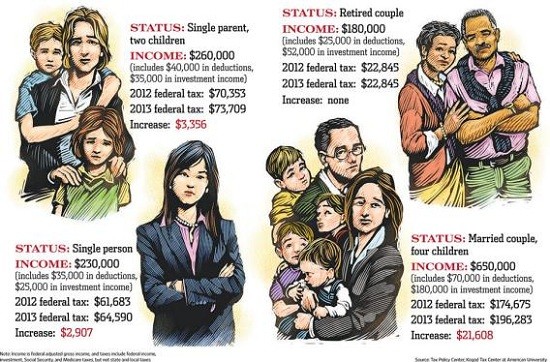 Naturally, one should not discount the very real ways the end result of the fiscal-cliff foofaraw resulted in bad outcomes for millions of Americans, but these bad outcomes came primarily in the form of the payroll tax holiday ending. As HuffPost's Dave Jamieson reported, "For many minimum wage workers who are receiving a wage increase this year, the higher payroll tax will offset much or all of the potential gains they anticipated in the new year." In addition, the decision to end the payroll tax holiday may put a drag on the economy over the course of the year -- Moody's Marc Zandi estimated it could knock half a percentage point off growth.
That, right there, is the actual big "Who Gets Hurt Now That The Fiscal Cliff Is Averted" story -- and for a brief, mad moment, The Wall Street Journal seemed to be somewhat cognizant of that. But now they are fretting about what's going to happen to families that make $650,000 a year, and single women who clear two hundred grand in annual income. But there's no need to fret about the people in this infographic. These people are doing terrific, even in this terrible economy.
Maybe The Wall Street Journal is merely catering to their affluent Manhattan readership? Well, in previous adventures in median income reckoning, Yglesias noted that the median income in Manhattan is about $65,000, so the person who is worst off in this infographic still earns three-and-a-half times that.
I am just going to assume that the people pictured in this infographic are the only Americans The Wall Street Journal has ever met -- this rich family, these two rich ladies, these well-invested retirees -- and the newspaper is just looking out for its dear pals.
But don't worry! They'll be fine.
[Would you like to follow me on Twitter? Because why not?]
Also on HuffPost:
Loading Slideshow
Rudy Giuliani And The Price Of Milk

While running for president in 2007, former New York Mayor Rudy Giuliani <a href="http://newsblogs.chicagotribune.com/news_theswamp/2007/04/giulianis_price.html">told</a> a reporter at a Montgomery, Ala., supermarket that he estimates "a gallon of milk is probably about a $1.50, a loaf of bread about a $1.25, $1.30, last time I bought one." It must have been a few election cycles since his last trip: The grocery store's website listed milk for $3.38 and bread up to $3.49.

Dan Quayle And Single Mothers

During George H.W. Bush's reelection campaign in 1992, Vice President Dan Quayle <a href="http://news.google.com/newspapers?nid=1314&dat=19920521&id=b1tWAAAAIBAJ&sjid=NfADAAAAIBAJ&pg=6921,388223" target="_hplink">scoffed</a> at the "Murphy Brown situation," referring to a television character who had a child out of wedlock. Quayle called the Brown story "totally unreal," adding, "A highly paid professional woman [with a baby] ... give me a break."

Martha Coakley And Shaking Hands

In a display of aloofness that many political observers say led to her defeat by Republican Scott Brown, Democratic Senate candidate and Massachusetts Attorney General Martha Coakley erred in <a href="http://www.politico.com/blogs/bensmith/0110/Coakley_not_sweating_it.html" target="_hplink">brushing off</a> the idea of ramping up her campaigning. When asked whether she was being too apathetic, she referenced one of Brown's ads and fired back, "As opposed to standing outside Fenway Park? In the cold? Shaking hands?"

Spiro Agnew And Poor Neighborhoods

Republican vice presidential candidate Spiro Agnew, branded as Richard Nixon's go-to guy on cities, <a href="http://www.nytimes.com/1996/09/18/us/spiro-t-agnew-ex-vice-president-dies-at-77.html?pagewanted=all&src=pm" target="_hplink">vowed</a> in 1968 to avoid poor neighborhoods. "If you've seen one slum, you've seen them all," Agnew said.

Gerald Ford And Tamales

While visiting the Alamo in 1976, President Gerald Ford <a href="http://www.chron.com/news/houston-texas/article/No-one-told-Ford-tamales-need-to-be-unwrapped-1536700.php" target="_hplink">bit</a> into a tamale through the husk, a faux pas later deemed the "Great Tamales Incident."

George H.W. Bush And Grocery Scanners

President George H.W. Bush caught flak for <a href="http://www.snopes.com/history/american/bushscan.asp" target="_hplink">appearing awed</a> by a supermarket check-out scanner while touring a grocers convention in 1992. It turned out the president was being shown a new bar code technology, and the convention worker who was alongside Bush later said it's "foolish to think the president doesn't know anything about grocery stores. He knew exactly what I was talking about."

George W. Bush And Gas Prices

In 2008, President George W. Bush <a href="http://www.nytimes.com/2008/04/03/business/worldbusiness/03iht-assess.4.11654214.html?_r=1" target="_hplink">said</a> he had not heard predictions that gas prices could soon hit $4 a gallon. At the time, the national average was $3.29 a gallon.

John Kerry And Cheese Steak

In 2003, Democratic presidential contender John Kerry <a href="http://www.nationalreview.com/battle10/244119/bloombergs-john-kerry-cheesesteak-moment-thomas-shakely#" target="_hplink">ordered</a> Swiss cheese on a cheese steak while campaigning in South Philadelphia, straying from the traditional favorite topping, Cheez Whiz.

Michael Dukakis And The Tank

Democratic presidential contender Michael Dukakis <a href="http://www.usnews.com/news/articles/2008/01/17/the-photo-op-that-tanked" target="_hplink">tried</a> to one-up Republican opponent George H.W. Bush on national defense by striking a pose in an M1 Abrams tank.

Mitt Romney And Wawa

Mitt Romney has had his fair share of seemingly out-of-touch statements this election cycle, admitting he likes to "fire people" and <a href="http://abcnews.go.com/Politics/OTUS/mitt-romney-sandwich-computer-wawa/story?id=16587170#.T-Ca3XBfaUc" target="_hplink">expressing amazement</a> at the touchscreen ordering system at convenience store Wawa.

Barack Obama And The Private Sector

President Barack Obama is not exempt from the "gotcha" moment. In June, he <a href="http://www.huffingtonpost.com/2012/06/08/obama-doing-fine-private-sector_n_1581874.html" target="_hplink">described</a> the private sector economy as "doing fine." The gaffe immediately elicited comparisons with his 2008 Republican opponent, John McCain, who said that the "fundamentals of the economy are strong" in the midst of a crippling financial crisis.