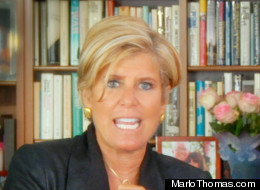 Personal finance expert Suze Orman broached the difficult subject of dealing with finances during and after a divorce when she visited me on Mondays With Marlo. Suze advised to let go of your anger and reinvent yourself. Don't put yourself down -- you can do anything you put your mind to!
To learn more about The Approved Card designed by Suze, click here.
For more advice on managing your money, see Suze's personal finance tips:
Suze Orman's Financial Advice
It may seem like your 401K is building slowly, but if you take the right steps, you'll be set for retirement. If you work for a company that matches your 401K contributions, invest up to the max. To invest even more, open up a Roth IRA and invest up to the max. Just be patient and your investments will grow over time.

If you're a saver and your spouse is a spender, it's time to sit down and have a serious talk. In a marriage, this can lead to arguments and even divorce. Create a calm environment to speak in and be sure to have a discussion with your spouse, instead of at them.

If you're scared to move your money or invest it, leave the majority somewhere safe, like a money market fund, a savings account or a CD. Make sure all of your debt is paid off and little by little, put some of your money in an exchange-traded fund. This way, you can test the waters and get a feeling for how investment works without risking too much.

After the economy took a hit, lenders became stricter about giving out mortgages to those who were not qualified. So, generally, you don't have to worry about taking out a mortgage you can't handle. Go for a 15 or 30 year mortgage, and make sure you have enough money to put down at least 20% up front.

If you don't qualify for a credit card, you can still build up your credit. Start by getting a secured card at a bank or a credit union. Use the card responsibly and eventually, you'll be able to obtain a credit card or another form of credit.

It's important to know your options when it comes to paying off student loan debt. FinAid.org is a fabulous resource with calculators and other resources to help you figure out the best repayment method for you. Beware of income-based repayment – you can only pay back 10% of your income and after 20 years the loan is forgiven, but you will owe federal income tax on the original amount when all is said and done.

If your house is being foreclosed upon, there is no reason to claim bankruptcy. The government has extended a law for one more year that says if you owe the bank money, you won't owe income tax on it. Bankruptcy may be appropriate if you have other debt aside from your home.

If all of your debt is paid off, you should put your money in stocks that have a secure dividend. This means that you'll receive a payment from the investment every three months.

If you want to help your kids financially, make sure all of your finances are in order first, so your children don't have to take care of you when you're older. Long-term care insurance is fabulous if you can afford it and you expect to be able to afford it until you're in your 80s.

Budgets are like diets – you deprive yourself and lose 20 pounds, and then you wind up gorging and regaining 30. Instead of going on a budget, be in control of your money. Don't cut back on everything. Cut back on the frequency of things like getting coffee at Starbucks or going to the movies every week. Start little by little and take notes on where your money is going. Use the Expense Estimator on SuzeOrman.com to determine where you are overspending and underspending.

Every time you spend money ask yourself, "Is this a want, or a need?" Take the money you would have spent on "wants" and put it in a savings account. When you pay in cash, save your change and put it in a jar. All of these small steps can help you save up for that big thing you really want.

People think that they'll never die, get sick or be in a position where they can't work. Being prepared for the future is important so that your loved ones are taken care of when you can't take care of them. Make a will, sign up for term life insurance and be sure to appoint the right beneficiaries. Children won't be able to access the money until they reach adulthood, so it's best to appoint a trustworthy adult who can handle finances until the children are grown.

If you cash out your 401K early, you'll be taxed the same amount on it that you would for your ordinary income. You will also have to pay a federal tax penalty – 10% on anything you withdraw. Leave that money where it is.

For the first time ever, a law has been passed that allows you to move money from your company-sponsored 401K to a Roth IRA. Since the Roth IRA holds money that you've already paid taxes on, make sure you're equipped to pay these taxes on your 401K before converting. If you're young, this is a great way to save and be able to access your money at any time without paying a penalty.
Add Marlo On Facebook:
Follow Marlo on Twitter:

Weekly Newsletter

Sign up to receive my email newsletter each week - It will keep you up-to-date on upcoming articles, Mondays with Marlo guests, videos, and more!

Sign up here