Prudish. Flirty. Whore. Proper. Cheeky. Slut. These are just a few of the words that could be used to describe a woman's sexual behavior based on her appearance alone, and 18-year-old college freshman Rosea Lake chose to display them starkly -- on a young woman's legs in a photo that has since gone viral. (Scroll down to see the image.)
Lake, who studies graphic design and illustration at Capilano University in Vancouver, never thought she'd become an Internet sensation when she posted her "Judgments" photo project to her Tumblr on January 5th. But something about the picture struck a chord with those who saw it, and within 24 hours the image had been re-blogged 100,000 times.
The photo, which the student took as part of an AP high school art class last year, depicts the back of her friend Ali MacKenzie's legs, Lake told The Huffington Post. Horizontal lines are drawn up her leg, reflecting various skirt lengths, and next to each line is a description. Lake labelled the longest skirt length "matronly" and the shortest "whore."
Lake got the idea for the photo from looking at graduated cylinders in her science class, she told The Huffington Post. "[I wanted to] take the idea of impersonal, supposedly objective, measurement of things and put it on something that we do measure, but we don't talk about," she said. "We measure women the same way we measure water in cylinders, but no one says it because it's mean."
Lake also expressed that working on the photo project forced her to reassess her own judgments about other women. "I used to assume that all women who wore Hijabs were being oppressed ... and look down on and judge any woman who didn't express her sexuality in a way that I found appropriate," she wrote on her Tumblr. "I'd like to think I'm more open now."
When asked why she thought the photo resonated so deeply with so many women, Lake chalked its momentum up to timing. "It's a concise, visually-attractive articulation of what a lot of women are thinking lately," she said. "Our society is ready to talk about [slut-shaming]. This just sort of gave it a push."
LOOK: Rosea Lake's "Judgments"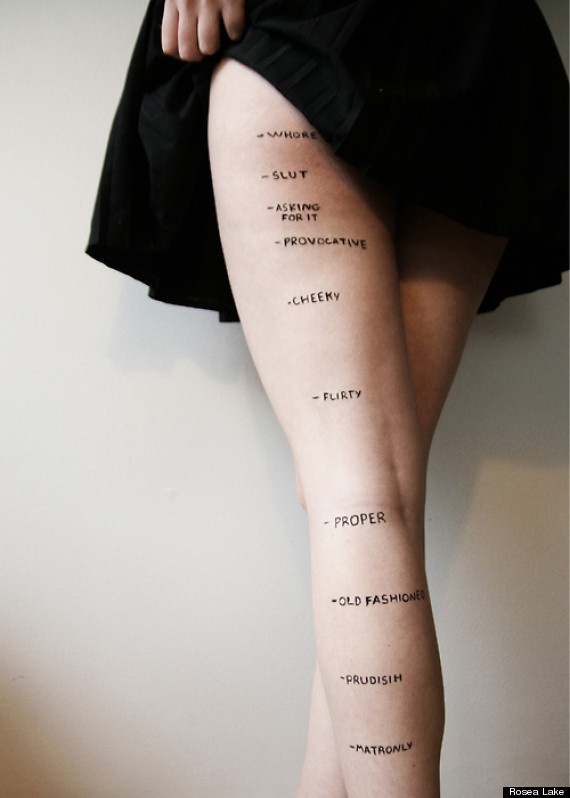 [H/T The Star]
Also on HuffPost:
Loading Slideshow
99 Problems (JAY-Z)

Eric Fehrnstrom, senior campaign adviser for Mitt Romney, <a href="http://thinkprogress.org/politics/2012/06/03/494238/fehrnstrom-shiny-objects-women/" target="_hplink">said on Sunday</a> that issues pertaining to women's reproductive rights, such as abortion and birth control, were "shiny objects" meant to distract voters from the real issues. "Mitt Romney is pro-life," he told ABC's George Stephanopoulos. "He'll govern as a pro-life president, but you're going to see the Democrats use all sorts of shiny objects to distract people's attention from the Obama performance on the economy. This is not a social issue election."

Talk (Coldplay)

The Senate will vote Thursday on the Paycheck Fairness Act, which would expand and strengthen the Equal Pay Act of 1963 and make it illegal for employers to punish women for bringing up pay disparity issues. Dana Perino, a Fox News contributor and former press secretary for President George W. Bush, <a href="http://www.rawstory.com/rs/2012/04/30/perino-equal-pay-issue-is-a-distraction-for-just-48-hours/" target="_hplink">called the equal pay issue</a> "a distraction" from the country's real financial problems last week. "Well, it's just yet another distraction of dealing with the major financial issues that the country should be dealing with," Perino said. "This is not a job creator."

Just My Imagination (The Temptations)

Sen. John McCain (R-Ariz.), whose home state's legislature recently defunded Planned Parenthood and voted to pass a bill that would allow employers to deny women birth control coverage, <a href="http://www.huffingtonpost.com/2012/04/26/john-mccain-war-on-women_n_1455591.html" target="_hplink">delivered a floor speech</a> in which he insisted that the war on women is something imaginary for Democrats to "sputter about." "My friends, this supposed 'War on Women' or the use of similarly outlandish rhetoric by partisan operatives has two purposes, and both are purely political in their purpose and effect: The first is to distract citizens from real issues that really matter and the second is to give talking heads something to sputter about when they appear on cable television," he said.

Butterfly Fly Away (Miley & Billy Ray Cyrus)

Republican National Committee Chairman Reince Priebus tried to trivialize concerns about the legislative "war on women" by comparing it to a "war on caterpillars." "If the Democrats said we had a war on caterpillars and every mainstream media outlet talked about the fact that Republicans have a war on caterpillars, then we'd have problems with caterpillars," Priebus <a href="http://www.bloomberg.com/news/2012-04-05/priebus-says-gender-battle-as-fictonal-as-caterpillar-war.html" target="_hplink">said in an April interview</a> on Bloomberg Television. "It's a fiction."

Distraction (Angels And Airwaves)

Missouri U.S. Senate candidate Sarah Steelman (R) took heat from her opponents in May when she contended that Democratic lawmakers' focus on the reauthorization of the Violence Against Women Act was "a distraction" from the issues they should be dealing with instead. "I think it's unfortunate that the Democrats have made a political football out of this thing, which I think is what they keep doing to distract from real problems that are facing our nation," she said in an interview with St. Louis Public Radio.

We Don't Care (Kanye West)

South Carolina Gov. Nikki Haley (R) defended the Republican Party in April for going after insurance coverage for contraception by arguing that women don't actually care about contraception. "Women don't care about contraception," she said on ABC's The View. "They care about jobs and the economy and raising their families and all those other things."