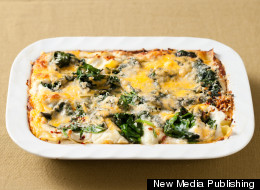 We know how good spinach is for us -- Popeye has been reminding us since we were little. Adding the nutritious green to recipes is always a good idea. And adding it to lasagna gives you a great reason to eat this Italian comfort food. A spinach lasagna recipe cradles the best of both worlds: it's good for us and it hits the spot when craving comfort food.
This spinach lasagna recipe also sneaks in cauliflower puree, which is a perfect substitute for ricotta cheese. Try and find a lasagna recipe that's this good and healthy; we dare you.
Get the Cauliflower Puree and Spinach Lasagna recipe
Want to read more from HuffPost Taste? Follow us on Twitter, Facebook, Pinterest and Tumblr.
Get more lasagna recipes.
Lasagna, Glorious Lasagna
With a healthy serving of sweet Italian sausage and garlicky tomato sauce, you're almost guaranteed a successful outcome. Adding the sausage and its poaching liquid to the tomato sauce as it simmers helps deepen the flavors. The mixture of parmesan, mozzarella and Fontina also contribute to a complex and creamy outcome. Get the Free-Form Sausage-and-Three-Cheese Lasagna recipe

These mini lasagnas guarantees that everyone gets a piece with just the right amount of crisp, golden edge and creamy, cheesy center. The recipe calls for prosciutto in place of ground meat, which makes these extra-rich lasagnas feel just a little bit lighter. White Lasagna Cupcakes

Hearty eggplant stands in the place of the more traditional meat filling in this lasagna recipe. The eggplant is grilled, drawing out its natural sweetness and meatiness. It pairs perfectly with the creamy ricotta and mozzarella filling, and balances the acidity of the tomato sauce. Get the Grilled Eggplant Lasagna recipe

Looking for a recipe to take your everyday lasagna up a notch? Well, this is it. Spicy merguez sausage stands in for sweet Italian, and the use of oyster and shiitake mushrooms adds to the overall depth of the dish. If you can find truffled pecorino, we highly recommend it as it adds just a hint of that addictive truffle flavor. Get the Lasagna with Mushrooms and Lamb Sausage recipe

A healthy take on the original, cauliflower puree stands in for bechamel in this recipe. And since cauliflower is naturally creamy when pureed, you won't even notice the difference. Just to make sure you are getting all your vitamins, this lasagna is also packed-full of spinach. Get the Cauliflower Puree and Spinach Lasagna recipe

Many of us don't get home early enough in the week to put together a comforting lasagna -- which just isn't right because that's exactly the type of food most of us crave come mid-week. But with a slow-cooker, any dish is possible during the week. Just prepare the meat and arrange the ingredients in the morning, and by the time you return home you'll have a fragrant and rich lasagna ready for dinner. Get the Slow-Cooker Lasagna recipe

The secret ingredient that makes this vegetarian lasagna stand apart is the use of bechamel sauce. Home cooks sometimes think they can skip this step, but this is a grave mistake -- and often is the only difference between the flavor of a home-cooked lasagna and one from a restaurant. The bechamel makes the dish creamy and rich, without having to load up on too much cheese. Get the Roasted Squash and Spinach Lasagna recipe

This is lasagna like you've never had it before. It's remarkably different, and we guarantee that you're going to like it. Portobello mushrooms, caramelized onions, spinach and gorgonzola cheese fill this pasta dish and make it tangy and sweet all at once. Get the Caramelized Onion Lasagna recipe

Meaty and cheesy is exactly what we want when we think of lasagna -- and this recipe delivers just that. A mixture of ground pork and beef is used to make the bolognese sauce, and red wine is added to create a depth of flavor. A healthy topping of mozzarella cheese tops it off before going in the oven, making it nice and rich. Get the Classic Lasagna recipe