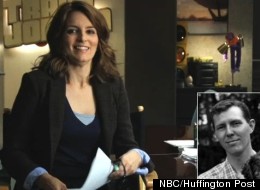 Getting an endorsement from whip-smart comedienne Tina Few is a boon for anyone, but being called a "genius" by the recent Golden Globes co-host and "30 Rock" writer/star is a whole other ballgame.
Fey used that very word to describe Chicago artist Robbie Fulks during a recent "Ask Tina" video extra for "30 Rock."
Fielding a question asking "Who sang the song over Liz and Jenna's greatest sketch of all time?" the former Second City actress revealed "30 Rock" writers and its composer Jeff Richmond (aka Fey's real-life husband) wrote the sung, but that it was sung by Fulks.
Fey went on to describe the artist as a "Chicago-area alt-country genius," before interrupting herself and saying "Why are you still listening to me? You should be going on iTunes right now — Robbie — R-O-B-B-I-E -- Fulks — F-U-L-K-S — buy it. Buy everything."
Other celebrities have praised Fulks' talents—even if it does land them in hot water. Last March, Drew Carey called Fulks' tune "Fuck This Town" his "song of the day." The nod at the cuss-containing tune caused some pearl-clutching among Carey's "Price Is Right" fans and was the (however flimsy) reasoning the National Enquirer cited as proof the comedian had "snapped."
While listeners will have to decide on their own if they agree with Fey's genius assessment, consider Fulks' rather amazing Michael Jackson tributes — wholly un-ironic, and totally awesome.
With "30 Rock" wrapping its final episode Jan. 31, Chicagoans will surely miss Tina Fey's semi-regular shoutouts to her former home town. Fey previously deemed the Windy City her favorite (over her current home of New York City), and called out the Greek chicken and fries at The Athenian Room (and the "beach in the middle of the city" that you can go to roughly 10 days out of the year).