Whole Foods CEO John Mackey is not worried about his latest controversial claim, despite the onslaught of negative feedback from his customers.
On Friday, Mackey said on MSNBC's "Morning Joe" that he didn't think his recent comparison of Obamacare to fascism would hurt sales at Whole Foods, according to a tweet from the television program's account:
@Morning_Joe

Morning Joe
The CEO earlier this week criticized President Barack Obama's health care reform law, saying "it's more like fascism," and that the government controls "the means of production" in health care.
Mackey later said in a segment on HuffPost Live on Thursday that he regretted comparing Obamacare to "fascism," despite remaining skeptical of Obama's plan.
"I regret using that word now because it's got so much baggage attached to it," Mackey said. "Of course, I was just using the standard dictionary definition."
Libba Letton, a Whole Foods spokesperson, told HuffPost that the CEO's statements on "Morning Joe" stand on their own, and did not provide further thoughts on the matter.
So far, Mackey's claim about sales seems to be right. Whole Foods stock has seen little change since the CEO first spoke about the issue, trading at $90.05 as of late morning on Friday.
Yet despite the CEO's confidence, his comments produced a robust vocal outcry from Whole Food shoppers across the country.
In one of hundreds of emails that The Huffington Post received from customers in response to Mackey's stance on Obamacare, Marcus Poisson, a 52-year-old from Providence, R.I., wrote that he and his wife will never shop at Whole Foods again. Poisson wrote that he used to shop at Whole Foods almost exclusively, sometimes spending $200 a week.
Julie Best, an educator and pastor from Valencia, Calif., wrote in that she felt the same way.
"I cannot conceive how a CEO of a health food grocery chain that promotes wellness would suggest that any person should be denied access to health care," she said.
Mackey's controversial comment aside, a look at the grocery store chain's health care benefits revealed that Whole Foods offers its workers some of the best benefits in the country. Mackey does not believe in denying access to health care, but instead wrote that the "country would be far better served by combining free enterprise capitalism with a strong governmental safety net for our poorest citizens and those with preexisting conditions, helping everyone to be able to buy insurance," according to a recent letter posted on Whole Foods' company blog.
Once the letter was posted, Whole Foods shoppers responded in full force. The company's Facebook page received over 1,400 comments about the matter, including one from Beata Kittas saying, "You just lost another customer. Go back to school because you need more education. Using words that you don't understand."
Here is a screenshot from Whole Food's Facebook page: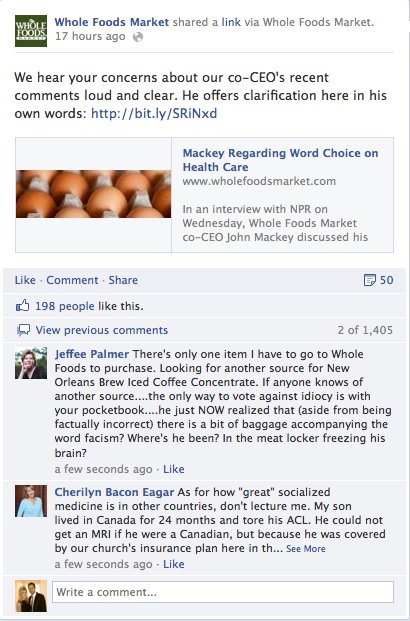 Whole Foods spokeswoman Letton said the company had no further comment on their Facebook followers' reaction to Mackey's letter.
Also, in the wake of Mackey's comments, Twitter users have started using the hashtag, #BoycottWholeFoods to express their disagreement with the CEO's stance.
Also on HuffPost:
Loading Slideshow
Urban Outfitters

Despite being known for edgy and controversial clothing, <a href="http://www.washingtonpost.com/blogs/arts-post/post/urban-outfitters-all-its-recent-controversies-explained/2012/03/29/gIQAP2lDjS_blog.html">Urban Outfitters CEO Richard Hayne's</a> support of anti-gay marriage presidential candidate Rick Santorum led to a boycott, according to the Washington Post.

Whole Foods

Whole Foods CEO John Mackey wrote in January 2013 that Obamacare wasn't a form socialism -- as he had called it in 2009 -- but <a href="http://www.huffingtonpost.com/2013/01/16/whole-foods-ceo-obamacare-fascism_n_2488029.html?utm_hp_ref=business">"more like fascism."</a>

Lululemon Athletica

Yoga apparel retailer Lululemon Athletica may have annoyed some of its more egalitarian customers when it included a quote from <a href="http://www.nytimes.com/2011/11/28/business/media/combines-ayn-rand-and-yoga.html?_r=0">Ayn Rand's famously pro-capitalist novel <em>Atlas Shrugged</em> on its bags</a>, the New York Times reported. Founder and chairman Dennis J. Wilson is a known fan of the book.

New Balance

New Balance customers ran a petition on Change.org after <a href="http://www.huffingtonpost.com/2011/08/10/new-balance-romney-gay-marriage_n_923647.html">Chairman Jim Davis donated $500,000 to pro-Mitt Romney</a> Super PAC Restore Our Future. New Balance's CEO released a statement in response, reaffirming the company's support of gay marriage.

Coachella

The Coachella Valley Music and Arts Festival is a popular destination for forward-thinking music lovers, but the<a href="http://www.coachellarecordings.com/press-statement/"> brand ran into some hot water</a> when Philip Anschutz, head of its parent company AEG, made <a href="http://thinkprogress.org/election/2012/07/19/543801/consumer-brands-conservative-attack-ads/?mobile=nc">a $50,000 donation to a Boehner-linked Super PAC</a>, according to ThinkProgress.

TOMS

TOMS shoes founder and CEO Blake Mycoskie found himself called out after speaking at an event hosted by Focus on the Family, an anti-abortion group. Mycoskie later claimed he was unaware of the <a href="http://nymag.com/daily/intelligencer/2011/07/toms_shoes_founder_might_have.html">"full extent of Focus on the Family's beliefs."</a>

GoDaddy.com

Ex-CEO of GoDaddy.com Bob Parsons caused a controversy when he <a href="http://www.huffingtonpost.com/2011/03/31/bob-parsons-godaddy-ceo-elephant-hunt_n_843121.html">uploaded a video of himself hunting an elephant</a>. He was replaced as CEO shortly after.