Beyonce's letting it all hang out these days, and we don't just mean that literally (see: GQ cover and accompanying behind-the-scenes video). In her increasingly aggressive pursuit of world domination, Bey's taking an even deeper foray into the blogosphere.
As Jezebel's Tracie Egan Morrissey pointed out, Beyonce's not just a Tumblrer or an Instagramer anymore, she's a full-blown blogger now, too. Her new lifestyle blog and newsletter, BeyHive, features Pinterest-style mood boards, artwork by fans and fashion finds curated by Bey herself.
But don't expect anything too personal here -- she's clearly saving that stuff for her upcoming documentary film -- just a collection of music, movies and books that are rocking Beyonce's world.
Check out a peek of her musings below. For more, Bey kindly asks that you sign up (and promise her that you're over the age of 13).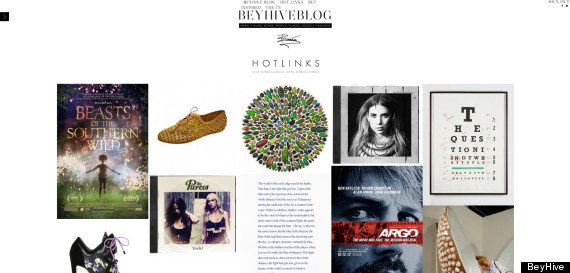 Related on HuffPost:
PHOTOS: Beyonce & Jay-Z Stun At The 2013 Inauguration
Loading Slideshow
Jay-Z & Beyonce

Jay-Z & Beyonce

Jay-Z & Beyonce

Jay-Z & Beyonce

Jay-Z & Beyonce

Jay-Z & Beyonce

Michelle Obama & Beyonce

Beyonce

Jay-Z & Beyonce

Beyonce, Jay-Z and Rev. Al Sharpton

Musical Moments in Inauguration History

Many magical moments in music history have happened during the inauguration of presidents, from Frank Sinatra co-producing John F. Kennedy's inaugural events to Bill Clinton playing guitar with Clarence Clemons and George H. W. Bush taking the stage with B.B. King. Now Kelly Clarkson and Beyonce will join those ranks thanks to President Barack Obama. Kristina Behr has the story.