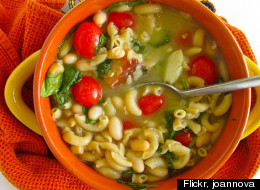 With temperatures below zero in many parts of the country, we are officially declaring it soup-weather season. Soup recipes are great during the winter because not only does sticking your face in a warm bowl sound heavenly, but also because cooking is a great activity when you can't handle the idea of going outside. The only problem: you still have to go to the grocery store.
But, if you keep a handful of ingredients on hand, you can whip up a homemade soup recipe without having to leave the comfort of your warm kitchen and without the headache of going to the grocery store. Talk about stress-free cooking. Pick up the five ingredients below and never worry about getting dinner on the table again.
Want to read more from HuffPost Taste? Follow us on Twitter, Facebook, Pinterest and Tumblr.
Broth or bouillon allows you to make a flavorful soup in a lot less time and with a lot less stress. While you can always make a good soup with a water base if you don't have broth or bouillon on hand, you'll need to let it cook down a lot longer to intensify the flavors of your homemade broth -- meaning what could be an hour-long recipe becomes a five-hour recipe. Save yourself time and stress, and always have broth in stock.

Adding a starch like potatoes, rice or pasta is a nice way to add balance to your soup. The nice thing about counting on rice or pasta instead of potatoes is that they have a much longer shelf life.

Having canned beans on hand means that no preplanning is required to make soup (a.k.a., soaking the beans overnight) and they add a little heft. Canned beans also mean a quick and easy protein option for your soup.

While you won't always want to make a tomato-based soup, it's nice to have the option on hand. When you're short on ingredients to cook your soup, adding a hint of tomato flavor goes a long way to making a great soup.

We know that celery, carrots and onions are not a pantry item. But, they do make the difference between a good soup and a great one. This combination, also know as the Holy Trinity, is the base to most soups and sauces. And while they do not have the longest shelf life, we think you should always keep them in stock.
Now that you have the ingredients, check out some soup recipes.
Get the Parsnip Soup with Leeks and Parsley recipe from Simply Recipes

Get the Kidney Bean Soup recipe from Macheesmo

Get the Butternut Squash Apple Soup recipe from Simply Recipes

Get the Cheesy Vegetable Chowder recipe from Taste and Tell

Get the Split Pea Soup recipe from A Little Zaftig

Get the Chipotle Black Bean and Sweet Potato Soup recipe

Get the Chipotle Pumpkin Soup recipe from Simply Recipes

Get the Cauliflower Stilton Soup recipe from Macheesmo

Get the French Onion Soup with Guinness recipe

Get the Oyster Stew recipe from Simply Recipes

Get the Mesir Wat Lentil Stew with Ayib recipe from A Spicy Perspective

Get the Broccoli Parmesan Soup recipe from Macheesmo

Get the White Bean and Ham Soup recipe from Simply Recipes

Get the Paprika & Red Pepper Soup With Pistachio Puree recipe

Get the Garlicky Lentil Soup with Vinegar and Olive Oil recipe

Get the Rustic Parsley & Orzo Soup with Walnuts recipe

Get the Smoky Ham-and-Corn Chowder recipe

Get the Roasted Beet Soup recipe from Macheesmo

Get the Garbanzos con Espinacas (Moorish-style Chickpea and Spinach Stew) recipe