WASHINGTON -- Driven by widespread job losses in the public sector, the number of American workers belonging to a labor union has dropped to a record low, according to new data from the Bureau of Labor Statistics.
In 2012, the rate of union membership in the public sector fell by more than a full percentage point, from 37 to 35.9 percent of workers, while in the private sector it dropped from 6.9 to 6.6 percent. The combined rate of American workers now belonging to a union stands at 11.3 percent, down from 11.8 the previous year and the lowest figure ever since the bureau started collecting the data in 1983, when the rate was 20.1 percent.
Much of the precipitous fall in the public sector can be attributed to layoffs, particularly in public education and local government, where teachers and municipal workers are often unionized. Public-sector layoffs have been a major drag on the economic recovery, with more than half a million such jobs having vanished since the Great Recession began.
Although the rate of unionized workers can swing from year to year, the overall drop of half a percentage point in the entire workforce is significant. John Schmitt, an economist at the Center for Economic and Policy Research, said it remains to be seen whether the new data represents a one-year anomaly or a new reality of a falling union presence in the public sector.
While the share of unionized workers has fallen steadily in the private sector for decades, the rate in the public sector has generally held steady since the early 1980s.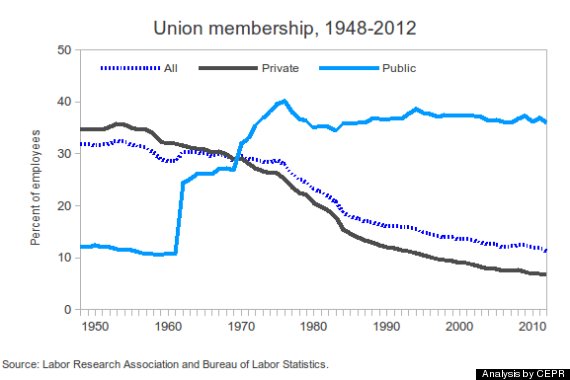 "It certainly suggests that the assault on public-sector unions that we've seen is starting to pay off for the people carrying out those activities," Schmitt said. "What we don't know is if these numbers reflect the beginning of a new regime where the public sector will look like the private sector."
Although it's too early to measure the impact, states such as Wisconsin and Michigan have passed laws seen as hostile to unions. In Wisconsin, Republican Gov. Scott Walker championed a law that rolled back the collective bargaining rights of public-sector workers. In Michigan, Republican Gov. Rick Snyder and state GOP legislators passed right-to-work measures for both the public and private sectors. Such laws forbid contracts between companies and unions that require all workers to pay the union for bargaining on their behalf, thereby weakening unions' clout.
"How we recover and what kind of recovery we have in the public sector, there's a lot that remains unknown," said a public sector union official who didn't want to be named. "Is there a new normal? Will we have the revenues we need to put teachers back to work?"
According to an analysis by CEPR, the state with the greatest year-over-year drop in its public-sector union membership rate last year was Wisconsin. The rate fell by nearly 13 percent, compared with a national average decline of 1 percent. Meanwhile, the rate for all workers ticked up in a few surprising states, such as Texas, Georgia and North Carolina.
Labor leaders have long argued that labor law is tilted in the favor of employers, making it difficult to unionize workers. Many of the jobs the economy has added in the recovery are in low-wage service-sector industries, such as retail and food, where unionization rates tend to be miniscule.
In a statement on the BLS numbers, Richard Trumka, the president of the AFL-CIO union federation, said the falling rate of unionized workers leads to falling wages, increasing health care costs for workers and shrinking retirement benefits.
"Working women and men urgently need a voice on the job today, but the sad truth is that it has become more difficult for them to have one, as today's figures on union membership demonstrate," Trumka said. "[O]ur still-struggling economy, weak laws and political as well as ideological assaults have taken a toll on union membership, and in the process have also imperiled economic security and good, middle-class jobs."
Graphic courtesy of the Center for Economic and Policy Research.
Also on HuffPost:
U.S. State Capitol Buildings
SUBSCRIBE AND FOLLOW
Get top stories and blog posts emailed to me each day. Newsletters may offer personalized content or advertisements.
Learn more