Los Angeles groom Jonathan Mill had a very memorable moment at his May 2012 wedding to his now-wife Kristian -- but it didn't involve his bride.
Mill wanted to take a funny photo with his groomsmen, so he asked them to stage a faux fist fight. Check out the shot below (Mill is third from left):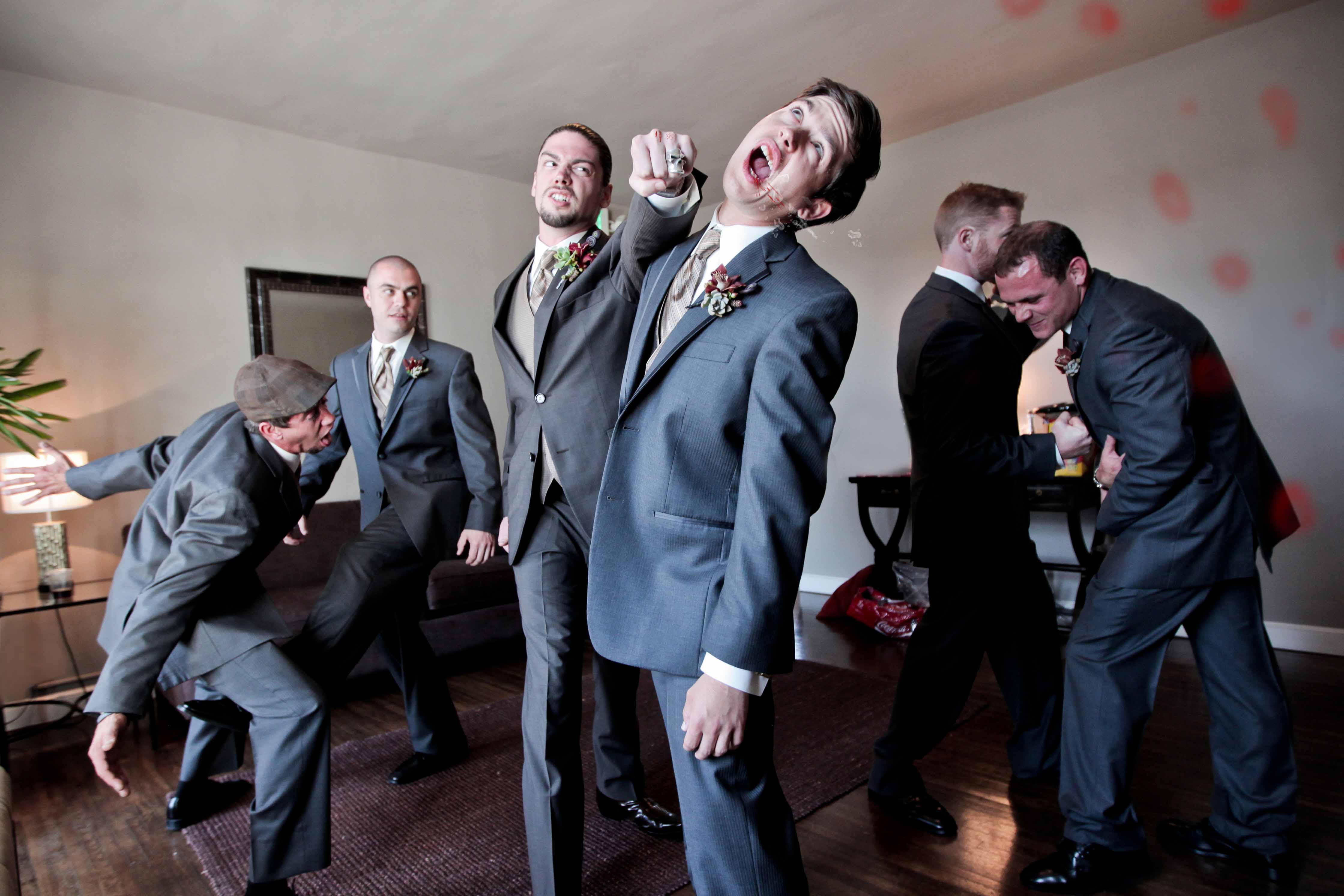 Mill shared the photo with HuffPost Weddings this week and said that he wanted his groomsmen photo to reflect his lifelong passion for martial arts. Though his photographer, Fern Lee, was unsure about the idea, Mill said he convinced her and his groomsmen to go for it.
"I let [my groomsmen] sort out getting kicked in the balls and the gut punch. My buddy who I am punching just sold the punch perfectly," said Mill, who edited the photo himself. "I still don't know how he got his face to do that."
Although Hill's photo is purposely funny, sometimes the best wedding photos are a complete accident. Check out the best wedding photobombs here, and take a look at a recent marriage proposal that shocked not only the bride-to-be, but an unsuspecting onlooker, too.
Check out the most "WTF" wedding photos in the slideshow below.
The whole nudist biker thing is fine in our book. But was Avatar guy invited? Or did he just happen to be biking nude on that particular street? (source)

Followed by the face slap. (source)

Beautiful ceremony, followed by their entire extended family packing into a tiny limo. (source)

Aaaand they're off to a good start. (source)

Aaaaand they, too, are off to a good start. (source)

It's their own fault for having their ceremony during "Hedonism Weekend IV: The Pleasure Fest." (source)

Ah, the ceremonial first dance. (source)

You may now eat the bride. (source)

This guy's a lightning rod for the ladies. He's also an actual rod. (source)

Not so much for being caught coming out of the porta potty, but for having a wedding at location involving porta potties. (source)

Not helping with Japanese stereotypes here, guys. (source)

Makes the girl serving pie in her underwear seem totally normal. (source)

F--king nuptials. How do they work?!? (source)

Hey guys, they're totally having a better wedding than you. (source)

The superhero theme we're fine with, it's the creepy Robin that weirds us out...aaaand the fact nobody apparently informed the bride beforehand. (source)
Keep in touch! Check out HuffPost Weddings on Facebook, Twitter and Pinterest.