What do veteran punk rocker Iggy Pop, comedic actress Lily Tomlin and fashion designer Anna Sui have in common? They're all connected to Detroit -- and count them among 51 Motor City icons sharing memories of their hometown in a new book.
Fashion photographer Jenny Risher started working on the project that became Heart Soul Detroit: Conversations on the Motor City in 2010. Talking to her friend and model Veronica Webb, who hails from Detroit, Risher started thinking about the many famous and interesting individuals who come from the city.
(SCROLL DOWN FOR PHOTOS)

"I said to her, wouldn't it be cool if someone did a book of all the amazing people who have came out of Detroit," Risher said. "For three months the idea just kept bugging me and I couldn't let it go so I thought I would make a list of all the people I would love to photograph from the area and reach out to them, reach out to five and if they said no, leave it, but all those five said yes."
It snowballed from there. From Eminem to Lee Iacocca, Risher was pleased to see how many of the illustrious Detroiters agreed to participate in her project.
"My little book isn't going to do anything for their career … maybe they believed in it."
She whittled down her 70 portraits to the 51 that appear in the book. They're also debuting in an exhibition opening Friday at the College for Creative Studies in Detroit, which Risher attended.
Though Risher has lived in the New York area for 15 years, she's a native of Detroit suburb Mt. Clemens, or "the Clem," as she laughingly referred to it. But she's had a long history with the city of Detroit. As a child, she came to Eastern Market on Thursdays and Fridays with her dad, who would sell produce at a stall there, as well as introduce his daughter to the rest of the city.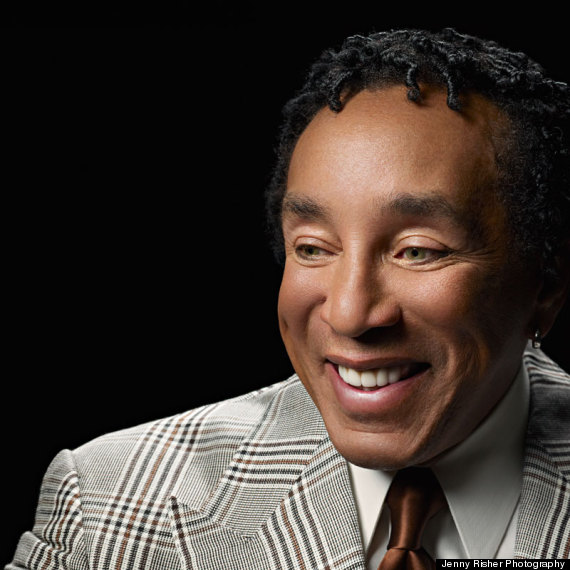 Smokey Robinson, by Jenny Risher
Later, she attended CCS after a favorite high school teacher introduced her to photography.
"I just fell in love with it," Risher said. "I never really thought about ... doing it for money."
It wasn't until she attended New York art school Parsons through a college program that she was introduced to the world of fashion photography.
"That for me open up a whole new set of possibilities, and I think that's when I realized you could have a career in photography," she said.
"When I graduated in '97 I hung out for about a year [in Detroit] and was assisting car photographers. It was fine but I just didn't feel like it was me," she said. "They would always stick me on the tires. You take these tires, and you pull of the nibs, and there's hundreds of them on a tire. And after like 20 of them, you're like, there has to be more than this. I have this degree and this passion and I'm pulling off nibs."
Risher moved to New York to pursue photography after that. But it was always her intention to return to Detroit with her four- and six-year-old sons, she said, to be close to family.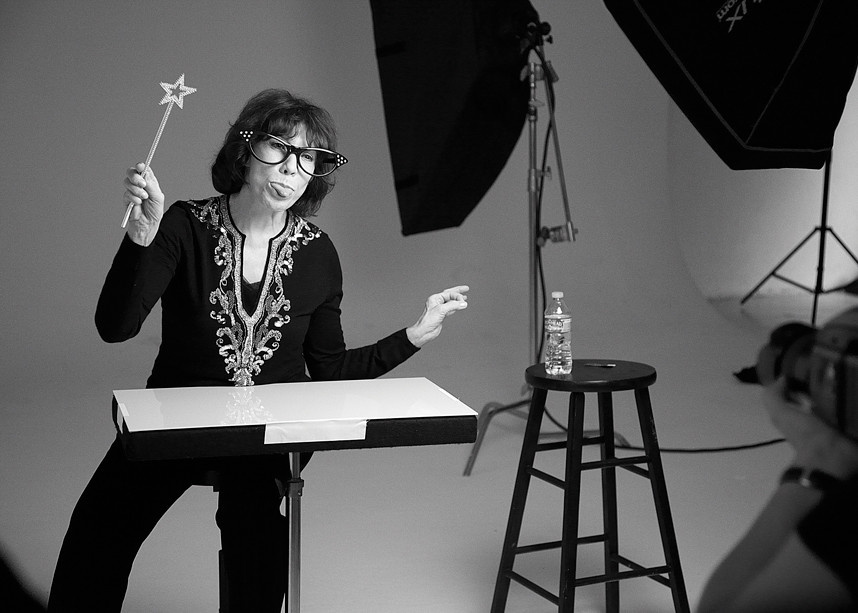 Behind the scenes of Jenny Risher's photo shoot with actress Lily Tomlin.
Risher began working with Matt Lee, a friend from Detroit who she had met through Hour Magazine, and soon began formulating the idea for a book.
"I would do the interviews, because this was definitely a grassroots project. I couldn't really afford a staff of people, so I figured out how to ask questions."
The book includes portions of Risher's interviews. She said she peppered subjects with questions as she shot, and was interested in their stories.
"Hopefully what you see [in the photos] is them relating to me or reacting to something I say," she said.
The portraits also appear in the exhibition. All but two are hand-signed by the subjects with personalized notes to the city.
"Lee Iacocca wrote 'the Motor City Mecca.' Some people wrote funny things. Eminem wrote 'stand up Detroit," Risher rattled off. "It's a way for them to be in the show without them being there. There's some piece of energy in a signed piece of paper."
Heart Soul Detroit: Conversations on the Motor City is published by Momentum Books in Royal Oak. The show of Risher's work opens with a book launch Friday at CCS's Center Galleries from 6 to 8 p.m. at the Manoogian Visual Resource Center, 201 E. Kirby, Detroit, including a performance and remarks from Motown musician Martha Reeves, one of Risher's subjects. The exhibit will be on display Jan. 25 to March 2 before moving to the Historical Museum from July 13 to Sept. 29.
Click through the slideshow below for portraits from Heart Soul Detroit, behind the scenes photos from the shoots and more stories from Risher about the project.
Motor City Icons From Jenny Risher's "Heart Soul Detroit"
On the shoots: "I had to make it really simple or easy, 'you can come to my studio or I'll go to you.' I'd photograph them after a concert, in their office, in a hallway. It's pretty random and the time constraints are pretty crazy. Iggy's manager gave me 15 minutes … which was fine, we made it work."

Motown Records founder Berry Gordy's message to the city: "Motown could have only happened in Detroit," Berry Gordy wrote on his signed portrait in the "Heart Soul Detroit" exhibition.

On shooting celebrities: "I had done research on the person to get to know them. I always talk a lot and make them feel comfortable. Even though they're celebrities, they might be nervous, too." "I'm talking the whole time to calm their nerves."

Actress Lily Tomlin.

On the importance of stories to the photographs: "Hopefully what you see is them relating to me or reacting to something I say. Something in Carl Levin's eyes, something about the way he looks [in his portrait], I think we were talking about his first car … you could just tell in his eyes that was a special memory."

Artist and songwriter Allee Willis. On signatures: Risher got 49 of the 51 subjects to sign their portraits displayed in the exhibition after seeing the effect signatures had on people. "I had this laptop where I had everybody sign their name. Everyone who has seen that laptop has responded … there was something about the signatures that people really responded to."

Artist and songwriter Allee Willis.

Former Detroit Lions running back Barry Sanders. On getting big names to participate: "It didn't matter if they were a celebrity or not, it was about their story," Risher said. "My little book isn't going to do anything for their career …. Maybe they believed in it …. I hoped and prayed a lot. I really wanted it to be the best portrait that I could make. Most said yes, some said no. It's something you can't really control."

Former Detroit Lions running back Barry Sanders.

Jenny Risher, photographer and creator of Heart Soul Detroit. On new discoveries in Detroit: Risher has been living local since November. While she's still scouting out for a studio and place to make home, she's found new favorites. "It just seems like we're always downtown …. of course I love Slows [Bar BQ] .... recently I went to Green Dot Stables and they have the best sliders. The last time I went I ordered five sliders. The Bronx bar, it looks super divey but they have awesome food." She also said she wants to try Rodin, a new small plates, French-inspired restaurant at the Park Shelton building, where Risher lived for five years. "Kathy's used to be there, and all the college students used to go there after school. It was a great diner. They had amazing breakfast specials."

Founding member of the Supremes, Mary Wilson. On Detroit memories: "Originally the idea was portraits and fondest memory of Detroit. Everyone [at first] had the same fondest memory, which was [former downtown department store] Hudsons at Christmas time."

On Motown: "There's a lot of amazing Motown artists. I particularly love Motown myself, I grew up with it." "I really focused on Motown because I felt if I couldn't get Berry Gordy and Smokey Robinson and some of the key people, I wouldn't have a book."

Recently retired Red Wings captain Nicklas Lidstrom.

Broadway actress Sutton Foster.

Artist and Heidelberg Project founder Tyree Guyton. On the name Heart Soul Detroit: The original name for the project was Detroit Icons, but Risher and Lee came up with something they thought fit better in the last two weeks of production. "What kept recurring through all the interviews, pretty much just the feeling I got from everybody too, is Detroit has heart, has soul and you can really feel the spirit of Detroit … other people feel it too. It's what links us all together. That soul stays with you."

Pulitzer Prize-winning, former Poet Laureate of the United States Philip Levine.

Former boxing World Champion Thomas Hearns, who was coached by Kronk Gym's Emanuel Steward. On recording history: "I feel really lucky, specifically [to get to photograph] Dr. Kevorkian. It was his last portrait and interview. And Emanuel Steward." Both subjects passed away since Risher photographed them. "For me it helped me remember the importance of recording stories. We should all kind of record our history."

Musician Wayne Kramer, guitarist for the MC5. On music: Risher said music was a category that she had a large list of people she wanted to photograph. "It was amazing how much music comes out of Detroit and how much Detroit has influenced music."

Writer and Heart Soul Detroit: Conversations on the Motor City editor Matt Lee.

Photographer Jenny Risher posing with actress Lily Tomlin.