Cleaning and organizing can be a drag, but sometimes trying these chores in a new way can totally change your outlook. That's why we're reaching out to our favorite cleaning experts to get their best tips for getting a fresh start and making these tasks more manageable -- and less stressful.
One of the worst parts about scrubbing our home until it sparkles is the noxious fumes that many cleaning products emit, leaving our hands pruney and smelly. But Leslie Reichert from Green Cleaning Coach told us it's simple to make your own cleaner, and you'll feel better having more control over what's inside of it.
The best part of mixing your own products is that you can choose your own scent and turn cleaning into an aromatherapy session. Reichert has the recipe for mixing up an effective scrub on her website, which combines a few common household products, borax, salt and baking soda, with the essential oils of your choice (we love peppermint or lavender). To make it easy to use, decant the mixture into a repurposed (and, obviously, clean) cheese shaker. As you clean, the oils will lightly scent the air and just might make the tidying process more fun. Or, at least, tolerable.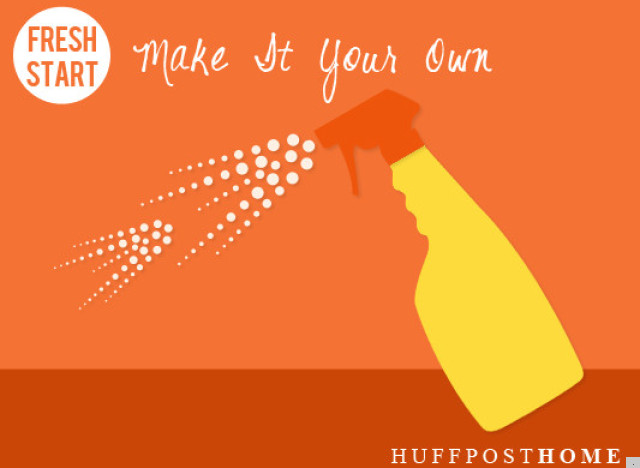 Illustration by Raydene Salinas
Here are a few of Leslie Reichert's other great household tips:
Want to get the whole family involved? Initiate a daily "ten minute tidy" by setting an egg timer and have each person pick a room to focus on. It's amazing what you can get done in a short time!
Mandate a clean sink rule: The Reicherts never leave dishes here -- they go straight into the dish washer -- and Leslie wipes out the sink, a potentially germy spot, with her homemade scrub to keep it fresh.
Have a great tip or trick to add to our list? Let us know!
Get A Fresh Start On Cleaning And Organizing
Afraid you'll fall off the cleaning bandwagon? One of the best ways to stay on track is jotting down the tasks you'd like to accomplish. We spoke with Becky from Clean Mama who provides a free printable cleaning calendar every month to help remind you of daily tasks like checking your kitchen floors and countertops for crumbs. Click here to read more.

Making new habits is one small way to keep your house under control, but that's easier said than done. But Dana from A Slob Comes Clean tells her readers that if they start with their kitchen, there's hope for the rest of the house! Click here to read more.

Brooks Palmer, blogger and author of Clutter Busting says to pick up each possession and ask yourself, do I need this, or can I let it go? Isolating each item will help you think clearly and identify if you're only hanging on to it because you are afraid of hurting someone's feelings, it has memories attached to it or you spent a lot of money on it. Afterwards, you'll feel great -- clutter just takes up space and gets in the way of what you really want to do with your space.

Tossing your stuff, no matter how insignificant, is emotional and frustrating. That's why Beth Zeigler from Bneato compares getting organized to working out: You're not doing something right if you don't feel the burn. In other words, you just have to dive in there and don't give up until it's done, and you'll be so glad you did afterwards.

Tasks like laundry are so tedious, we tend to put them off until we can do a lot at once, like on the weekends. As a result, we end up stressing through our Saturdays, battling a seemingly bottomless pile. But surprisingly, Bonnie Donahue from House Of Grace tells us that it's easier to do a little daily instead. "A load a day keeps the piles away," says Donahue. (Sounds like we have a new mantra!)

Of course we're usually most concerned with straightening up the areas in our home that are on display, and we're often guilty of shoving piles into cabinets and closets minutes before guests are arriving. But Anna Moseley, blogger behind our daily read 'Ask Anna' tells us that hiding our clutter behind doors just leads to more stress. Instead, you should feel good about your storage nooks. And to do this, she says, you need to maximize the space you have by tailoring your storage solutions to your closet layout.

We're so busy taking care of the stresses we face everywhere we go that it often slips our minds to give our automobiles the attention they need. A great way to start is de-cluttering any unnecessary junk. You probably have more things than you need in the trunk, backseat and glove compartments, and these all add up to one big messy situation.

Professional organizer Julie Naylon explains how to start organizing a messy closet.
Have something to say? Check out HuffPost Home on Twitter, Facebook, Pinterest, Tumblr and Instagram.
**
Do you have a home story idea or tip? Email us at homesubmissions@huffingtonpost.com. (PR pitches sent to this address will be ignored.)