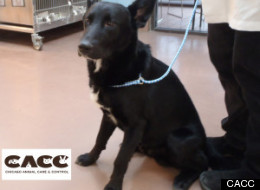 Updated story
The owner of the pup rescued from Lake Michigan Tuesday morning has finally been reunited with his owner.
Chicago Animal Care and Control Department spokesman Bill McCaffrey didn't offer the owner's name, but he told NBC Chicago the owner promised he was "taking steps to ensure his dog does not get loose again."
CACC said the approximately one-year-old black Belgian shepherd or shepherd mix was without a microchip or collar when the Chicago Police Department Marine Unit rescued him from Jackson Harbor, according to ABC Chicago.
Veterinarians with the CACC tell Fox Chicago the dog is doing well four days after being hit with a mild tranquilizing dart and pulled off the ice. Due to the dog's generally healthy condition when he was found, officials believed he had an owner.
According to CBS Chicago, the dog was cared for at the CACC's facility on 27th Street and Western.