Trongs: The Chicken Wings Holders For Cleaner Eating (PHOTO)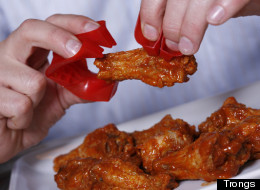 If you hate eating food with your hands, or if the mess of chicken wings stops you from eating your favorite bar food, it's time to rejoice because Trongs are just the solution you were looking for. Trongs are little plastic claws you operate with your thumb, pointer and middle finger that grip food for you. (All those afternoons perfecting the cootie catcher finally comes in handy.)
Essentially, Trongs let you eat with your hands without actually having to eat with your hands. According to the website, you can use these plastic claws for more than just chicken wings. They're good for eating ribs and handling raw chicken too.
The company also explains how they hope Trongs will help achieve world piece:
Perhaps Trongs will eliminate a critical source of frustration, thereby generating a powerful wave of happiness and harmony that spreads throughout the known universe and beyond.
We don't know about you, but that sure seems like a lofty goal for a little piece of plastic.
While some of us actually like (or at least don't mind) eating with our hands, for the picky eaters out there, nothing now stands between you and your chicken wings.
Want to read more from HuffPost Taste? Follow us on Twitter, Facebook, Pinterest and Tumblr.
Now, you should make these chicken wings.
Wings, Wings And More Wings
If you're a fan of quick and easy, this is your chicken wing recipe --- and the flavor is spot-on. First, the wings are baked instead of fried making them not only healthier, but also less mess. Another great short cut is to substitute ranch dressing spiked with blue cheese crumbs for the traditional blue cheese concoction. Get the Classic Buffalo Chicken Wings recipe

If you're the person who's always asking for hot buffalo chicken wings -- never mild or medium -- then it might be time to upgrade to this recipe. Thai green hot sauce is sure to satisfy your need for a fiery flavor, and just in case you need it, the sprinkle of cilantro can help balance out the heat. Get the Thai Green Curry Hot Wings recipe

This simple recipe is for those with little time to prepare snacks. Baking the chicken wings with a bit of salt and oil ensures that they get nice and crisp, and saves you time as you prepare the sauce while the wings are baking. The fragrant soy-based sauce will add all the flavor you need. Get the Soy-Garlic Chicken Wings recipe

The classic chicken wing gets an Indian twist with this sweet and spicy recipe. Red hot sauce is used to give some heat, curry powder adds a nice new flavor and the use of mango chutney provides that hint of sweetness to balance it all out. Get the Mango-Curry Hot Wings recipe

Just because these wings are served alongside a big wedge of lettuce doesn't mean that it skimps out on flavor. This spicy chicken is grilled in a grill pan which ensures a nice crisp result. Get the Grilled Spicy Chicken Wings with Blue Cheese Iceberg Salad recipe

The broiler is the trick to making this honey-spiked chicken wing super crispy, much more so than the deep fryer can achieve. A little bit spicy, a little bit sweet and every bit delicious, these chicken wings will have you coming back for more. Get the Honey-Chile Chicken Wings recipe

Ginger adds a nice, refreshing flavor to these spicy hot wings. The generous use of Frank's Red Hot sauce turns up the heat and the five-spice powder also gives a nice kick. The chicken is roasted until nice and browned before the sauce is tossed atop. Get the Ginger-Honey Hot Wings recipe

These piri-piri chicken wings will give the traditional buffalo ones a run for their money. Marinated overnight, the wings are packed full of flavor. After they come off the grill they're basted in lemon, herb and chili, which really seals in the taste of the piri-piri. Get the Piri-Piri Chicken Wings in the Style of Nando's recipe

This recipe reinforces the fact that just a handful of ingredients is all you need to make an amazing dish -- so long as the ingredients are top notch. The use of Frank's Red hot sauce is important here, as is the addition of chipotle peppers. Maple syrup is used in place of the more traditional honey in this recipe -- and the flavors really shine through. Get the Maple-Chipotle Hot Wings recipe